Becoming a Divemaster is an enriching and unique experience and it is something that will open new doors for your professional career as a dive pro.
Choosing the right place to become a PADI Divemaster is extremely important ; you want to learn in an environment that values you as a team member and puts your learning needs first as well as somewhere that offers a variety of challenging dive environments with expert instructors who have gained valuable industry experience. Let's take a look at the details!
What is the PADI divemaster certification and why should I become a divemaster?
The PADI Divemaster certification
As a PADI Divemaster, you are trained to lead certified scuba divers & snorkelers, as well as assist instructors during their courses.
The PADI Divemaster certification is recognized all over the world.
A certified PADI Divemaster can independently conduct PADI scuba refreshers and confined beginner classes without instructor supervision.
If you're thinking about working in marine conservation or marine biology the PADI Divemaster certification is invaluable and often a requirement.
The perks of becoming a divemaster
During your diving course or divemaster internship, you will learn new skills and reinforce your diving knowledge and aptitude.
Divemasters are people that do what they love for a living: sounds like a dream, doesn't it?
PADI Divemasters can find jobs all over the world, travel to remote areas and get paid to dive the best locations worldwide. In the meantime, they can also add some remote gigs to round up their salaries and enjoy a laid-back, yet comfortable lifestyle.
How hard is it to become a Divemaster?
Divemaster candidates are going to be challenging themselves. Not only do they work hard to gain the certification, but they also improve their diving skills, learn empathy and communication, work in the marine conservation field, or learn how to repair and maintain equipment.
There is a swim test requirement and a stress test : you need to be ready to look after people underwater. It should challenge you and you should sign off feeling like the best diver you've ever been!
Can you make money as a Divemaster?
A common question we get in these cases is Can you make a living as a Divemaster? And the answer is not an easy one. It really depends on your experiences, location, on the salary or commission system, living conditions etc.
Salaries will not be as high as diving instructors', but they normally allow for some decent living.
Divemasters can be offered accommodation and food allowance, they get to dive as much as they want, use rental equipment for free or purchase their own at low cost, and receive possible additional benefits such as flight tickets, visas and daily transportation.
Example of Divemaster salary and income :
In Mexico the average income of a Divemaster is 15000 Pesos per month
In Thailand a Divemaster can expect to earn about 30 000 Baht per month
In Maldives the Divemaster salary can be up to 35 000 MVR per month
Working on liveaboard a Divemaster can usually expect more income, up to 2000 to 3000 USD per month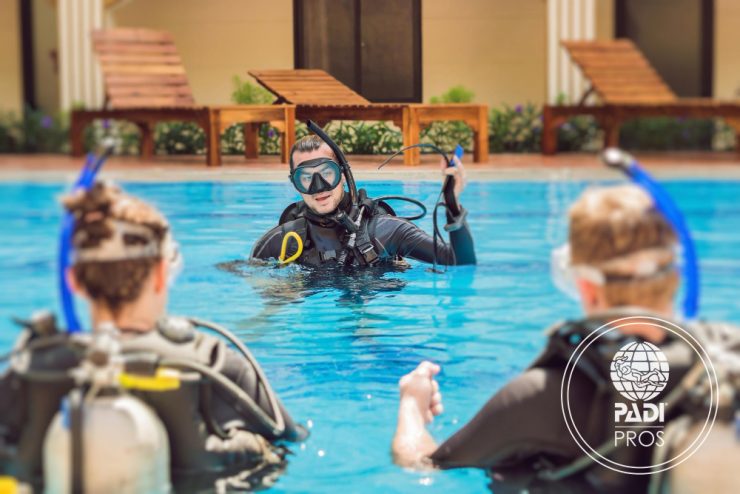 How to become a divemaster ? And what you should expect from a PADI divemaster course in Cabo San Lucas
Prerequisites to become a PADI Divemaster
To enrol to a PADI Divemaster course or internship candidates must:
Be at least 18 years old,
Be able to prove 40 logged dives.
Provide certification as PADI Rescue Diver or equivalent.
Have an Emergency First Response certification, including CPR and first aid training, obtained or renewed less than 24 months prior registration to the course.
Have medical clearance to dive.
There are two main options to become a PADI Divemaster, the Divemaster course or the internship.
The Divemaster course
The traditional Divemaster course will last about two to three weeks on average. It is an intense and demanding training program that requires physical stamina and mental focus.
This can be the best way to earn the divemaster certification if you have no intentions of working in the dive industry. It will allow you to continue your scuba diving journey and to push your skill set to the pro limit.
Students will need to cover the cost of the course including material and PADI fees, plus accommodation, food, transportation etc. You need also to take into account the cost of equipment, which can be purchased or rented.
17 Days PADI Divemaster Course in Cabo
The Divemaster internship
At Cabo Private Guide we find the more popular and cost effective program is the PADI Divemaster Internship. Each internship in each part of the world is different. In some large dive shops the course cost can be lower because you really will exchange all of your time for washing equipment, filling tanks, shifting gear around and doing the necessary jobs that nobody really wants to do. This is a perfectly acceptable way to achieve your certification.
However, our 5 Star PADI Dive Center has a price to reflect the work that you do and the training you get. First of all, we outsource our boat and tanks to a partner company and so half of the work is taken care of already!
We have a crew of expert staff : instructors with at least 25 certs, 250 dives and 6 months local dive experience so you are always learning from the best, not just instructors that only just passed their OWSI exam with 100 dives.
You WILL exchange some short shop shifts in your free time where you ultimately gain experience in seeing how the shop is run, helping out with basic equipment maintenance, keeping equipment clean and organised, pitching into the weekly shop jobs, blending Nitrox and answering dive related questions to walk-in clients in the afternoon.
Our outlook is that this is a professional course and quality is very important. You get what you pay for!
Divemaster internship program in Cabo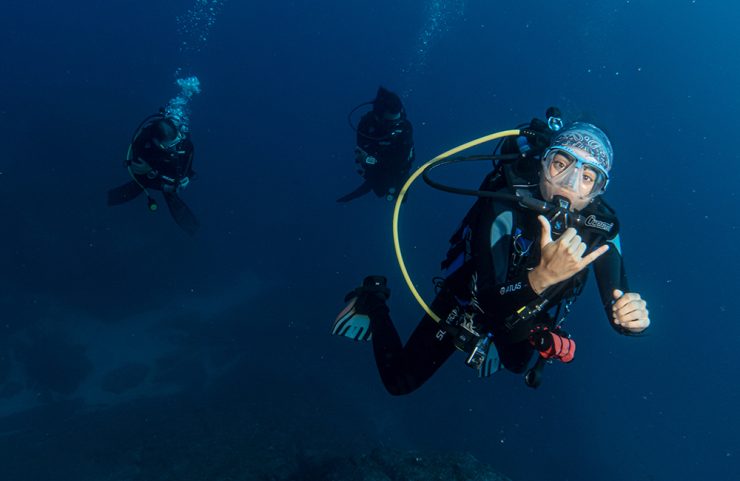 How much does the PADI Divemaster cost?
The total cost of a divemaster training includes the following three parts :
The course training itself is charged by the dive center to the student, the course material that is mandatory to purchase to PADI, then annual PADI fees to be eligible keep this certification active.
The PADI annual divemaster fees are currently $127 USD
The PADI Divemaster course material cost $299 USD.
Then depending if you opt for a standard Divemaster course or an Divemaster Internship program.
The Divemaster training here at Cabo Private Guide, costs for example :
12-week Divemaster internship costs $1350 USD,
6-8 week Divemaster internship costs $1650 USD
17 days Divemaster course costs $1500 USD
The PADI divemaster training in Cabo San Lucas
Baja California and the surrounding of Los Cabos offer amazing scuba dives, where you will be able to experience some world-class deep dives in the Gordo Banks, witness the mobula ray aggregation, and dive with large wildlife such as sharks and sea lions. Cabo San Lucas offers day trips to the Cabo Pulmo National Park, La Paz and Jacques Cousteau island expedition.
Furthermore, while doing your PADI divemaster internship in Cabo you will experience amazing Mexican culture, practice your Spanish and immerse yourself in the addictive, easy going Baja California surfer lifestyle. It's close enough to the US border to feel close to home if you're travelling from there and there are great travel connections from SJD airport (Los Cabos International Airport).
Last but not least, you'll meet the exceptional team of Cabo Private Guide, which will take care of you and your training while promoting marine conservation and an impeccable 5 star service.