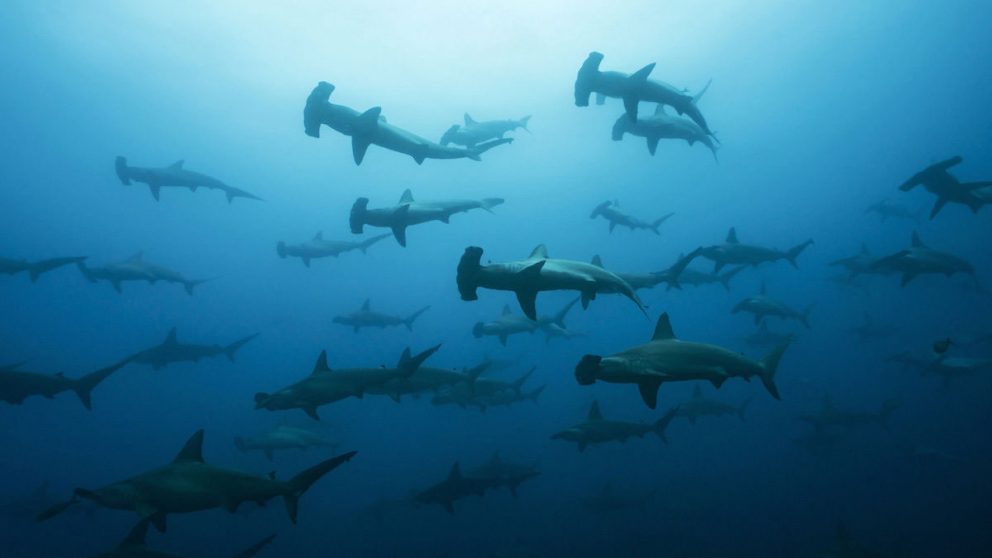 Gordo Banks Diving Tour
Gordo Banks
All year
Advanced Open Water
This deep seamount provides an exhilarating blue water dive at an outer bank in San Jose del Cabo offering some of the most spectacular encounters seen on a day trip from Los Cabos. Gordo Banks is famous for game fish such as wahoo, tuna and billfish and it's nice to see them in their natural environment instead of on a line!
Divers often see schooling hammerheads among other shark species such as silky sharks, hound sharks and whale sharks for the lucky few. Along with pelagic stingrays and numerous sightings of mobula rays there are many schooling jacks, walls of tuna and schooling snapper.
Tour details
Price & booking
Tour Outlines
If you're an advanced diver just wanting to descend into the blue to see what comes along then this is for you. It is a 'hit and miss' dive. No big life is guaranteed, but the feeling of seclusion and adventure certainly is!
What's inclued
Shared guide and safety diver for large groups

Shared or Private boat

28ft Panga/Apex or 44ft Luxury Boat

Tanks and weights

Refreshments, lots of snacks and fruit

Go Pro footage ** ON REQUEST
Schedule
MINIMUM of 3 DIVERS for shared tour. Every day departing 6.30am (CSL) or 8.00am (SJD)
Departure
4- 5 Divers 28ft Apex fast boat
6+ divers 32ft Super Panga
San Jose del Cabo PRIVATE ONLY 1-3 divers 26ft Panga
Price & Booking
Gordo Banks
Price in USD
|
Cash discount available
Cancelattion policy
Cash paiement and bookings by phone are eligible for 5% discount, call the office for info.
Secure online payement powered by Peek.com
Tour infos & Requirement
---
Diving Certification
Minimum certification required : Advanced Open Water
Minimum Number
We need a minimum of 3 spaces paid to run this trip from San Jose del Cabo and Cabo San Lucas.
Check-out dive
You must make a check-out dive with Cabo Private Guide before booking this tour. Once you book this you can indicate on the booking form what day/s you are available to dive Gordo Banks.
Deep Dive at Gordo Banks: Why are check out dives necessary?
Dive insurance
Dive insurance is highly recommended due to the location and depth of this dive. If you do not have cover for the decompression chamber and dive accidents, please check out our partner DiveAssure: Dive insurance plan
---
Scuba Diving Reviews


Great Dive + Great Team!
Laura and the whole team were amazing. My girlfriend and I did the Cabo tour as a check out dive, and then Gordo Banks the next day. We are both experienced scuba divers, and I have to say, this whole team is…
By Liz F on TripAdvisor
Best dive shop in Cabo San Lucas
We spent an entire week diving with Felipe. Our trips were fantastic, and customer service was amazing from the entire dive shop crew! We dove Cabo San Lucas, Gordo banks, Cabo Pulmo, La Paz, and did the mobula snorkel and dive. Every…
By Joy on TripAdvisor
6 days of diving
Perfect...what else can I say, attention to detail and saw everything we could have wished for while diving!!! Bull sharks, whale sharks, hammerheads, turtles, the elusive octopus, nudies, large schools of fish, sea lions that compete with cirque du soleil, cow nose…
By G Bernier on TripAdvisor
Excellent and Safe Diving
I highly recommend Cabo Private Guide. Our dive masters were Jenny and Luke- both of whom were friendly, highly skilled, and enthusiastic dive masters. I felt very safe diving with Jenny and Luke, and they both went out of their way to…
By Kelsey A on TripAdvisor
Dive Gordo Banks with this team!
My favorite part of the trip were the people. Laura and her team are fun, knowledgeable, and passionate. We saw beautiful sea life off the coast of Cabo, and attempted to see hammerheads out at Gordo Banks.
By Yashira V on TripAdvisor
Great dive vacation with Cabo Private Guide
I traveled to Cabo by myself for a dive vacation and chose Cabo Private Guide. Laura was great at communicating with me before my trip and helping me plan my dives. She and her team were very professional and took great care…
By Cynthia R on TripAdvisor
Amazing from start to finish!
The result was a set of 8 perfectly tailored dives that culminated in the fulfillment of my number one goal: To dive with the hammerheads at the challenging Gordo Banks sites. To honor one of my initial requests, Laura assigned the same…
By Allison W on TripAdvisor
Suba
I had a great time. Top notch company and divers. We beat the crowds had awesome dives. I was so nice to dive not worry about taking pictures as Laura did it all. I just got to enjoy diving. I even downloaded…
By Adventure201156 on TripAdvisor
Best private dive company in Cabo
Had a great private dive in Cabo. My guide was excellent. We seen a lot of variety of sea life on my 3 tank dive. Will be using them in the future for all of my dives in Cabo. 100% recommend Cabo…
By Larkin R on TripAdvisor
Deep dive at Gordo banks for Pelagic encounters
Arguably the best tour to spot large, pelagic wildlife near Cabo San Lucas !
The underwater seamounts off the coast of San Jose del Cabo create nutrient rich pockets of water attracting fish and, eventually, impressive larger predators. Encounters have included orcas, dolphins, schools of mobula rays, cow nose rays, marlin and other bill fish. During the winter whale season we have seen humpback whales migrating through, right next to our divers!
If you want to learn more about the wildlife you may encounter in the Sea of Cortez you might want to consider a course with one of our instructors.
Popular courses include the PADI Shark Conservation Specialist Course, Project Aware Fish ID or Underwater Naturalist. We also offer PADI Deep Diver courses, PADI Nitrox courses and other specialist training to precede the trip to complement a Gordo Banks dive.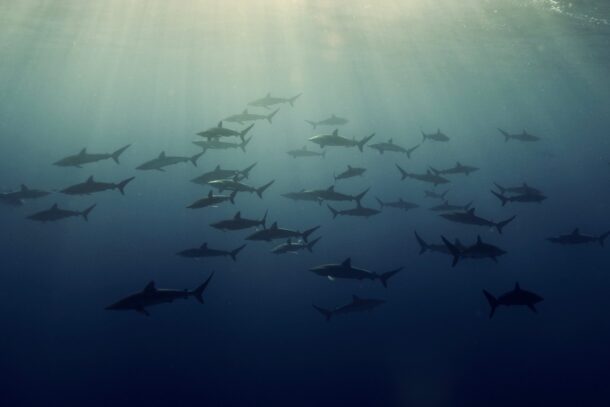 Gordo banks a breathtaking blue water diving in Cabo san lucas
We can leave from either Cabo San Lucas or San Jose marina. We prefer to dive air but Nitrox28 can be ordered at extra cost in advance after we have completed your check out dive.
We take diving here very seriously and all divers will be asked to rent a surface marker buoy/computer if you do not currently have one.
The guide/captain will have an AIS system for safety and the bank is marked with cell phone GPS and handheld GPS. The pinnacle is 30m /100ft deep with the max depth at 35m/115ft.
Contact us directly for a booking because you must make a check-out dive locally with Cabo Private Guide before booking this tour. See www.divegordobanks.com for dive experience and dive packages specific to Gordo Banks.
Price & booking