Experienced divers from all over the world visit Los Cabos especially to dive at Gordo Banks because it's known to produce some really thrilling and exciting diving.
Gordo Banks dive sites are on many divers' bucket lists for a number of reasons. The main one being the jaw-dropping wildlife and the chance of encountering amazing wildlife such as schooling Scalloped Hammerhead sharks.
Photo credit: Benjamin Lazcano
Discover Gordo Banks, an exhilerating shark dive in Los Cabos
The spectacular Gordo Banks are not your everyday kind of dive. Imagine the excitement of a deep blue water dive… along with the most amazing marine creatures that you can think of!
Diving here is a unique experience for so many reasons. The topography is uniquely stunning: submerged seamounts rise up from the depths creating a flow of water that bend into mild to strong currents. This makes for the perfect big-life hotspot as pelagic animals seek out its nutrient rich water.
No surprise then that, aside from the sharks, divers can encounter oceanic creatures such as mobula rays, marlins, humpback whales and impressive schools of large carnivorous fish.
Shark diving enthusiasts come to Cabo San Lucas to dive the amazing Gordo Banks for its fame of delivering bucket-list encounters with several types of sharks including; hound sharks, mako, blue sharks, silky sharks and the heart-stopping schools of Scalloped Hammerhead sharks. Maybe even an occasional whale shark or two looking for a nice meal.
Scuba diving packages
More than one day diving in Cabo San lucas ? We have designed the following dive packages around optimal ocean conditions and seasonal wildlife encounters :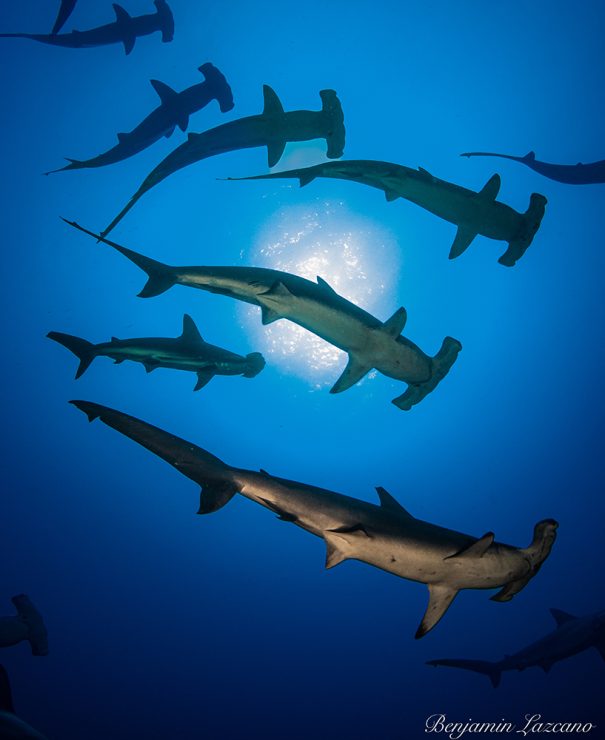 Why do you need to be an advanced diver to dive at Gordo Banks?
Dive Shop Liability
The confounding factor of why we must insist on the Advanced Certification, even if you are Open Water certified diver with 100's of dives, is our responsibility to you as a diver and that most insurance policies (ours included!) only cover problems that occurred above your certified depth. The top of the pinnacle is around 30 meters (100 feet) and dive profiles can reach up to the recreational limit of 40 meters (130 feet)
Advanced electives covered for diving at Gordo Banks
Advanced open Water Diver Course in Cabo 
Drift Dive Expertise
A knowledge of how dive pros conduct drift dives (either acquired during an Advanced Open Water Diver course or even better during a PADI Specialty course) will give divers an idea and some practice in the ability to promptly react, know how to behave in currents, avoid getting lost and ultimately stay safe.
Buoyancy Expert
You need nothing less than perfect buoyancy to dive at Gordo Banks. We dive in 5mm+ suits most of the year which makes you float on the surface and heavy at depth.
Deep diving with Enriched Air Nitrox
With elevated depths, come risks such as decompression sickness and nitrogen narcosis: this is something that Advanced divers know very well. Enriched Air Nitrox is an option, although Air is preferable. Find out why in a PADI Enriched Air Course.
Nitrox Speciality course in Cabo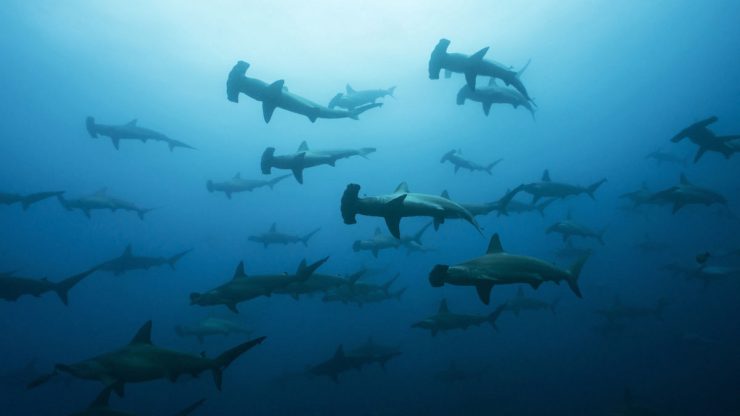 Why check-out dive, even if I have hundreds of dives?
This takes us back to the start of our post. In many areas of the world, check out dives are mandatory – even required by law – and even if you are a seasoned diver, When diving at Gordo Banks with Cabo Private Guide, you are required to perform a check dive. This simply means that before heading to Gordo Banks you will dive a local dive site at Cabo San Lucas marine park or the Corridor located in the Sea of Cortez. It's a pretty cool place for a check dive in it's own right! If you don't have much in the budget or much time, ask about our 1 tank options. We are the only dive shop in Cabo that offers this service.
1. Proper weighting for wetsuits that cater to different Pacific Ocean temperatures
Maybe you have been diving all over the Caribbean for a number of years and you're an extremely competent diver that can easily handle a free drift-diving descent in crystal clear water.
Your air consumption is almost as good as the dive guide's in that 3mm warm-water shorty suit. But then you come to Cabo in July when Gordo Banks is full of Silky sharks. Pretty exciting!
Suddenly you're handed a 7mm long suit which you have never been properly weighted for. You roll backwards overboard and the rest of the regular cold-water divers make an easy descent in the current as you burn through a big portion of air trying to get down to catch up with them.
It's murky water season too and so becoming separated is not an option. If you're thinking the answer is just to take more weight, that's the wrong answer.
As a competent diver you should know that this extra weight is going to create a huge drag at depth and you will be swimming harder with the increased danger of falling way below your NDL.
On top of this you weren't expecting cold water which increases your air consumption noticeably, not to mention it's very murky and unnerving all of a sudden.
A check out dive will mentally prepare you for colder, murkier Spring-Summer water and your guide can see how much weight you need in anything from 3mm in October to 7mm in July.
Check out our Scuba diving weight an wetsuit chart
2. Check Out your Equipment
If you're renting equipment then you definitely need to get used to the configuration.
If you have your own equipment then maybe it hasn't been serviced as regularly as you'd like.
If you have just had it serviced it is always a good idea to have a check out dive just to make sure its been put back together properly!
3. To check into the activity
We leave for Gordo Banks very early in the morning and we ask divers to come and pay, fit equipment, sign any outstanding waivers, provide insurance information etc the day before – during the check-out dive experience.
Gordo Banks advanced dive is not a dive that can be organized from scratch at 6am in the morning. The reservations team start their day at 7am when you should be sailing passed the Arch! Plus, if we meet you directly at the boat you can get an extra 30 mins in bed!
4. Because of the other divers in your group
At Cabo Private Guide we want to provide the safest and best possible service.
If we take 4 very Advanced divers on the check out dive but one diver has very fast air consumption (because they are just built that way) then we can add a second guide. Better to find this out the day before so everyone has a good time the next day!
5. Know how to use a computer and SMB
All our divers must carry a computer and SMB (available at the shop). If you do not know how to use these items we will show you the day before.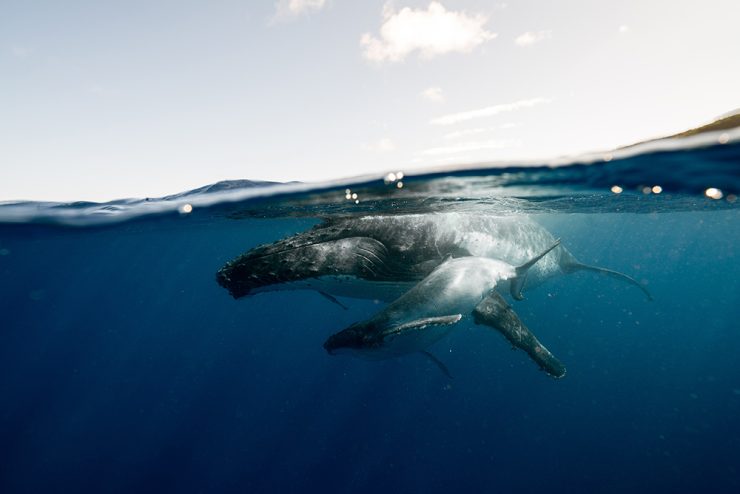 Rare Exceptions for NOT checking out
PRIVATE BOAT of 1 -2 people
If you are an individual/couple booking a private boat with us then it doesn't impact anyone else's dive so much if you have descent problems, you breathe your air too fast or you need to call the dive. Your guide can stay very close to 1 or 2 people.
We can also buoyancy check you just outside of the marina and do an equipment in-water orientation.
DIVE PROs
If you are a dive pro who has been diving within the last 2 years and has proven cold water diving experience in a 7mm wetsuit you can omit the check out dive.
We will need payment and waivers signed and amount of weights needed in advance.
You must agree that if for any reason you have issues descending after 1 minute the guide will not wait for you and you will abort the dive immediately and launch the SMB once at the surface.
Checking out with a partner dive shop
If you want to make your check out dive in another part of Baja, we can totally work with this. The following dive shops who can share your check out information:
Keep reading
Learn more about unique scuba diving experiences in Baja California and Cabo San Lucas: