Why is it essential to preserve our marine ecosystem ?
Since the very first publications surfaced in marine conservation research, humans have been consistently reminded of the staggering importance of healthy coral reefs to the overall health of our planet.
Coral produces more oxygen than trees, they act as important coastal barriers and, without coral, fish life would cease to exist. With the substantial increase of sick, dying and dead coral reef systems (of which some are thought to be as old as 4000 years, by the way) we will see irreversible devastation to the delicate balance of all marine ecosystems. Earth will begin to die in ours and our children's lifetime. Read that again.
Coral reefs are increasingly destroyed with pollution, bad fishing practices, coastal development and ocean acidification. As the ocean warms with alarming acceleration, the emphasis on preserving coral reefs and the underwater realm has become stronger than ever.
As divers we are the ambassadors for the underwater world.

It is essential for all water enthusiasts to take care of the delicate aquatic environment and promote healthy practices to reduce destructive human impact; the number one cause of our dying oceans.
Here, let us introduce you to what we consider to be 7 major steps when choosing to be an eco-friendly diver.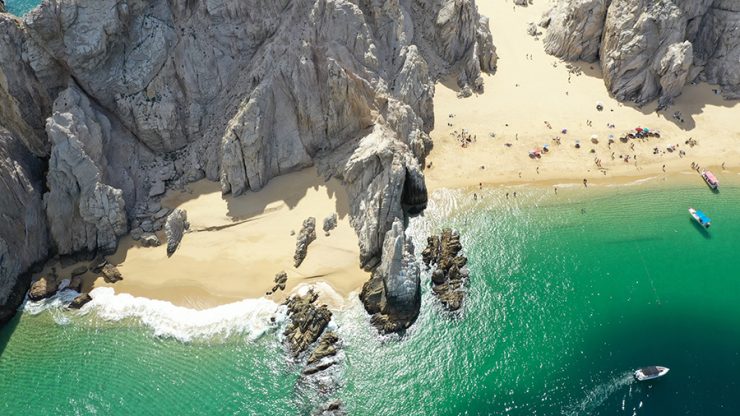 1. Opt for an eco-friendly dive operator
While diving and preparing to travel to a new location, don't forget to ensure that the dive center or tour operator you chose adheres to environmental regulations and supports eco-friendly and eco-conscious operators. Before you even leave, do your research. You are the agent of change!
You can find the right eco-responsible dive operator for you next vacation scrolling some of these websites:
I like local : Is an impact travel marketplace. Here you can book directly authentic travel experiences with local people and community organizations.
Book Different : Book over 1 million accommodations focus on sustainable travel.
Holiable : Find accommodations, restaurants and activities committed to sustainable travel around the world !
As a PADI 5 Star dive center, Cabo Private Guide brief in 2022 is to work alongside the PADI Aware Foundation and get divers thinking about conserving the ocean. We teach a variety of conservation courses including :
Shark Conservation Specialist
Coral Conservation Specialist
Whale Defender
Dive Against Debris
PADI Aware
Being recognized as an Eco Dive Center is part of our fundamental values. We are also involved in a number of activities, including marine conservation, beach and reef clean ups, Citizen Scientists programs; we do our best to contribute to the preservation of the environment.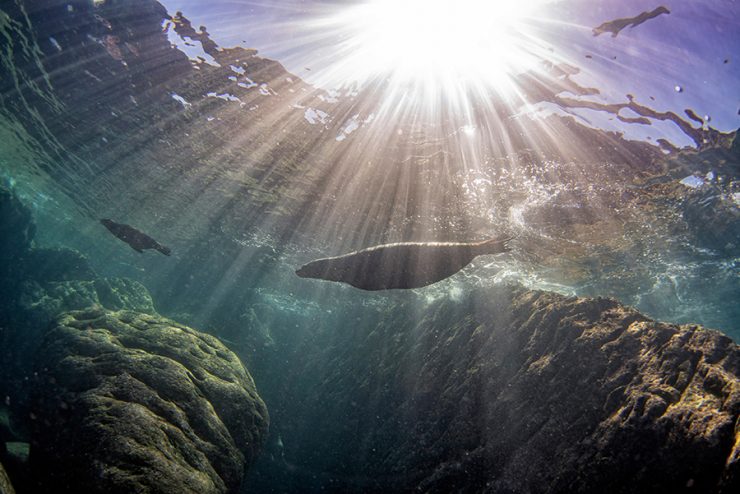 2. Respect marine life while diving
As divers, snorkelers or when whale watching, always show responsible behavior and respectful interaction with the environment and marine life.
Be aware of your environment
It is imperative to maintain neutral buoyancy to avoid ALL impact with coral reefs and wildlife. If you are slow and still in the water we promise you, you will actually get closer to the wildlife without being a nuisance!
If you don't feel comfortable or need to improve your skills, don't hesitate to ask your dive center for a scuba refresher or a specialty course, like the PADI Peak Performance Buoyancy.
Respectful interaction
It is imperative not to touch or harass animals and the use of gloves is discouraged (since divers tend to touch more when they use them).
Make sure divers understand fish do not need to be fed. Why? Well, if the fish are full up of tourist snacks they won't want to eat the algae that lives on the reef. Too much algae devastates the coral and causes an imbalance to the ecosystem.
Do not collect souvenirs
When diving, we want to create memories that will last forever, we do not need souvenirs or goodies from the abyss. We want future generations to be able to witness the same beauty that we get to see now.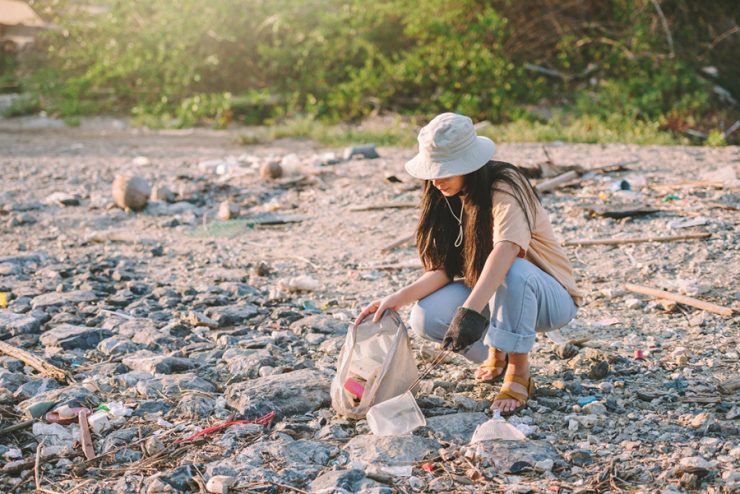 3. Get involved locally
Did you know that the Great Pacific Garbage Patch is around 1.6 million square kilometers? This is larger than Texas! The amount of clean-ups and environment-friendly activities in every corner of the world is truly impressive: in Los Cabos, eco-conscious divers can get involved in many ways.
Beach and Dive clean-up
You can volunteer in a beach clean-up or even just grab every chance you get to collect trash from the sea floor – just take a mesh bag with you when going diving! Ask your guide first.
At Cabo Private Guide we have a beach clean on the first Sunday of every month, let us know if you want to join!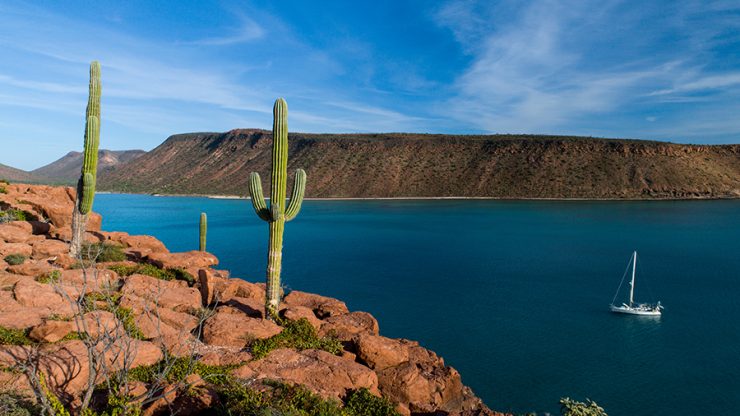 4. Support marine parks
Marine reserves and national parks are established to protect the ocean biodiversity and support marine conservation: when diving in a marine park and paying the fees, you are basically making a donation for ocean conservation. On the other hand, Marine Parks help local communities by creating employment and education opportunities and offering financial support.
In 2010 the Gulf of California was designated as the first Global Hot Spot after the Mission Blue expedition led by Dr. Sylvia Earle. Here around Cabo San Lucas, we have as many as four beautiful National parks or Marine reserves :
Cabo San Lucas Marine Park
The local marine protected area of Cabo San Lucas, is a no fishing zone, located at the northest point of the Baja California peninsula. Where the Pacific Ocean meets the Sea of Cortez. You will find many dive sites in Cabo San Lucas Marine Park such as Land's End or Pelican rock.
Cabo Pulmo National Park
Cabo Pulmo, which is nothing less than a UNESCO World Natural Heritage, is extremely famous in the diving community for its Bull Shark and abundant marine life.
The Bay of La Paz
The national protected marine area of La Paz is a rich biodiversity area : it's a path of whale sharks migration and a nature lover's paradise you will find various reefs and wrecks to dive, and sea lion colonies to explore.
Espiritu Santo island
Another stunning place to discover is The Espiritu Santo island located near La Paz, Mexico. Espiritu santo was declared in 2005 as UNESCO World Natural Heritage Site and National Park since 2007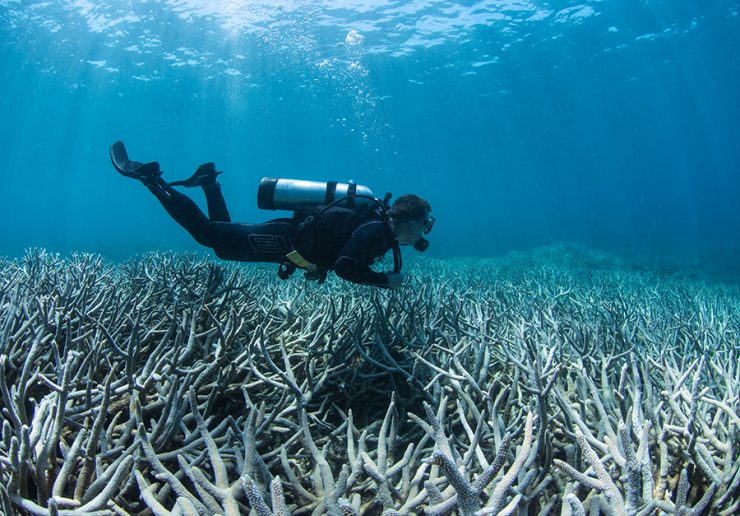 5. Use eco-friendly products
Reef-safe sunscreens
For decades, we have been intoxicating and polluting coral reefs without even knowing it. How? With the sun screens that we use to protect our skin from the UV rays.
Today, scientists have realized that Oxybenzone is the reef-damaging active ingredient found in regular sunscreens, which disrupts the reproductive function of coral and causes complete bleaching that prevents symbiotic algae from photosynthesizing.
Luckily, reef-safe sunscreens, that are not toxic to the coral reef, are available on the market, and if you want to be an eco-friendly diver you should think about these main options:
Switching to a reef-safe mineral based sunscreen
Wearing sun protection such as rash guards and hats
NOT applying sunscreen immediately before entering the water
We stock the reef-safe Raw Love Sunscreen here at Cabo Private Guide! This brand is not only FDA compliant and kids friendly, but it also provides beneficial antioxidants while moisturizing your skin and, of course, protecting you from the sun.
Avoid single-use plastic
Between 4.8 and 12.7 million tons of plastic are dumped into our oceans yearly. Did you know that more plastic than fish is said to inhabit our seas by 2030?
This is the reason why it is so important to discourage the habit of throwing waste in the water and avoid all single-use plastics such as bags and straws.
Interested in getting involved locally? Have a look at our PADI Project AWARE programs such as "Dive Against the debris" & "Adopt the Blue". And every month, join our eco-friendly divers in a rewarding dive site clean-up around Cabo!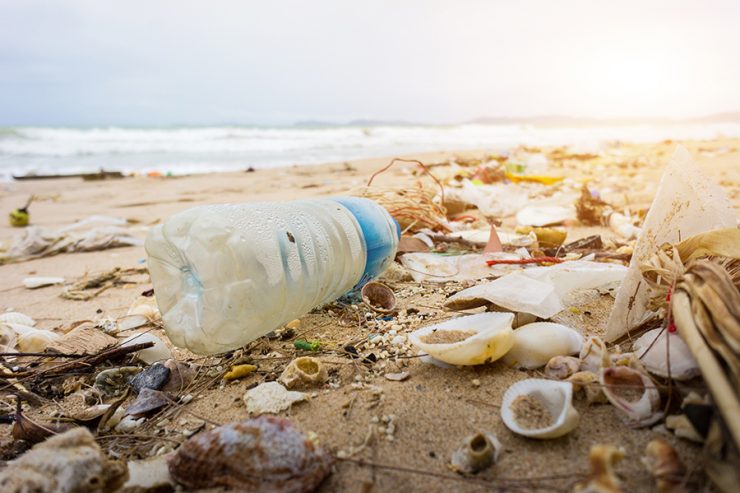 6. Contribute to eco-conscious programs
Financially and actively supporting eco-conscious programs and associations or NGOs is particularly important for divers and water enthusiasts. Donating funds or time, helping, volunteering, raising awareness and becoming a citizen scientist are all useful steps in the fight against the use and abuse of our delicate environment.
Here are the organizations that we support at Cabo Private Guide, or that we are proudly members of :
Green Fins
All Private Guide staff members have taken the additional Green Fins dive-guide course. Members, which can be individuals as well as dive or snorkeling centers, liveaboards etc., follow specific environmental guidelines that promote a sustainable diving and snorkeling industry, for the ultimate protection and conservation of our coral reefs.
Empty the Tanks
The anti-captivity & ocean conservation campaign Empty the Tanks, is mainly focused on ending dolphins and Killer whale captivity in dolphinariums, aquariums and such, condemning forced behaviors and performances and promoting sustainable eco-tourism instead, with the goal of a greater health of our oceans and respect for its creatures.
Mobula conservation project
The Mobula conservation project is a local project in the Baja California area which developed from the collaboration of researchers working for the conservation of threatened mobula rays.
Thanks to the abundant presence of these rays in our waters, Cabo Private Guide provides data to the project, recording numbers, locations and behavior of these endangered rays to help the Mobula species thrive and avoid extinction. Our divers are encouraged to collect and provide these data during their vacations with us, transforming into Citizen Scientists for the love of the sea.
Join us for a Mobula Safari and become citizen Scientist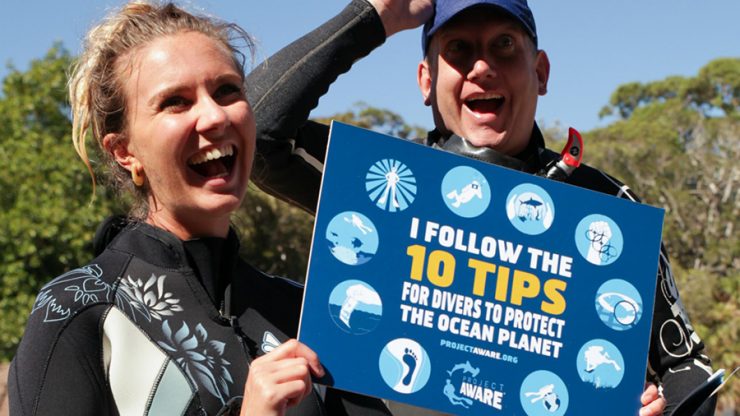 7. Educate yourself
Marine conservation classes and eco-friendly diving courses are readily available and make it possible to empower divers and snorkelers, elevating their knowledge and inspiring their presence as ambassadors of the sea.
Enroll to a course
Following a conservation specialty course means deepening our knowledge and understanding of the fragile balance of our underwater world, and also improving our abilities to preserve it and spread the word to others.
Diving courses that mainly focus on the environment and conservation include:
PADI AWARE Shark Conservation course
PADI Coral Reef Conservation Course
PADI AWARE Specialty course
They are all accessible here at Cabo Private Guide for our Eco conscious divers, both in presence and online thanks to the E-Learning options, so that once you arrive here at Cabo San Lucas you can immediately jump in the water to observe what you learned, report and collect data, and enjoy your diving holidays in a more aware and sustainable way.
Our private dive guides are all PADI Project AWARE conservation certified instructors and can assist you in getting your eco diving certifications.
PADI AWARE Speciality course
In an additional effort to educate as many divers as possible and protect our beloved environment, Cabo Private Guide is offering 50% off of the PADI AWARE Specialty course when you sign up for ANY dive course !
Learning by reading
Looking for ways to deepen your knowledge? Dive into reading!
Here are some books related to ocean conservation recommended by our staff:
"The Ocean Hero Handbook: Simple things you can do to save our seas"
by Tessa Wardley 
"Coral Reefs Biology, Threats and Restoration"
by Anna P. Brannet and Thomas B. Davin;
"Plastic Pollution and Marine Conservation: Approaches to Protect Biodiversity and Marine Life"
by Giuseppe Bonanno and Martina Orlando-Bonaca.
For kids:
What a Waste: Trash, Recycling, and Protecting our Planet
by Jess French;
Water Cycles,
by DK