Looking to add a little bit of action and adventure on your trip to Baja California? Whale watching is a mind-blowing experience for the whole family! In Cabo, we are lucky enough to be able to view quite a few species of whale.
This one-of-a-kind experience is the perfect addition to your vacation in Cabo San Lucas whether you're a bonafide nature lover or just curious to see how big these gentle giants can be in person.
We've got everything you need to know to plan your whale watching tour in Cabo.
Summary :
The Whale Species of Cabo San Lucas
Humpback Whale
Humpback whales are the most commonly seen whales around Los Cabos, it's almost guaranteed that you'll be able to spot a humpback on our whale watching tours during peak season. They love to put on a show, and we often see mom and baby displaying fun acrobatic behavior such as breaching and tail slapping. Humpback whales are seen from December to April around Cabo San Lucas.
Humpback whales are enormous! Growing up to 50 feet in length, with calves measuring at about 10-15 feet during birth. That's a big baby! You'll notice their huge pectoral fins and giant tails as they put on their shows at the surface.
Discover the Humpback whale of Cabo San Lucas
Gray Whale
Curious and friendly the Gray Whales are also quite large, reaching up to 49 feet as adults. Gray whale calves are known to be very interested in boats, sometimes coming right up close to take a peek. We sometimes see gray whales in Cabo, but the best place to catch them is further north in Magdalena Bay. You can interact with them from January to April near Puerto San Carlos.
Blue Whale
Blue whales are the biggest animals to ever grace the planet – yeah, we're talking bigger than the dinosaurs! Reaching up to 80-100 feet long, it's hard to imagine a creature of this size. They also migrate through the area to find a nice, safe place to reproduce from January to April. Even the babies measure up to 26 feet at the time of birth.
Fin Whales
The second largest, but lesser-known, animal on the planet is the Fin Whale. This population of fin whales make their permanent home in the Gulf of California. Growing up to 80 feet or more, they're known for having asymmetrical pigmentation.
Bryde's Whale
The Bryde's Whales prefer to spend their lives in more temperate waters and therefore you can catch them near the coast of Mexico year-round. They're another large whale and can measure up to 50 feet long.
Sperm Whale
Sperm whales have a huge, square head that takes up nearly a third of their body, so they look a little different than the others whales and that's okay! Reaching up to 52 feet, these whales have the largest brain of any animal. They stick around year round but tend to be much further offshore and spend long periods deep underwater.
Whale Shark
Wait, is it a whale or shark? This creature is actually a shark, but it got its name because they're huge! The whale shark is the largest fish on the planet, measuring up to 40 feet (not even close to the blue whale)! Even though they are technically a shark, they're gentle giants. You can even snorkel with them because they are filter feeders, similar to their whale counterparts. If you're lucky, you may find them during a blue water tour around Cabo San Lucas or Gordo Banks. To give yourself the greatest chance to see them, it's best to take a dedicated whale shark tour in La Paz from October to April.
Killer Whale
The killer whale, or orca, is also not a whale, despite its name. Same as the dolphin It's a member of cetacean family. They can sometimes be spotted in the Sea of Cortez and around Cabo San Lucas and La Ventana off Jacques Cousteau Island called also Cerralvo island.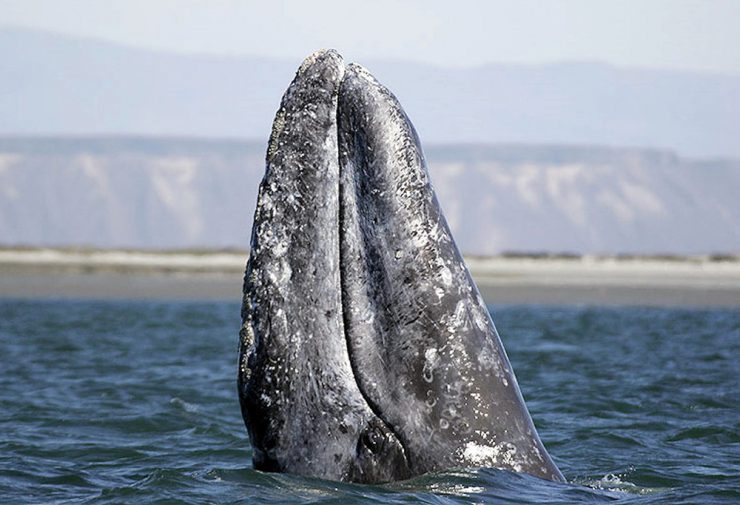 When is Whale Watching Season in Los Cabos?
If you're coming to Cabo for the whales, the best time of year to see them is in the winter and spring months. Starting around the middle of December until mid-April, the humpback whales migrate through the waters of Los cabos. During this time, many other species make their way to the coast of Baja California, such as the blue whale. Also are you wondering what's the best time to visit and dive Cabo San Lucas? We have all the answers for you !
Why does the Pacific whale migration pass through Cabo?
It's no accident that these gentle giants find their way to the Sea of Cortez year after year. The Baja California waters are some of the most biodiverse marine ecosystems. Their instincts bring them back to their birth waters in Cabo San Lucas which provide a safe environment for nursing new borns. The warm, nutrient-dense waters make it the perfect place for whales to mate, give birth, and raise their young. Its diversity and location tucked away from the vast ocean make it the perfect nursery for calves. Here, you'll see mothers teaching their young all the necessary skills and behaviors that they need.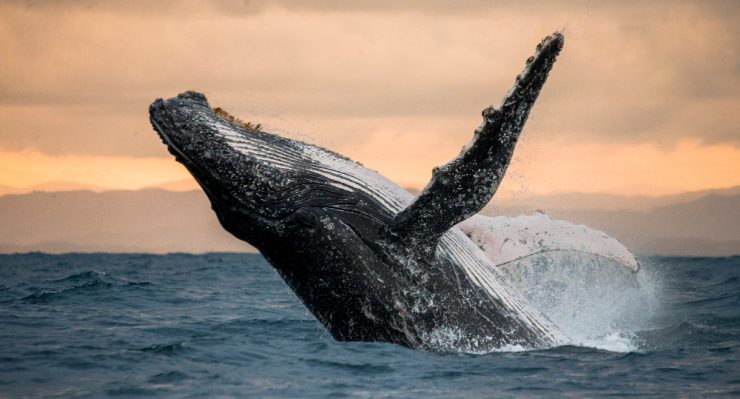 Whale Watching In Cabo from the Comfort of A Private Yacht
We're sure that after reading all about the majestic creatures you're ready to see some in the wild for yourself!
While Cabo Private Guides does offer the standard whale watching tours in our "Pangas," why not step it up a notch?
We offer premium whale watching tours from your choice of our fleet of yachts. Take your pick of one of our luxury boats and have the entire trip to yourselves. From our 50 foot catamaran to our lavish sailboat to our ritzy yachts, we have the perfect luxury boat for you. Our premium tours come with a full bar, chef-cooked meals, and a five-star crew!