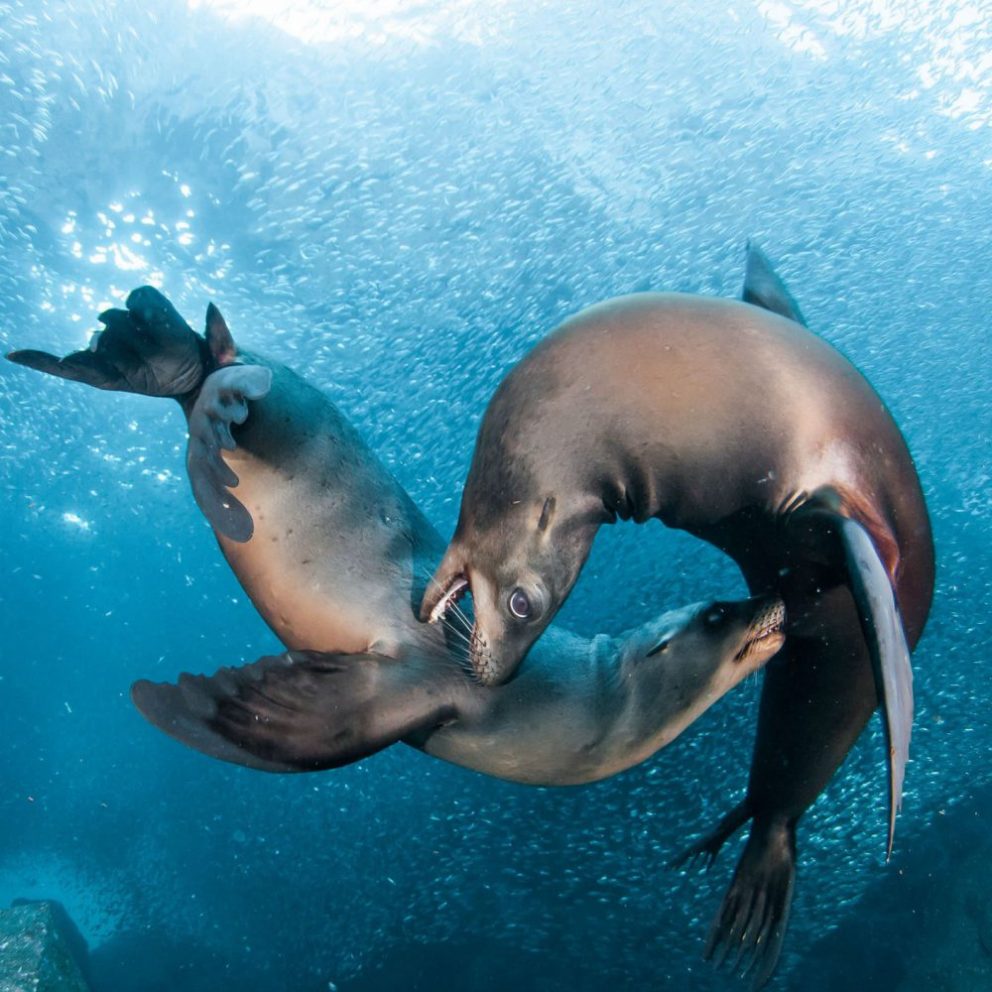 Scuba diving tour in La Paz
Sea lion Dive & Whale shark Combo
October to May
Take the opportunity to dive in La Paz! If you are a certified diver we can offer you the opportunity to dive with the sea lions of San Rafaelito colony in the morning followed by a swim with the whalesharks after lunch.
It's recommended that you do a local refresher dive, or pool session, if you haven't been diving in a while.
Tour details
Price & booking
Tour Outlines
The dive is shallow and it's possible to mix this tour with both divers and snorkelers
What's inclued
Private Guide

Private boat

Private Transportation

Lunch, Snack & Refreshments

Go Pro footage

Weight & Tank
Schedule
Leave Los Cabos 6am

Optional stop for burritos and coffee (additional cost)

Arrive La Paz 9am

6 hour boat trip

Return to the sea front 3pm

Return to Los Cabos 6pm.
Deparature
From Cabo San Lucas
Price & Booking
Sea lion Dive & Whale shark Combo
Price in USD
|
5% Cash Discount
Private Tour
$ 775 1-2 people
1 tank dive + whaleshark snorkeling.
A mix of divers and snorkelers is accepted
Book now
Private Tour
$ 975 3-5 people
1 tank dive + whaleshark snorkeling
A mix of snorkelers and divers is accepted
Book now
Tour infos & Requirement
---
Hotel pick ups :
Hotel pick ups include all hotels in the Cabo San Lucas area up to Hacienda Encantada and all those on the Pacific side.
If you are coming from the Corridor or San Jose del Cabo please meet at the tour center by 6am or we can pick you up $30USD each way.
Included Lunch :
If you have allergies we can request an alternative – just let us know!
---
Scuba Diving Reviews

Amazing whale shark & sea lion tour with Cabo Private Guide
What a wonderful day we had with Jenny from @cabo_privateguide Our whale shark and sea lion excursion in La Paz was the highlight of our trip in Los Cabos. The trip was easy to arrange through the website. Additionally, Laura and Antonio…
By Anita_Potter on TripAdvisor
Sea lions, whale sharks, and manta rays!
My husband, our teenaged daughter, and I travel pretty regularly and spend a ton of time in the water. Let me start by saying that the sea lion and whale shark tour that we went on with Jenny, Alejandro, and Fernando was…
By krjminor on TripAdvisor
Amazing - Snorkel & Scuba Experience
Laura and Antonio were great! Laura is always quick to respond to my questions, and helped me set up the best culminating experience for our trip to Cabo. Antonio was an amazing guide and host as he spent the entire day with…
By texasmom79121 on TripAdvisor
6 days of diving
Perfect...what else can I say, attention to detail and saw everything we could have wished for while diving!!! Bull sharks, whale sharks, hammerheads, turtles, the elusive octopus, nudies, large schools of fish, sea lions that compete with cirque du soleil, cow nose…
By G Bernier on TripAdvisor
Great Dive Experiences
I have booked a few trips with Cabo Private Guide both diving around Cabo San Lucas and most recently to Cabo Pulmo. The experience has always been first class. Laura and her team are very professional and safety conscious. They are always…
By Luke S on TripAdvisor
Can't wait to go back! Very professional and FUN!
Cabo Private Guide was an amazing experience from start to finish. Laura is excellent with handling communication. We started planning this trip in August. The closer we got to the trip, the more emails I would send, and she answered them quickly.…
By Amy S. on TripAdvisor
Dive with Sea Lions in Baja California Sur
Scuba diving with sea lions is possible across the south of the peninsula at most tourist hotspots: from Cabo San Lucas, to Cabo Pulmo National Park and in La Paz. The sea lions of La Paz are more playful and are home to more females and pups.
There are 2 large sea lion colonies in La Paz: the largest (Los Islotes) and the secondary colony of San Rafaelito. We visit the latter during this combination tour and it's usual to see an abundance of these playful animals here
Aside from the sea lions, San Rafaelito has soft corals and tropical fish making a shallow dive an enjoyable addition to the regular whale shark tour.
La Paz to Cabo San Lucas
The state capital of La Paz is an easy 2 hour drive from Cabo San Lucas. Highway 19 takes you through the arable farm and fishing village of Pescadero and then bypassing Todos Santos; a town with rich culture in architecture, arts and mining.
Following Todos Santos we stop for homemade burritos and coffee at a charming roadside cafe, just after the sun has risen. This has accidentally become one of the tour highlights in actual fact! Unfortunately, we cannot stay long. We always try and arrive at the La Paz seafront or 'Melacon' by 8.30am to guarantee a good place in the whaleshark queue which can sometimes be longer in the busier holiday seasons. But don't let this put you off!
Actually, combining your tour with a sea lion dive means we can visit the colony until our place is available to see the whale sharks. You can also combine the whale shark tour with a Sea lion snorkeling tour.
Our boat is located at La Paz marina and here they have clean, modern facilities if you need a last minute bathroom break or to change into swimwear/dry clothes.
Price & booking
Frequently Asked Questions
How far is La Paz from Cabo San Lucas?
By Highway 19, Cabo San Lucas La Paz is situated 2 hour drive away from Cabo San Lucas.