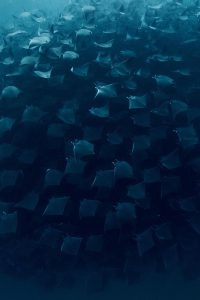 Cabo San Lucas and the Baja California Sur peninsula is particularly well known in the scuba diving and snorkeling world for amazing animal encounters, big aquatic life and beautiful conditions in the autumn and winter months. So how does summer compare for our aquatic adventurers?
The Mobula Ray Migration
One of the most impressive aggregations of wildlife on the planet comes to Cabo.  We swim with huge 'squadrons' of rays in their tens of thousands right inside the bay of Cabo San Lucas. Only 5 minutes by boat. Incredible! Cabo San Lucas is where the Sea of Cortez meets the Pacific Ocean and we venture into both to search for them. Finding them is easy as they leap, jump and pop out of the water from the depths to create a sonic wave of communication with the hard slap of their landing. As just one theory goes. The Mobula rays behaviour is a visual metaphor of watery popcorn exploding into action; it is both an impressive and unforgettable sight.
We can take you to see these aggregations between May and August. See our Mobula Snorkeling Tour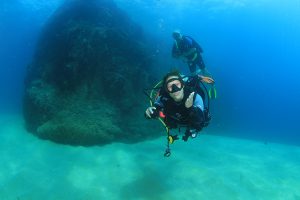 Scuba Diving
July and August last year saw incredible wildlife encounters on the canyon wall. An oceanic Giant Manta Ray made Cabo home for the summer and we kept seeing huge numbers of eagle rays, mobula rays and stingray. In addition to this Cabo is famous for all the usual suspects: five common species of eel, macro life that includes frogfish, seahorses and nudibranch and also several species of turtles, sharks and tropical fish families. Treat yourself to a private guide and get the best chance to spot the most wildlife.
We run tours every day morning, afternoon and evening. See our Scuba Diving Tour
 Snorkeling the Bay
Summer is obviously hot. So combining a tour to the arch with a quick dip at the Pelican Rock reef is a sure way to cool off while making the most of being out on the boat. It's a short trip so no need to get up too early and you still have the afternoon to sit by the pool. Remember your reef safe sunscreen!
Tours run from 7.30am to escape the crowds up to 2pm. See our Snorkeling Tour
 Gordo Banks
This deep pinnacle is located 25 minutes out of San Jose marina and is a very advanced dive site. Sightings of schooling hammerheads are frequent among other pelagic animals. Other species of shark have been seen: last year a rare handful of Pacific Sharp Nose were spotted near the surface. Summer is swell season so a deep dive away from the coast is often the perfect option for those who are qualified.
We need you to check out dive with us first at minimum Advanced level to dive at Gordo Banks. See our Gordo Banks Dive Tour
 Cabo Pulmo National Park
Diving and Snorkeling
If aquatic life is the focus of your vacation then this ground breaking marine reserve is arguably one of the best places to visit in Baja California Sur. You can do this on a day trip from Cabo.
The national park gives divers more freedom in the summer months to explore the popular reefs: reefs that are, by September's 'high season', more restricted in the interests of reducing human impact.
For non-divers wishing to cool off in the heat of the summer a snorkel tour in Cabo Pulmo is one of the best in the area. At cabo pulmo dive with a tornedo of Jacks, snorkel next to sea lions, visit a beach popular with turtles and swim above beautiful soft coral reefs. Join us to Cabo Pulmo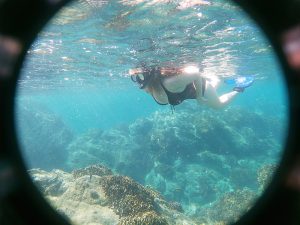 Espiritu Santo Island, La Paz.
This island is one of the most beautiful in the whole of the Sea of Cortez. It was declared an UNESCO biosphere reserve in the 90's. You can visit an old pearl farm, a huge frigate colony and lunch on one of the world's top ten most beautiful beaches (Travel Magazine 2016). For water enthusiasts you can snorkel at some amazing snorkel spots and see turtles, tropical fish families and rays. This island tour is a full day trip from Cabo.
The Sea of Cortez has a huge variety of beautiful places to see and plenty of aquatic activities to keep you busy. If you are visiting Los Cabos this summer as either a scuba diver or a snorkeler there are some great memories to be made.