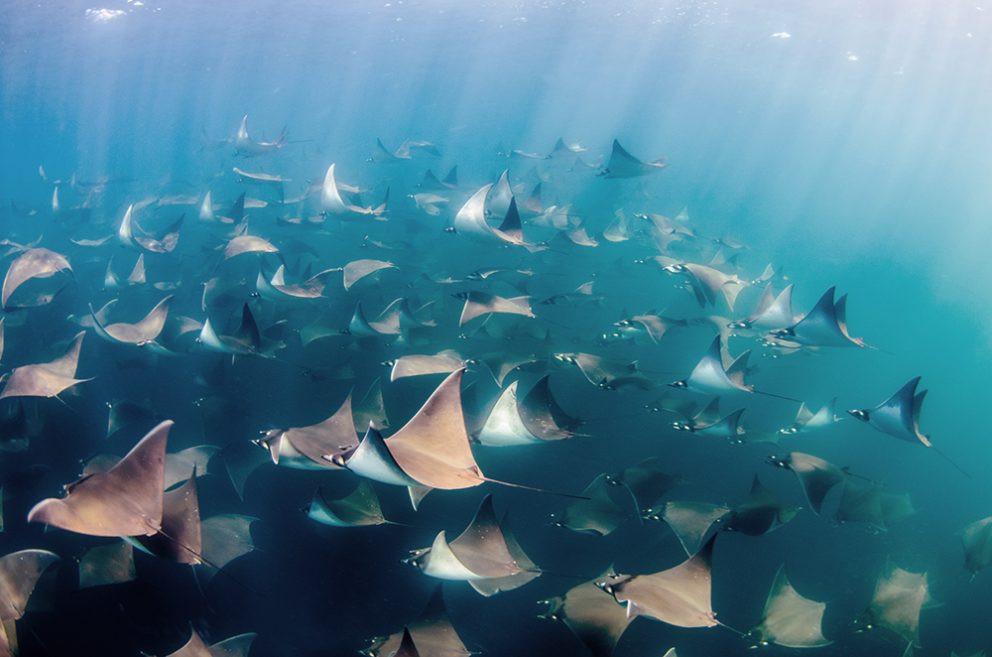 Dive with Mobula Rays in Cabo San Lucas – Combo Tour
Dive with Mobulas
May to August
All levels
During the months of June and July (although depending on water temperatures sometimes as early as May and as late as August) a huge aggregation of Munk's Devil Rays (Mobula Munkiana) arrive in the bay of Cabo San Lucas.
This is a unique wildlife encounter and one not to be missed! We recommend contacting the dive shop in advance to see if the aggregation has started. July is the best month to try and guarantee sightings – although nothing in nature is guaranteed!
Tour details
Price & booking
Tour Outlines
To optimize your chances of photographing and swimming with this breath-taking spectacle of nature we have designed a unique tour only available at Cabo Private Guide. Begin with a blue water snorkel looking for mobulas followed by a 2 tank dive at a reef near to where they are being seen.
What's inclued
Shared or Private boat

Boat upgrade

Small brunch

Burritos, Fruit, Coffee, Juice

Refreshments and snacks

Go Pro footage

Additional guide for groups more than 4 people

Tanks and weights
Schedule
Everyday 7am - 12.30pm :

Looking for Mobula Rays
+
Brunch
+
2 Tank Dive

Departure
From Cabo San Lucas Marina
(MARINA MERCADO , Main Dock)

Price & Booking
Dive with Mobulas
Price in USD
|
5% Cash Discount
Shared Boat
$ 175 pp
Mini 3 - Max 10 pax
+ $45pp Extra Non-diver
+ $170 Discover Dive (Non-certified diver)
Diving Equipement : +30 USD
Private Photographer : +$150
Book now
Private Boat
$ 700 per boat
1 - 4 Divers
+ $75pp Extra diver
+ $45pp Extra Non-diver
+ $170 Discover Dive (Non-certified diver)
Diving Equipement : +30 USD
Private Photographer : +$150 USD
Book now
Tour Info and Requirements
---
Passengers and Snorkelers
Snorkel/Scuba Trip Mix are all available.
Transportation & Hotel pick up
In option, add a private transportation. Inquire about Hotel pickup availability.
Professional photographer
In option, add a private professional photography service for any local tour.
---
Scuba Diving Reviews

Beginner Group
Both guys were very patient with all of the five of us. Only one had ever done any scuba at all. They offered great instruction and encouragement.
By Clint K on TripAdvisor
These folks are the best
I did a two tank dive with Antonio. MY BAD, I didn't know how cold june 1 could be in Cabo (water temp 65F) but Antonio took very good care of me. These people are real pros. I would definitely dive with…
By Steve B on TripAdvisor
Awesome !
We booked a three tank dive online. Laura responded promptly to our inquiry. She explained everything clearly and arranged for a phone call to answer questions we might have. The entire process was easy and hassle free. We absolutely enjoyed our dives!…
By Ceo on TripAdvisor
Best in the Business
I dove for 3 days with Private Guide and had the BEST time. Laura was so accommodating on such short notice. I contacted her a day before my trip after finding her in a Facebook group where she was #1 recommended for…
By Judith R on TripAdvisor
Excellent dive
Communication with this company is top notch. I looked at reviews for Lauren and all the positive reviews were spot on. Had 2 days of diving with Lauren and she was great. My wife only snorkles and I dive and Lauren made…
By Jeff B on TripAdvisor
How to Witness the Cabo San Lucas Mobula Ray Migration ?
Because it is much easier to find and swim with these huge squadrons with a fast boat and snorkel gear, but because we still want to have the best chances to see the Mobula rays down in the water while scuba diving, we are now offering a tour to combine both activities!
You might see these tiny manta rays 'popping' like popcorn at the surface, leaping in the air and slapping their bodies back down to make a sonic wave of communication to those below. If we see this behavior we KNOW we're in for a treat because below the surface this means there are tens of thousands of them!
Remember! Nothing in nature is guaranteed. We can guarantee a dedicated and expert boat and dive crew who will give you the best chances to find the squadron. Of course, there will be regular wildlife encounters at the reef in all cases!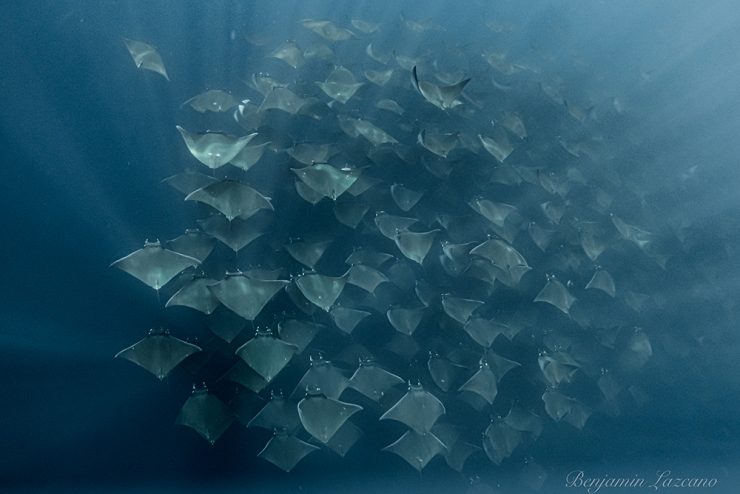 A Private & Bespoke Mobula Rays Experience in Los Cabos
Check in to the dive shop the day before the tour to size equipment and get the paperwork/payments completed. We will explain where to find the boat in the morning.
At 7am your guide will meet you directly at the boat and you will spend the first hour looking for the mobulas at sunrise.
Your guide will evaluate the conditions and spend the time choosing 2 dive sites based on your comfort level and which reef is closer to where the mobulas are hanging out. These dive sites could be in the Corridor area, back in the bay of Cabo or one of each.
We will provide a small brunch of burritos, fruit, coffee and juice between the early-morning swim and the 2 tank dive.
Snorkeling Trip only
You are not a diver or you only want to swim with the Mobulas with no scuba diving involved? Please check our dedicated Mobula Ray snorkeling tour.
Price & booking