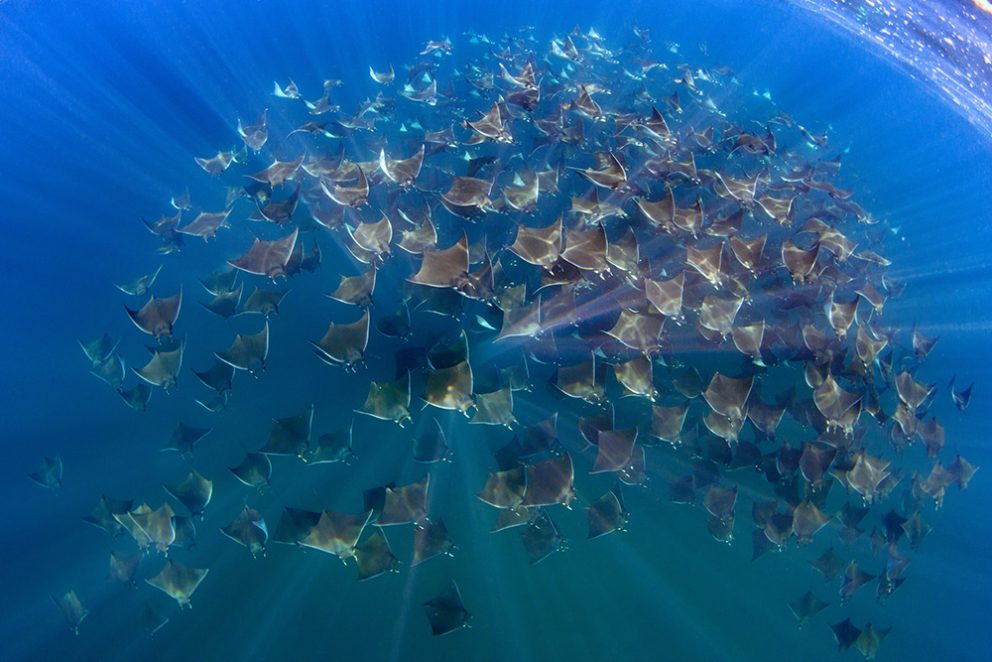 Dive with Mobula Rays in Cabo San Lucas – Combo Tour
Dive with Mobulas
May to August
All levels
During the months of June and July (although depending on water temperatures sometimes as early as May and as late as August) a huge aggregation of Munk's Devil Rays (Mobula Munkiana) arrive in the bay of Cabo San Lucas.
This is a unique wildlife encounter and one not to be missed! We recommend contacting the dive shop in advance to see if the aggregation has started. July is the best month to try and guarantee sightings – although nothing in nature is guaranteed!
Tour details
Price & booking
Tour Outlines
To optimize your chances of photographing and swimming with this breath-taking spectacle of nature we have designed a unique tour only available at Cabo Private Guide. Begin with a blue water snorkel looking for mobulas followed by a 2 tank dive at a reef near to where they are being seen.
What's inclued
Shared or Private boat

Boat upgrade

Small brunch

Sweetbreads, fruit, cereal bar and also Coffee if you check-in on time!

Shared guide or private boat

Go Pro footage ** ON REQUEST

Additional guide for groups more than 4 people

Tanks and weights
Schedule
Everyday 6.30am - 12.30pm :

Looking for Mobula Rays
+
Brunch
+
2 Tank Dive

Departure
From Cabo San Lucas Marina
(MARINA MERCADO , Main Dock)

Price & Booking
Dive with Mobulas
Price in USD
|
Cash discount available
Shared Boat
$ 175 pp
Min 3 - Max 10 pax
+ $75pp Extra Non-diver
Diving Equipement : +35 USD
Private Photographer : +$195
Book now
Private Boat
$ 700 per boat
1 - 4 Divers
+ $175pp Extra diver
+ $75pp Extra Non-diver
Beginner divers welcome!
Diving Equipement : +35 USD
Private Photographer : +$150 USD
Book now
Cancelattion policy
Cash paiement and bookings by phone are eligible for 5% discount, call the office for info.
Secure online payement powered by Peek.com
Tour Info and Requirements
---
Passengers and Snorkelers
Snorkel/Scuba Trip Mix are all available.
Transportation & Hotel pick up
In option, add a private transportation. Inquire about Hotel pickup availability.
Professional photographer
In option, add a private professional photography service for any local tour.
---
Scuba Diving Reviews


Mobula rays !!
Trip was amazing!! Exceeded expectations. Edgar was a great guide!! Very helpful with young kids and my dad. Saw so many mobula rays.
By Kristal S on TripAdvisor
Best dive shop in Cabo San Lucas
We spent an entire week diving with Felipe. Our trips were fantastic, and customer service was amazing from the entire dive shop crew! We dove Cabo San Lucas, Gordo banks, Cabo Pulmo, La Paz, and did the mobula snorkel and dive. Every…
By Joy on TripAdvisor
5 star service
We had two days of wonderful diving with Cabo Private Guide. Laura handle multiple emails setting up our trip in a very timely manner. Felipe was an excellent guide pointing out marine life both big and small. We saw a school of…
By Rene C on TripAdvisor
Recommend 100%
We just got back from 2 awesome days with Cabo Private Guide. The owner Laura is really cool and super safe. The first day was a 2 tank local dive at Pelican Rock and Neptune's finger. Highlight was the massive school of…
By Kyle J on TripAdvisor
Incredible service!
Swimming with hundreds of mobulas was an unforgettable experience. Laura and team were fantastic. Our dive master Felipe took us on a 3 tank dive and mobula snorkel. The boat was private, Felipe was really fun and knowledgeable, and the conditions were…
By Josh J on TripAdvisor
Amazing time!
We had a great time on this tour. We could tell that the guide and captain were doing everything in their power to make sure we had an amazing time since we were the only people on the tour. We were able…
By Chloe M on TripAdvisor
Great Memory!
Anna and Angel were the best! So kind and patient. Passionate about locating and swimming with the Mobula rays. Hope to be back to book a whale watching tour sometime soon!
By L U on TripAdvisor
Excellent and Safe Diving
I highly recommend Cabo Private Guide. Our dive masters were Jenny and Luke- both of whom were friendly, highly skilled, and enthusiastic dive masters. I felt very safe diving with Jenny and Luke, and they both went out of their way to…
By Kelsey A on TripAdvisor
Top notch
Everyone at this company was top notch in everything they did. We booked for the Mobula tour from San Lucas but they werent being seen there. So they offered lunch and transportation at a reasonable increased rate to get us to see…
By T L on Google
Awesome Snorkelling experience
My partner and I used cabo private guide to do a mobula ray snorkelling tour. We emailed last minute to book and they were so so accomodating. Both our guide & captain were wonderful. We did the 7am tour which i definitely…
By Emily G on TripAdvisor
Mobula Magic
Laura is a very knowledgeable guide, prioritizes safety in and out of the water, passionate about the ocean, and was overall an awesome person to spend the day with. We went out looking for the giant mobula schools and boy did we…
By Corey on TripAdvisor
How to Witness the Cabo San Lucas Mobula Ray Migration ?
Because it is much easier to find and swim with these huge squadrons with a fast boat and snorkel gear, but because we still want to have the best chances to see the Mobula rays down in the water while scuba diving, we are now offering a tour to combine both activities!
You might see these tiny manta rays 'popping' like popcorn at the surface, leaping in the air and slapping their bodies back down to make a sonic wave of communication to those below. If we see this behavior we KNOW we're in for a treat because below the surface this means there are tens of thousands of them!
Remember! Nothing in nature is guaranteed. We can guarantee a dedicated and expert boat and dive crew who will give you the best chances to find the squadron. Of course, there will be regular wildlife encounters at the reef in all cases!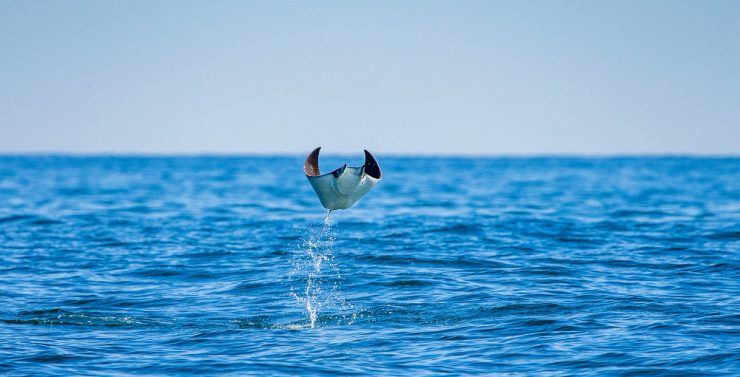 Marine conservation : Become a Mobula rays citizen scientist
Every spring and summer we make sure we work alongside The Mobula Conservation Project by recording back their numbers, locations and behaviour.
When joining our eco diving trip to encounter the mobulas you will be invited to fill out an online questionnaire to help place economic value on the species. This, in turn, will encourage its protection.
What's a great way to experience Cabo San Lucas Mobula aggregation while giving back to conservation!
Learn more about our eco diving tours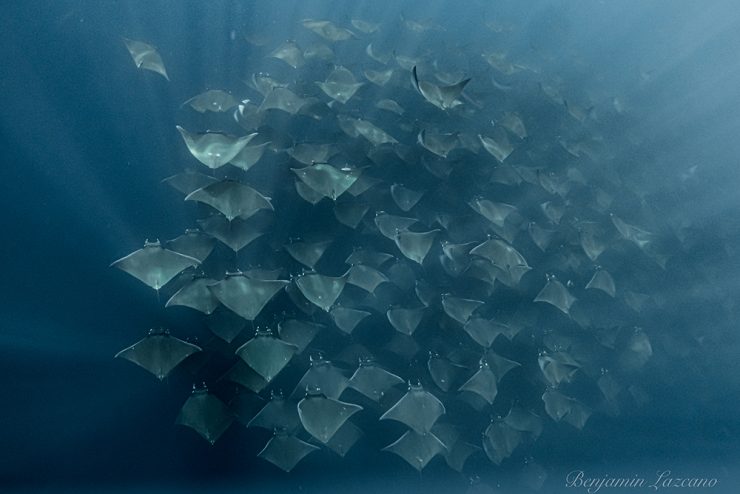 A Private & Bespoke Mobula Rays Experience in Los Cabos
Check in to the dive shop the day before the tour to size equipment and get the paperwork/payments completed. We will explain where to find the boat in the morning.
At 7am your guide will meet you directly at the boat and you will spend the first hour looking for the mobulas at sunrise.
Your guide will evaluate the conditions and spend the time choosing 2 dive sites based on your comfort level and which reef is closer to where the mobulas are hanging out. These dive sites could be in the Corridor area, back in the bay of Cabo or one of each.
We will provide a small brunch of burritos, fruit, coffee and juice between the early-morning swim and the 2 tank dive.
Looking for Snorkeling Trip only ?
You are not a diver or you only want to swim with the Mobulas with no scuba diving involved? Please check our dedicated Mobula Ray snorkeling tour.
Price & booking