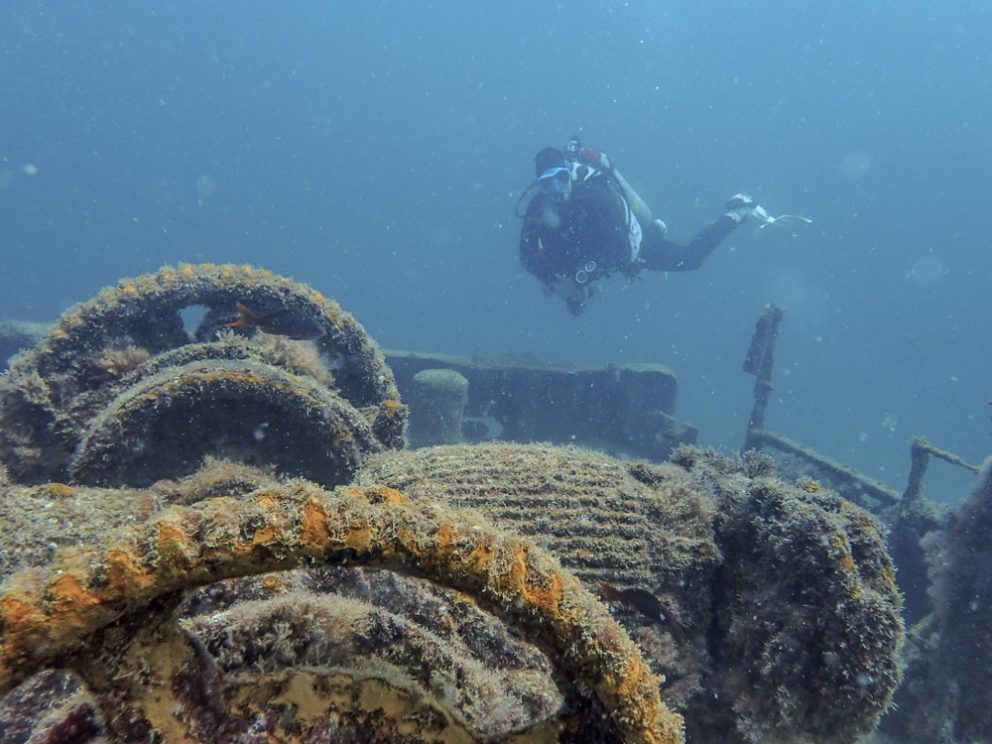 La Paz Wreck Diving Tour : Dive 2 Shipwrecks in 1 Day
La Paz Wreck Diving
May to October
From Open Water
Are you a shipwreck diving enthusiast? Or perhaps you have dived around Los Cabos already and you're looking for something different? Here at Cabo Private Guide we want our divers to 'escape the crowd' as much as possible!
We are currently the only PADI dive shop in Cabo that operates a unique wreck diving tour in the UNESCO heritage area of Espiritu Santo Island, La Paz with our expert local dive guides and boat crew.
Tour details
Price & booking
What's inclued
Private boat & guide

Transportation

Ceviche beach picnic

Refreshments and snacks

Go Pro footage
Schedule
Every day
From May to October
Departure
Pickup from Los Cabos
Duration
Full day trip

Please check the itinerary for mor detail
Price & Booking
La Paz Wreck Diving
Price in USD
|
5% Cash Discount
Private Boat
$ 1180 per boat
2 tanks | 2 wrecks
Up to 5 divers
2 boats available ask for a price for more than 5 divers
Diving Equipement : +30 USD
Book now
Tour Info and Requirements
---
Experience level:
Min Open Water level certified.
Max Depth
72ft/22m.
Maximum group size per boat:
4 divers and a guide.
(2 boats available ask for a price for more than 4 divers)
Included
Transportation, Dive guide from Cabo San Lucas, Panga style 28ft boat (Shade, ladder, emergency o2 and first aid equipment), Ceviche beach picnic with all drinks and snacks for the day (let us know if you have any food allergies), Go Pro underwater photos.
---
Scuba Diving Reviews

Great dive experience for beginners and advanced divers!
We had an amazing dive experience with Cabo Private Guide! There were 3 of us traveling/diving together all with varying levels of dive experience. Laura is who we spoke with to set up our tour and she was very helpful and accommodating.…
By Tanya S on TripAdvisor
If you're diving Cabo these are the people you want to dive with!
My wife and I traveled to Cabo in April and I wanted to get a couple dives in while I was there. While reviewing dive operations online I came across Cabo Private Guide. I was immediately interested because this company allows your…
By svscuba on TripAdvisor
Amazing experience for our young daughter
We were looking for a private and friendly scuba adventure for our young children - and Cabo Private Guide was amazing. The owner, Laura, made the booking easy and our dive instructor, Antonio, help provide a wonderful and positive scuba dive for…
By mfrenchdds on TripAdvisor
Best Diving & Whaleshark tour in Cabo!
Had an amazing time with Cabo Private Dive! The booking process was easy and the owner, Laura, followed-up and kept us updated on our schedule. I was lucky to get to dive with Laura one day where we saw sardines and a…
By N4L7419 on TripAdvisor
Excellent Dive Experience
We came to Los Cabos on a spur of the moment trip and had not planned ahead but hoped to dive. Laura was so friendly and accommodating and set us up with Antonio for the very next morning. This time of year…
By Paige L on TripAdvisor
Dive the Wrecks in La Paz, Mexico
Dive 1 : The Fang Ming wreck
Deep : 72ft (22m)
Length : 170ft (55m)
Taking the descent line to the stern, this Chinese shipwreck sits in 72ft (22m) of water. At approximately 170ft (55 meters) in length, it is still intact. As divers fin along the starboard side there is abundant soft coral and reef life to photograph. Tropical fish families dart in and out of the portholes. Arriving at the bow you can take in the most photogenic part of the Fan Ming wreck. Just a little further you can explore various encrusted skeletons of the ship's mechanical wares. Swimming back down the port side you can investigate the upper and mid level floors where there is enough light and space to penetrate safely with your buddy. It is common to see one or two resident turtles who calmly sit for photos for respectfully distant divers.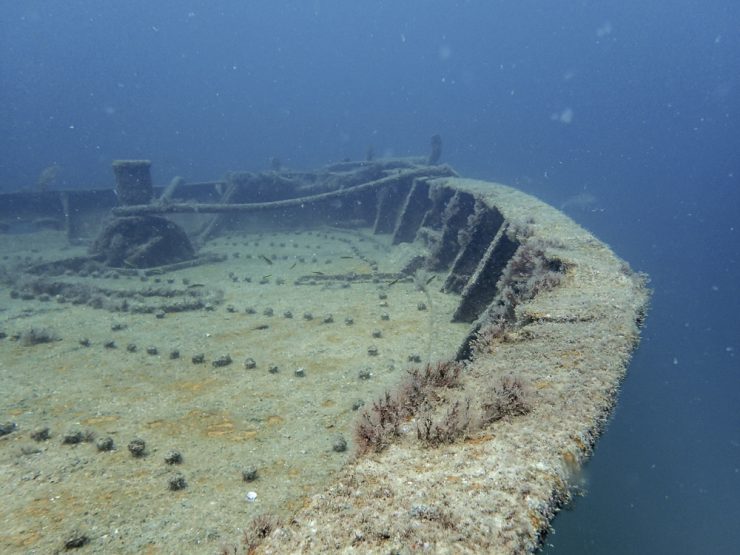 Dive 2: The C59/USS Diploma wreck
Deep : 70ft (21m)
Length : 65ft (20m)
This US military boat was donated to the area to help create an artificial reef and this is a work in progress! The sculling of this impressive 65ft (20m) length boat was slightly hindered in its sinking and it ended up on its starboard side. Nevertheless, the huge turbine propellers are on display to great effect! There are various levels to explore and penetration is possible for those with excellent buoyancy control on the advice of the guide and depending on visibility and current. In any case, this makes for a beautiful and unique dive when exploring the outside due the size and unique points of interest. Many fish families reside here as well as turtles and some rays passing by in the sandy areas around the wreck.
When to go Wreck Diving ?
We offer this as a summer tour. Why? Mainly because of the weather!
In winter and spring La Paz is prone to north wind, making the crossing to Espiritu Santo Island difficult and longer than usual. In addition, although the diving in Los Cabos is FULL of life year-round, the very southern tip of the peninsula can be prone to swell conditions from May – October whereas La Paz offers more shelter during this time. We want to show you the best dive sites and dive conditions Baja Sur has to offer during your visit.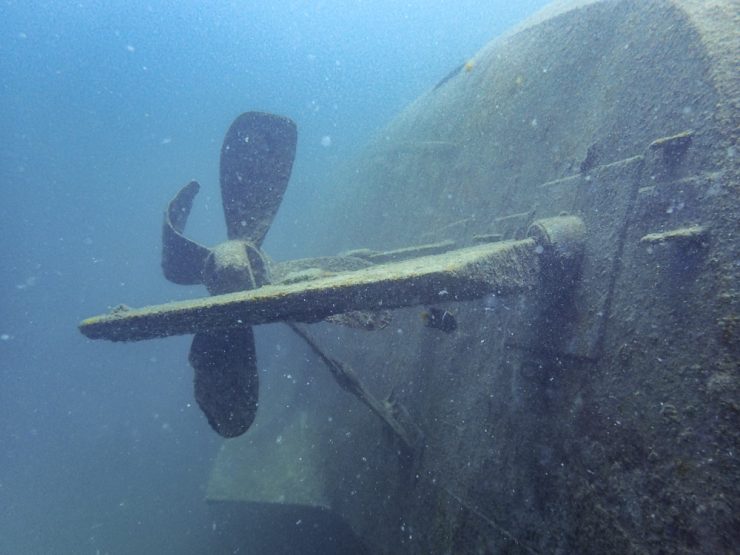 Itinerary of our Shipwreck Diving tour
THE DAY BEFORE:
Before 4pm come and getting fitted for equipment and take care of check in/payments etc.
** We recommend doing a local dive in Cabo first to make sure there are no issues when we are very far away from our dive centre**
THE DAY OF:
Leaving at 6am from Los Cabos we will stop at a roadside café for a quick take-out breakfast stop at around 7.30am.
We arrive in La Paz at 8 – 8.30am (traffic depending). At Marina La Paz there are bathrooms and changing facilities. We board the boat and enjoy the scenery of La Paz bay as we head over to the wrecks on the southwest side of Espiritu Santo Island. This takes about 30-40 minutes. After diving, we will set up a picnic area on a secluded beach and you can enjoy some of the beautiful UNESCO heritage scenery as you eat and replenish your energy!
We will return to the marina around 4pm and back to Los Cabos for 6.30pm. We recommend not making any dinner reservations until 7.30pm.
Managing your expectations
This is a bespoke private tour for a small number of people in a rustic area away from the usual luxuries of Los Cabos.
Safety and wildlife encounters are our priority. The cost of the tour is due to the distance, 12 hour tour time and guaranteeing a safe, private service so that you can enjoy as much as nature has to offer all to yourselves.
The transportation is a private car or a 6 -10 seater and boats are 26ft – 28ft dive panga boats with expert crew for diving and snorkeling. There is shade, snacks/refreshments and lunch but some of the boats do not have a bathroom and you would need to jump in the water as you will be at sea for 6h.
Price & booking