Is Autumn a good time to dive and visit Cabo San Lucas?
While it is true that Summer and Fall are considered the low tourist season in Cabo San Lucas, this plays at your advantage if you are looking for the cheapest time to visit Cabo.
If you are wondering "Is fall a good time to go to Cabo?", consider that fewer tourists visit Cabo when the temperatures rise in summer and when the rains start falling in Autumn, which means you will be escaping the crowds, enjoying a more personalized service, and extending your summer vacation in the warm Mexican sea.
Autumn is also the best time of the year for festivals and culture exploration and offers excellent diving conditions in terms of visibility and water temperature.
Keep reading to find out what fall in Baja California and Los Cabos as to offer.
Summary
What is the best month to go to Cabo San Lucas?
This article is part of a series for those who wonder when the best time is to visit and dive in Cabo San Lucas?.
Cabo San Lucas and Baja California offer great diving year-round and a huge variety of sea life depending on the season.
Read on to find out when is the best time to go in Cabo:
Spring in Los Cabos
Winter in Cabo San Lucas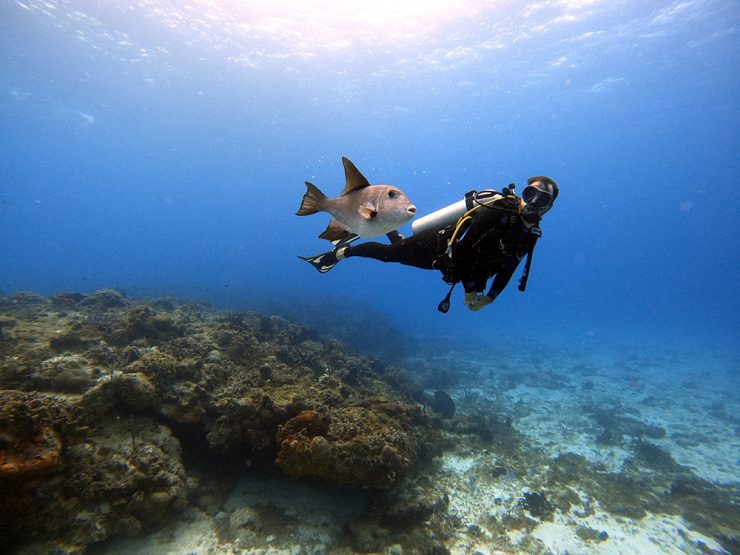 Travel to paradise: Weather and diving conditions in Los Cabos in Autumn
The months between September and November are characterized by an outstanding visibility, reaching in some days up to 100 feet!
This is a glorious time for divers, snorkelers, and underwater photographers, too.
Autumn Weather and air temperature
The air temperature as well gently decreases from about 75 to 86°F in September, to 70 to 85°F in October, and 63 to 85°F in November.
Autumn Rainfall expectation
Chances of rain are around 11% in September with a rainfall of about 83 mm or 3.3 inches, but it goes down to 6% in October, with a rainfall of 32 mm or 1.3 inches, and to basically 0% in November.
Autumn Water temperature
With the end of the hurricane season, at the beginning of Autumn the water temperature is still very warm, up to 85°F, and it goes slowly down until a maximum of 80°F in November.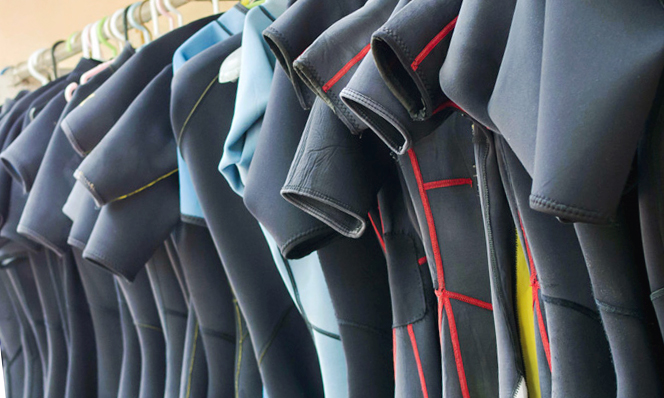 What diving wetsuit to use in Cabo San Lucas while diving in fall ?
Most of the divers and snorkelers might not even need a wetsuit in September, but will require one in the following months, especially if diving in the afternoon or evening.
A long 3 mm wetsuit might be sufficient in October, but a thicker 5 mm wetsuit represents a better option for the cooler month of November.
Read our Weights and Wetsuits chart recommendation when diving in Cabo San Lucas.
Autumn diving condition and water visibility
In fall Cabo San Lucas water becomes clearer and clearer, offering exceptional visibility to divers and snorkelers, up to 100 feet in someday.
While going away from the stormy months of the beginning of autumn, diving conditions become better and better with less waves and less currents offering fantastic dives.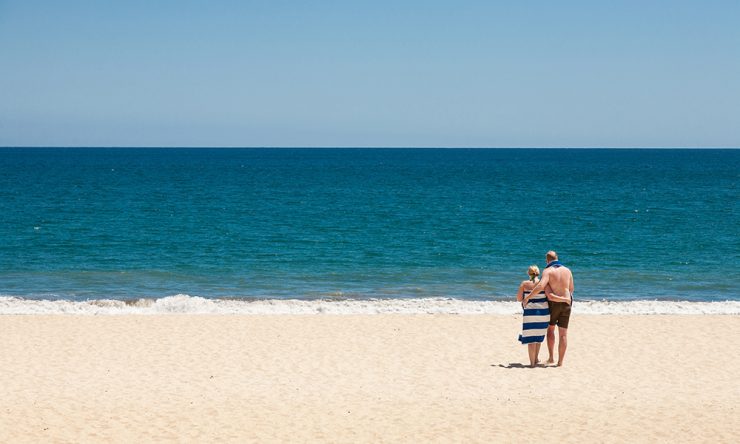 Month by month Autumn weather forecast in Cabo
September's weather in Cabo
| | | |
| --- | --- | --- |
| Min Temperature | 75°F | 24°C |
| Max Temperature | 86°F | 30°C |
| Water Temperature | 85°F | 29°C |
| Rain | 3.3in | 83mm |
October's weather in Cabo
| | | |
| --- | --- | --- |
| Min Temperature | 70°F | 21°C |
| Max Temperature | 85°F | 29°C |
| Water Temperature | 85°F | 29°C |
| Rain | 1.3in | 32mm |
November's weather in Cabo
Min Temperature
63°F
17°C
Max Temperature
85°F
29°C
Water Temperature
80°F
26°C
Rain
Almost none
Scuba diving in Cabo: Discover the marine life of Baja California in Autumn
Scuba diving in Baja California and Cabo San Lucas is an outstanding experience all year round.
Those who opt for the Autumn season have to their main advantage the extreme visibility that allows better sightings, and the switch from daylight saving time back to standard time at the end of October, which automatically means extraordinary morning dives and earlier night dives. Being able to do a night dive even before dinner time is a pretty cool way to end your dive day and still have time to enjoy Cabo's nightlife, don't you agree?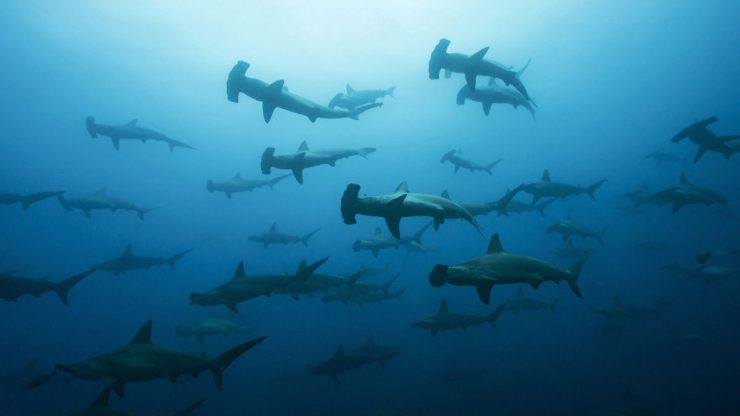 Dive with Sharks at Gordo Banks, Tornado Jack in Cabo Pulmo and Whale Shark in La Paz
Exceptional visibility we have here in September gives more chances to spot the schools of Scalloped Hammerhead sharks (Sphyrna Lewini) that swim in the area of Gordo Banks, or the tornadoes of jackfish in Cabo Pulmo National Park. October is also the beginning of the whale shark season in La Paz.
Hammerhead sharks at Gordo Banks
Enjoy the local dive sites in Los Cabos
In September, the warm waters of the Sea of Cortez attract several white tip sharks and eagle rays that can be found in The Corridors dive sites. November instead is the month when we see sea lions returning to Los Cabos after their migration to shelter during the hurricane season. The best dive site in Cabo San Lucas to get a closer look to the sea lion is probably Lands' End.
Dive the Cabo San Lucas Marine Park
Scuba diving in The Corridors and Sea of Cortez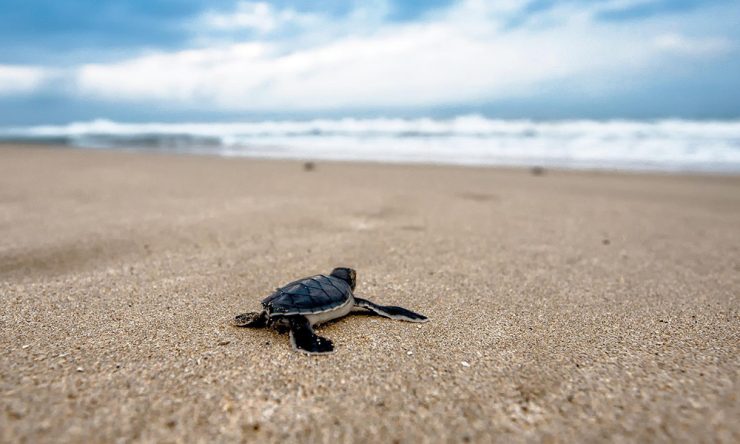 Turtle season in Cabo San Lucas
Our Autumn divers can also witness the heart-warming experience of turtle nesting, taking place in this season, when you can assist in the baby turtles release, and take the chance to support the Eco sustainable tourism in Cabo. Check the marine turtle center ASUPMATOMA based in Cabo for more details.
Humpback whales return to Cabo
Last but not least, in November we start seeing some whales, in prelude of the official whale watching season that starts mid-December: One good chance to see Humpback whales and other species of cetaceans migrating to Cabo, while escaping the crowds of the high season.
Whale watching in Cabo San Lucas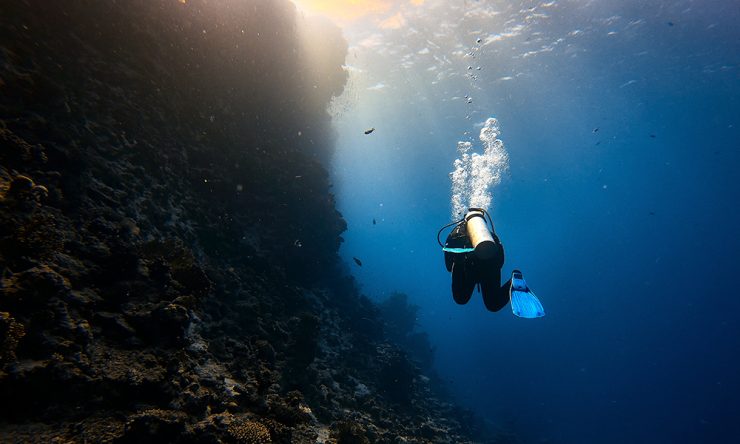 Things to do in Cabo San Lucas in Autumn
In Cabo San Lucas, Autumn has so much to offer to its visitors!
Even if you are not a diver, or you are a diver traveling with non-divers, you will be overwhelmed by the number of festivals and national days that are celebrated here in the Autumn months.
September 16th : Mexican Independence Day
This is the best time to come and discover the genuine Mexican culture and the history of such a complex country whose roots fall so deep into the ground.
For instance, on September 16th we have The Cry of Dolores (El Grito of Dolores), A.K.A. Mexico's Independence Day. We celebrate Mexico's freedom from Spain after the 1810 uprising, inspired by a memorable speech, hence the name "El Grito".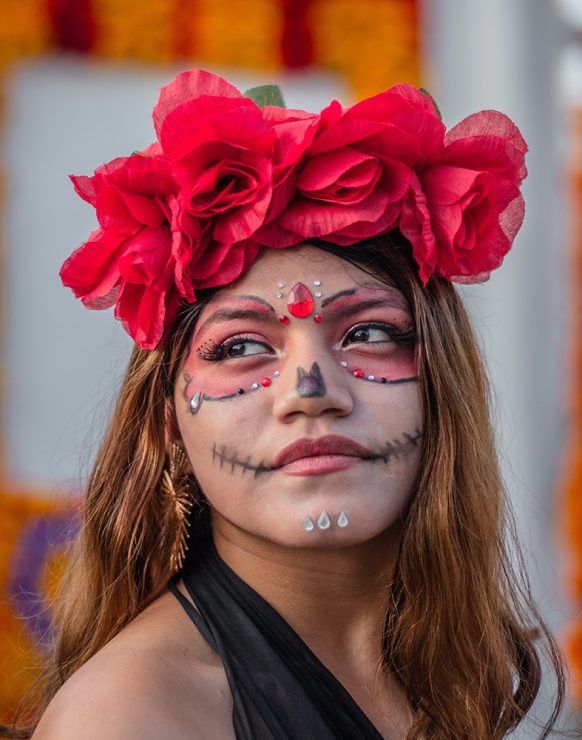 November 1st and 2nd : Trick or treat in Cabo, discover the Day of the Dead
If you come around Halloween, you will have the incomparable chance to witness and experience the famous "Dia de los Muertos", the day of the Dead, celebrated throughout the entire country, where Mexican people build private altars, called "ofrendas" containing memorabilia, photos, belongings of the deceased, along with flowers and their favorite foods and drinks, to commemorate them and in hope that their souls will visit the ones they left behind.
Save the date from end october to november 2th, and enter the altar contest at Flora Farm.
Photo credit : Floral Farms
Mexican public holidays in Fall :
September 13th – Anniversary of the "Heroic Cadets"
Día de los Niños Héroes
September 16th – Independence Day
Día de la Independencia (Grito de Dolores)
September 27th – Culmination of the Mexican War of Independence
Consumación de la Independencia
September 30th – Morelos' birthday
Natalicio de José Mª Morelos y Pavón
October 12th – Columbus Day
Día de la Raza
November 1st – All Saints' Day (Day of the Dead)
Día de Todos los Santos Honors
November 2nd – All Souls' Day (Day of the Dead)
Día de Muertos
November 20th – Revolution Day
Día de la Revolución
November 23th – Mexican Navy Day
Dia de la Armada de Mexico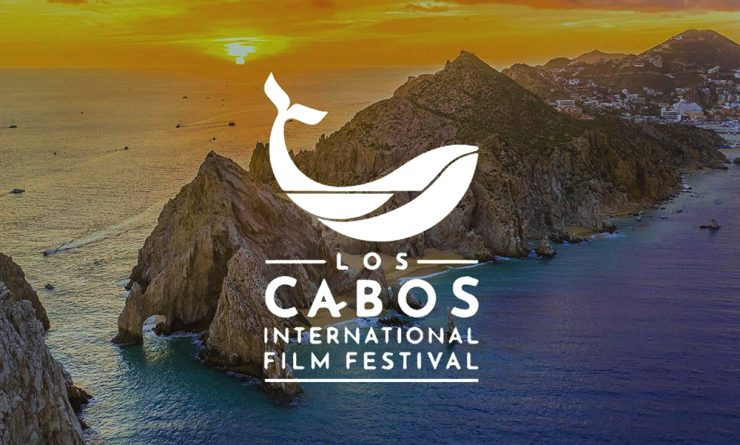 Los Cabo's Festival and Events
Cabos International Film Festival – Mid-November
Finally, another cultural Autumn attraction in this area is the Cabos International Film Festival, taking place every year in mid-November since 2012.
This festival hugely contributes to the development of world film culture, with a special attention to Mexican, Canadian and American filmmakers connected with Latin America and Europe, and helps support young Mexican talent and promote cultural and touristic activities in the entire area of Baja California.
Todo Santos Festivals – October 12th
Festival of Nuestra Señora del Pilar.
Cabo San Lucas Festivals – October 18
St Luke's Day, the Patron Saint of Cabo San Lucas
Jazz on the Rocks – Mid October
Festival anniversary
Ironman 70.3 Los Cabos – November 6th
swimming, biking and running race