Cabo Private Guide evolved out of a desire to provide a personal and exclusive service to those who want to escape the crowd in busy Cabo San Lucas.
Cabo Private Guide now operates tours to the surrounding tourist areas of San Jose del Cabo, Cabo Pulmo and La Paz.
Do you want to mix diving and snorkeling in your group and don't want to go on separate tours? Maybe you want to arrive at the dive site at a different time to everybody else? Are you worried about differing air consumption rates of potential scuba buddies? Do you have your own boat and want a guide to join you on your vessel?
Cabo Private Guide is able to arrange all necessary transport and equipment before accompanying your group at your own pace to areas where the best conditions can be found.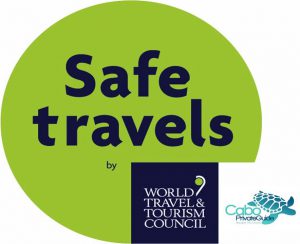 COVID 19 Update:
The WTTC Safety Stamp indicates that Cabo Private Guide adheres to global standards of sanitation inline with international protocols that strive to acheive meaningful action plans to optimise recovery efforts of the 2020 global pandemic.
As a company specialising in private guides and tours we are more able than most to confidently uphold consistent sterlisation and cleanliness protocols. In addition, ALL equipment, boats and public areas are sterlised between each tour. We have hand santitizer available, face masks are worn and temperatures taken. If there are any other measures you would like us to take, just let us know.
As of August 31 we are in Alert Level 4. This means we can operate at a reduced capacity and we are open!