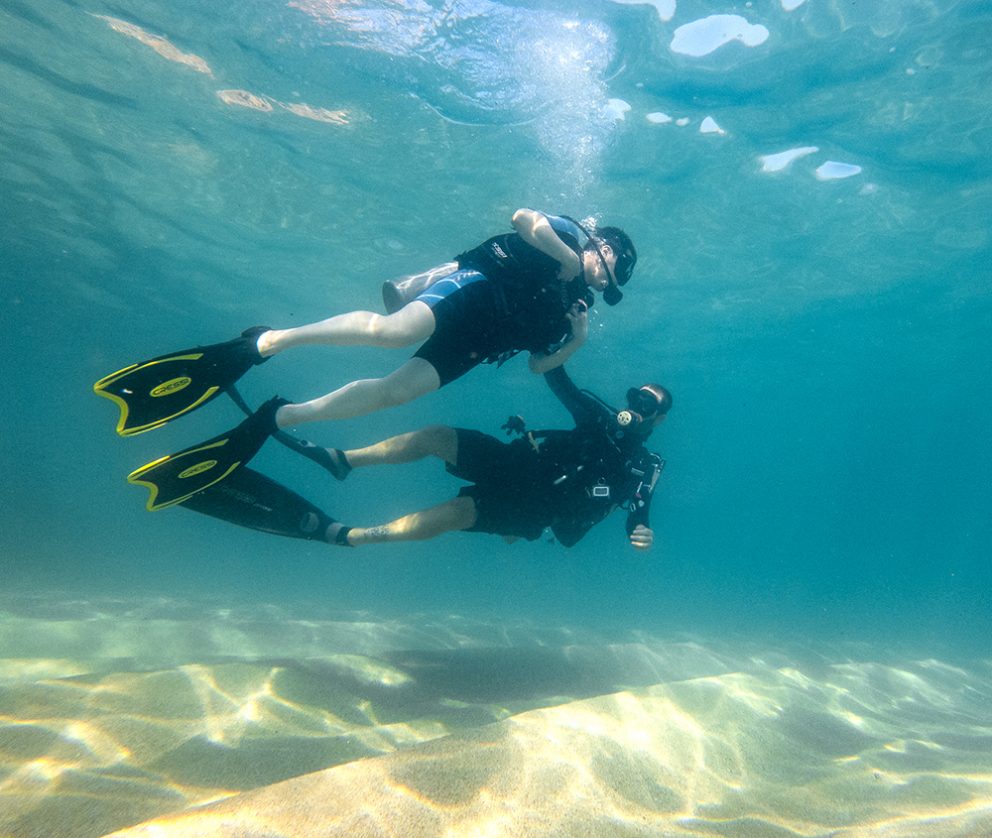 Private Discover Scuba Diving in Cabo San Lucas
Beginner scuba diving tours
All year
First time diving
If you are over the age of 10 and are medically fit to dive then you can sign up for our private PADI Discover Scuba Diving experience program. This is not a license! Just an opportunity to learn some skills and techniques needed for diving down to 40ft.
Here in Cabo San Lucas we have the perfect reef for this activity! The descent is on a shallow sandy bottom in an area roped off from boat traffic. The sloping sandy bottom gradually deepens where fish schools naturally congregate on one of two sides of a pinnacle and it's possible just to sit in the sand at 25 feet and enjoy. If you are feeling adventurous we can swim a little way around the reef and enjoy the deeper side to 40ft.  
Tour details
Price & booking
Tour Outlines
Cabo San Lucas is very accessible for beginner divers because the reef is only 5 minutes by boat and the wildlife is plentiful.
Snorkel/Scuba Trip Mix are all available.
What's inclued
Private guide

Dive theory and briefing

Shared or Private boat

Boat upgrade

Diving equipment

Refreshments and light snacks
Schedule
Every day
Morning : 7.30 am
Afternoon : 12.45 pm
Departure
From Cabo San Lucas Marina
Duration
1 tank : 2 hours
2 tanks : 3.5 hours
Price & Booking
Beginner scuba diving tours
Price in USD
|
5% Cash Discount
Shared Boat
$ 170 pp
2 Tank
Private instructor & equipment included
Adult 1 Tank : $125 pp
Kids 2 tank : $150 pp
Kids 1 tank : $125 pp
Kids 10 – 11 year-old
Book now
Private Boat 1- 2 divers
$ 250 pp
1-2 Tanks

Private Boat 3+ divers
$ 195 pp
2 tanks
Private instructor & equipment included
1 Tank : $150 pp
Boat upgrade : See option
Book now
Tour infos & Requirement
---
Medical Form
All participants must be over the age of 10 and are medically fit : See the PADI Medical Form
Passengers and Snorkelers
Snorkel/Scuba Trip Mix are all available.
Transportation & Hotel pick up
In option, add a private transportation. Inquire about Hotel pickup availability.
Professional photographer
In option, add a private professional photography service for any local tour.
E-Learning : PADI Discover Scuba Diving
Please register to access to our interactive eLearning platform and complete the Discover Scuba Diving knowledge development : eLearning Registration
---
Scuba Diving Reviews

Very professional and great value
This is a long overdue review. We dove with them in October. We had our own boat with our own guide. It was perfect for covid safety. Just the two of us and our dive guide Deann and captain (sorry, I forgot…
By JenandAlSF on TripAdvisor
Best place in Cabo
This is an amazing shop with amazing service. From Laura that managed all my requests, answered my millions questions, some unrelated to diving, to great dive guidance from Jenny, and everything in between, it was perfect. Personal, private, professional. I felt spoiled
By TravelerOana on TripAdvisor
Highly Recommend!! Wonderful from start to finish
Highly Highly Recommend this company. We had Certified scuba divers, Discovery Divers and snorkelers and they were able to accommodate all of us. Great Dive Masters. Will be using again on return trip to Cabo. Appreciate how easy it was to book…
By Deedee Beem on TripAdvisor
Thank you, Cabo Private Guide for the experience of a lifetime!
This was my very first time scuba diving and everything from start to finish exceeded all expectations. My boyfriend and I chose Cabo Private Guide to take us out for my open water certification. While Laura, the owner, was unable to join…
By Margo W on TripAdvisor
Amazing experience
My first time diving in Cabo and it was amazing! We saw sea lions, cownose rays, and SO many beautiful fish! I haven't been diving in 2 years, am pretty inexperienced, and I felt totally comfortable. My husband and friend also did…
By Olivia B on TripAdvisor
Beginner Group
Both guys were very patient with all of the five of us. Only one had ever done any scuba at all. They offered great instruction and encouragement.
By Clint K on TripAdvisor
Amazing experience for our young daughter
We were looking for a private and friendly scuba adventure for our young children - and Cabo Private Guide was amazing. The owner, Laura, made the booking easy and our dive instructor, Antonio, help provide a wonderful and positive scuba dive for…
By mfrenchdds on TripAdvisor
First time diving in open water and had a blast!!
I did the private guided scuba dive. Felipe was great! He was very accommodating, attentive, and patient as this was my first time diving in open water. Also, the boat took us to lovers cove which was a pleasant surprise. Highly recommend…
By Jeremy on TripAdvisor
Best dive shop!
Five stars all around! Felipe our guide was amazing. Great service. Quick responses. This was the best dive company I've used in a long time. I loved that it was a bit of a smaller company. They were personable and accommodating. They…
By Alivia H on TripAdvisor
Great for a first time diver!
Doing my first "Discovery Dive" with Antonio was amazing! He taught me everything that a first timer needed to know about diving, took me aside to practice some safety drills, and then we dove and he let me hold his hand THE…
By Danielle on TripAdvisor
Great Team and Company 6 out of 5 stars!
Cabo Private Guide, and Laura, Jenny and her team are truly wonderful to work with. I was looking for a company that could handle my whole family 10 12 and 14 year old and my wife- and I was the only one…
By Rob I on TripAdvisor
What you will see on a beginner dive in Los Cabos
Once you have had your briefing and you don your equipment, the diving instructor will help you into the water where you will find a shallow spot / descent line for skills practice.
After you have completed the necessary skills, as outlined bellow, we will start our dive. You can immediately expect to see lots of puffer fish because they like to swim over the sandy area where we descend. With them we often see Mexican Hogfish hanging around hoping for a bit of mollusk kicked up by your fins as we travel to the main pinnacle.
Once at the pinnacle it's very common to see eels, octopus, brightly coloured sea slugs, small crustaceans and California cup coral brightening up the pinnacle wall. Tropical fish include the Cortez Angelfish that likes to come and say hello as close to your nose as possible and the King Angelfish that eats your exhaled bubbles above your head.
Other crowd pleasers include the long trumpetfish and the big schools of snapper, goat fish and grunts. We have had some larger surprises such as sea lions, large rays, schooling mobula rays, small reef sharks and turtles!
Try scuba diving in Cabo before starting your certification
A beginner scuba dive incorporates some of the skills needed for the PADI Open Water course. You can actually count one introduction dive towards your license – as long as you continue your scuba journey with us!
These skills are performed after a detailed briefing and knowledge theory review with your instructor. To make sure you understand some basic concepts of the science of diving as well as learning hand signals and other necessary information required to the PADI standards.
PADI Discover Scuba Diving Skills
The skills you should complete on this dive are as follows:
Clearing water from the mouth piece with the purge and blast method
Recovering and replacing a mouthpiece hose from behind the shoulder
Clearing some water out of a mask
Hand signals
Equalization techniques
Demonstrate how to use your buoyancy control device (the flotation jacket attached to the tank).
Price & booking