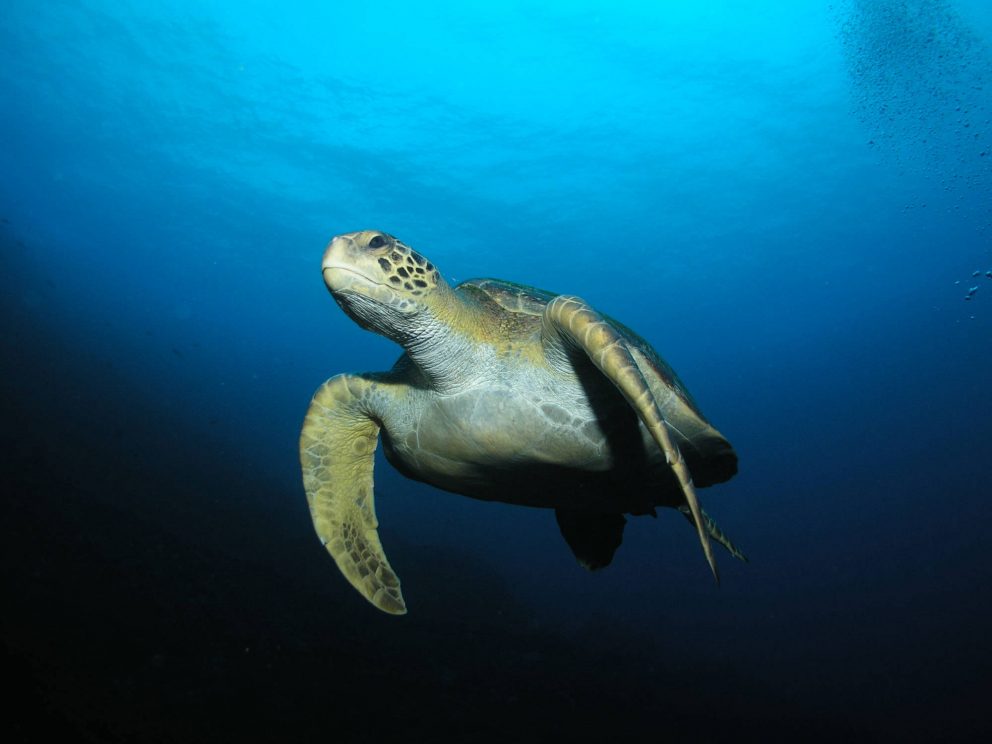 PADI Open Water certification in Los Cabos
Cabo San Lucas is the perfect place to get certified. The dive sites are very close to the marina, there are varied sites to challenge you at each stage of the course and the Sea of Cortez is home to some of the world's most impressive sea life!
We always advise booking a 2 tank fun dive after your course so you can really get to know the whole area and to really get accustomed to the new world you are now able to explore.
Your license can be used anywhere in the world. It never expires! Although, remember! You must continuously refresh your skills.
Course details
Price & booking
What's involved in a PADI Open Water Course
Summary : The PADI Open Water course consists of 3 sections, conduct by our diving instructor, which will required you 3 to 4 days to be successfully certified:
Diving theory
The diving theory covers basic physics and physiology concepts, discussion of emergency procedures and emergency protocol, diving conditions and how to plan dives conservatively.
Don't panic! Remember, 10 year olds can take this class so don't let this put you off!
Confined water training
The confined water session is at the pool. We teach you skills based on 4 different concepts:
Buoyancy
Emergency air drills
Surface skills
Handling equipment issues.
Each session builds on the last session so eventually you have mastery learning of the fundamental skills needed to be a safe diver.
Open Water dives
Finally, before earning your PADI Certification, you will complete 4 dives, to a maximum of 60ft/18m, and repeating some of the diving skills that you practiced in confined water to make sure you have no issues doing it in real life.
How to sign up for an open water course Padi
You can choose a couple of different ways to do the course :
E-learning
You can order a digital 'eLearning' code from us by paying a deposit on the Book Now link. Once you have left the necessary details as guided by the booking system you will receive all the study materials needed to complete the theory before you arrive.
Dive Today
If you think it's a good idea to dive first and see if you like it you can opt for the 'Dive Today' approach and sign up for a Discover Scuba Diver class. This dive counts toward the final certification and gets you straight in the water so you can see exactly what is involved before continuing with the theory class.
Make sure you check this PADI medical form before you make any purchases! Some physiological conditions require a doctor's sign off before we admit people to the course.
Add-on : Open Water Course Plus
A concept created by Cabo Private Guide. An add-on session with an instructor to introduce important everyday skills, very important to new divers.
Log 2 more dives with your instructor following the course. During these dives we will elaborate on buoyancy skills mastered at Open Water level, learn natural navigation and run through a selection of basic buddy rescue techniques.
Frequently Asked Questions
Who this certification is for ?
Anyone who is medically fit to dive and has a desire to see what lies beneath.
Minimum age 10 years.
How deep can i dive with the Open Water certification ?
Price & Booking
PADI Open Water
All our courses include a Private Instructor | Price in USD | 5% Cash Discount
Diving course reviews

Best guide in cabo!
I cant say enough great things about cabo private guide and Laura. LAURA is the best. I have been diving with her and just finished 4 PADI courses with her. She is the best guide and instructor. I'd recommend her for all…
By Sara on TripAdvisor
Open water certification
Cabo Private Guide has been the best dive center to deal with. Jenny and the rest of the team was amazing to work with and made the entire trip an enjoyable and fun experience! They love what they do and it shows.…
By John K on TripAdvisor
Open water scuba certification
I signed up with CPG to get my PADI Scuba Certification and really enjoyed working with these guys! Laura and Jenny were extremely passionate about diving and very knowledgeable! Learning to dive is a beautiful sport and learning in Cabo was perfect!…
By Katie A on TripAdvisor
Amazing experience
My girlfriend did the open water certification with Cabo Private Guide and I joined for 4 dives. Every aspect of the diving experience is excellent. Great communication in advance, very professional and fun certification, experienced and very helpful instructors, very good equipment…
By Simon S on TripAdvisor
This team is amazing!
Getting PADI open water certified with Antonio was absolutely perfect. He is an excellent teacher and made the biggest difference in getting my certification. If I had to choose all over again I would pick Cabo Private Guide every time. Although the…
By Carly E on TripAdvisor
Had the BEST TIME with Cabo Private Dive!!
Getting my scuba certification was my 2020 bucket list item. I came to Cabo Private Guide to finish the open water portion of my scuba certification. Laura was great! I needed special accommodations due to a bum ankle and Laura went out…
By Colette C on TripAdvisor
Open water scuba certification
I signed up with CPG to get my PADI Scuba Certification and really enjoyed working with these guys! Laura and Jenny were extremely passionate about diving and very knowledgeable! Learning to dive is a beautiful sport and learning in Cabo was perfect!…
By Katie A on TripAdvisor
Open Water PADI and Cabo Pulmo
Had an incredible time getting certified for open water - Laura and her team (Jenny and Brandon) were super friendly and flexible with our dates. Very patient and helpful in making us super comfortable in the water. Would highly recommend! Also went…
By Jenny L on TripAdvisor
Fantastic experience
Laura has always been very helpful in helping us arrange everything. And our instructor Antonio has very high standards. We have great experiences with them! Definitely recommend to everyone.
By Harry G on TripAdvisor
Open water Dive certification
Marissa and Laura were very helpful in getting my open water dive certification. Super easy, patient and helpful every step of the way. We got to see great marine life and and would suggest Cabo private guide to everyone. Thanks again
By Matt D on TripAdvisor
Best place in Cabo
This is an amazing shop with amazing service. From Laura that managed all my requests, answered my millions questions, some unrelated to diving, to great dive guidance from Jenny, and everything in between, it was perfect. Personal, private, professional. I felt spoiled
By TravelerOana on TripAdvisor
Amazing experience for our young daughter
We were looking for a private and friendly scuba adventure for our young children - and Cabo Private Guide was amazing. The owner, Laura, made the booking easy and our dive instructor, Antonio, help provide a wonderful and positive scuba dive for…
By mfrenchdds on TripAdvisor
Privet scuba certification
Laura is an excellent instructor. She was very good with communicating and responding to all our messages/emails. Our priority was to get certified so despite weather conditions, Laura provided the best service and met our needs.
By Elena on TripAdvisor
Thank you, Cabo Private Guide for the experience of a lifetime!
This was my very first time scuba diving and everything from start to finish exceeded all expectations. My boyfriend and I chose Cabo Private Guide to take us out for my open water certification. While Laura, the owner, was unable to join…
By Margo W on TripAdvisor
Best company and dive guides in cabo
Laura is a great dive guide and also a great PADI course instructor. Highly recommend Laura and cabo private guide! I plan on taking more padi courses with Laura and diving with her anytime I visit cabo.
By Sara K on TripAdvisor
First time diving in open water and had a blast!!
I did the private guided scuba dive. Felipe was great! He was very accommodating, attentive, and patient as this was my first time diving in open water. Also, the boat took us to lovers cove which was a pleasant surprise. Highly recommend…
By Jeremy on TripAdvisor