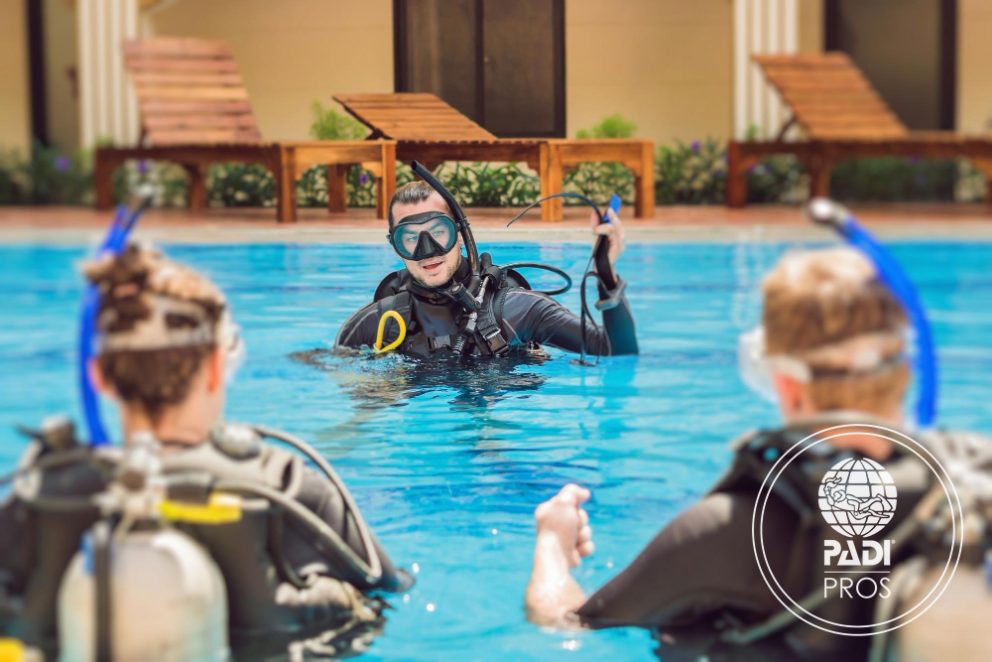 PADI Divemaster Internship & Certification in Cabo San Lucas
The PADI Divemaster course in Cabo is the first stepping stone to an exciting career in professional recreational diving. This course is for you If you have ever dreamt about traveling the world as a dive pro or just want to assist in courses and show people around the beautiful dive sites where you live.
Course details
Price & booking
Who can apply to become a PADI Divemaster?
You need to have a minimum of 40 logged dives to apply and be a Rescue Diver (any agency) with a current CPR certificate within 2 years. In Cabo San Lucas our PADI Dive Center requires a minimum age of 18 years.
If you do not yet have 40 dives we offer 50% off dives to 40. Log book proof required, all to be paid upfront.
You will also be asked to get medical clearance before any in-water activity and you can check this link here: Diver Medical Form – PADI
How long does the PADI Divemaster certification take?
It's a pro course so it's more challenging than the levels that precede it. There are many skills and assessments to pass as well as an elevation in understanding of theory concepts. The PADI Divemaster Certification can be achieved in 2 ways:
Divemaster internship (2 to 3 months)
The first way (recommended) is to sign up to a Divemaster internship spanning over 2 to 3 months. At Cabo Private Guide you can choose which suits your budget and schedule.
Learn more about the internship program
Divemaster Course (17 days)
The second option is to come and complete an intense 17 day Divemaster Course (with 2 scheduled days off). Read about the benefits of each below.
Learn more about the 17 days course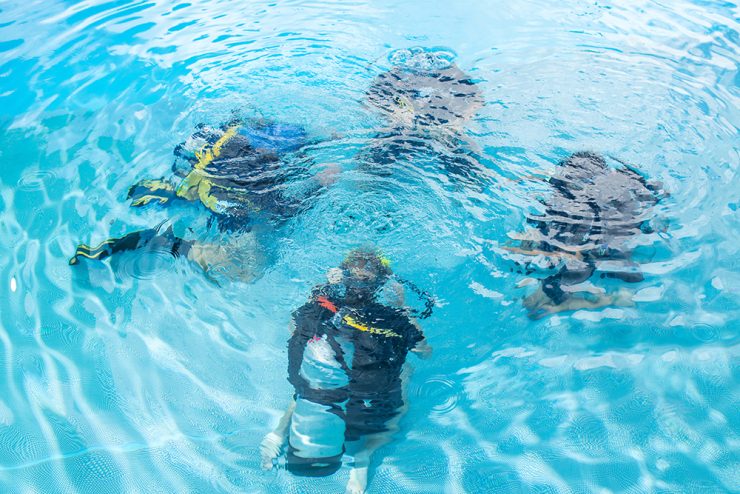 Benefits of a PADI Divemaster Internship with Cabo Private Guide
If you want to work in the industry then a PADI Divemaster Internship is THE BEST way to become an accomplished member of any dive crew. At Cabo Private Guide we do not subscribe to the idea that DMT's (Divemaster Trainees) are there just to haul tanks and wash equipment. You will be an integral part of the day to day work life of a regular divemaster.
You cannot guide until you get your Divemaster Certification number, but you will be encouraged to help with boat logistics, in-water assistance, customer service from dive shop to dive boat and every day to day demands of the dive shop.
Your schedule will depend upon reservations of both regular certified dive and PADI courses. As an 'employee' you will have regular days off.
Divemaster Internship Price & Booking
What are the accommodation Costs ?
You can expect to find a room in a local shared house for about $300 a month, or you can get a private place for about double. We have various contacts within the local dive community if you're looking for a place to share and we also have options for private Airbnbs.
When to come for your Divemaster internship ?
The best time to start this internship would be September – April.
September – December is the warmest. Check out our blog about annual seasonal conditions in Cabo .
If you are interested in becoming a Divemaster contact us! We will set up a call and answer any of your questions directly.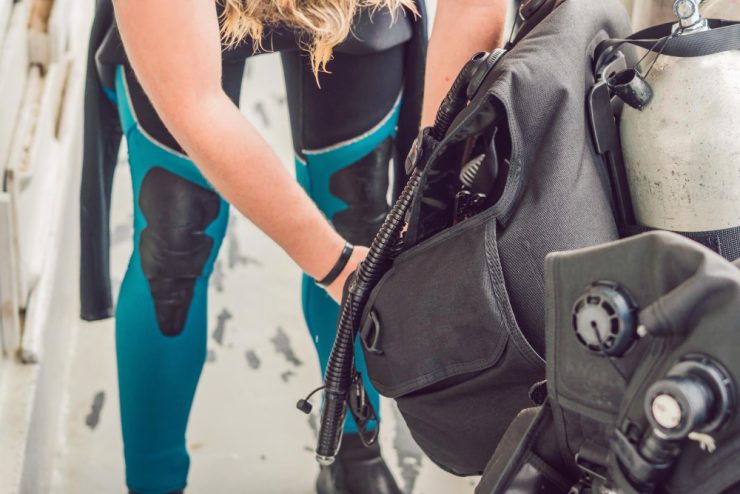 17 Days PADI Divemaster Course
If you want to earn the PADI Divemaster certification faster than an internship we can offer you the FAST TRACK. If you have already logged 100 dives and have retained the mastery-level skills requirements for all preceding dive courses then you are welcome to sign up for this course.
You will not be expected to work dive shop shifts and will only be attending your training sessions. Your schedule will be fairly fixed but you can choose to do this all in one consecutive time period, or spread over 2 or 3 trips to Cabo. You have 1 year to complete the course from start to finish.
17 Days course : Price & Booking
Sections of the Divemaster course are as follows:
Theory sections 1- 10 and Exam,
Skills circuit from the Open Water Course
Swim tests and watership skills including Rescue Diver skills
Assisting PADI courses
Workshops to practice your dive leader skills and rescue training
PADI DEEP DIVER and PADI Search and Recovery Diver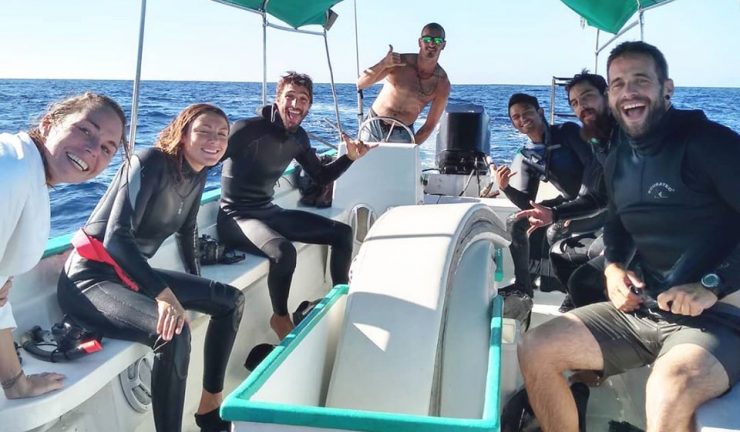 Cabo Private Guide Team
Here at Cabo Private Guide our instructional team has some of the most experienced instructors in town. Our promise to our clients (you!) is that instructors for Divemaster courses have at least a year's teaching experience. In reality, the current team has much, much more.
We are of the opinion that you also need to interview us! We have a collective 40 years dive instructional experience between us and have trained many Divemasters and Instructors.
Laura (owner) is a PADI IDC staff instructor and RAID Master Instructor. The rest of the team are all instructors with a minimum of 50 certs from beginner to pro and 6 months experience diving and guiding in Los Cabos.
We believe in one to one training for the most part although you will benefit from doing some of your practical training with other students.
Here are some souvenir videos we have made our candidates:
Price & Booking
PADI Divemaster
All our courses include a Private Instructor | Price in USD | Cash discount available
Internship : 12 Weeks
$ 1350
5 days a week
PADI materials : + $299
PADI fees : + $127
Equipment hire : + $300
Contact Us
Internship : 6 weeks
$ 1650
6 days a week
Optional 2 week extension. Week 7 and Week 8 is optional to gain more experience.
PADI materials : + $299
PADI fees : + $127
Equipment hire : + $200
Contact Us
17 days Divemaster Course
$ 1500
2 days off and time reserved for make-up sessions
PADI materials : + $299
PADI fees : + $127
Equipment hire : + $100
Contact Us
Cancelattion policy
Cash paiement and bookings by phone are eligible for 5% discount, call the office for info.
Secure online payement powered by Peek.com
Diving course reviews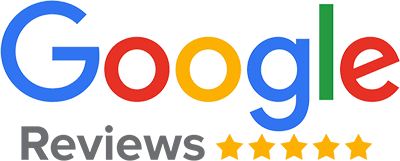 Divemaster internship
I did my divemaster internship with this dive shop for 2 months. During my program, I had the opportunity to learn from and work with 4 really experienced instructors: Toño, Jenny, Felipe and Laura. Choosing their shop for my internship was one…
By Ana C on TripAdvisor
Best company and dive guides in cabo
Laura is a great dive guide and also a great PADI course instructor. Highly recommend Laura and cabo private guide! I plan on taking more padi courses with Laura and diving with her anytime I visit cabo.
By Sara K on TripAdvisor
DiveMasters training with Cabo Private Guide
Unforgettable!! I could not be happier with my decision to come to Cabo Private Guide!!!! It was already a good choice to come to the amazing peninsula that is Baja, but to spend the last 2 months diving and training with the…
By Raj S on TripAdvisor
Fantastic training by an awesome crew!
I am staying in Cabo San Lucas for the summer and completing several dive courses with Cabo Private Guide. Laura, Felipe, Ana, and Mariana are all highly skilled top-notch professionals that are not only extremely knowledgeable but also make you feel incredibly…
By Brandon W on TripAdvisor
Shark Conservation!!
I took the Shark Conservation course with Laura and very highly recommend it! She is so knowledgeable and really brought the material to life with her own experiences. It was a very convicting seminar and has certainly motivated me to become active…
By Larissa C on TripAdvisor