We're all familiar with it. Sometimes it sneaks up on you and sometimes you can feel it coming from a mile away. It's that SCUBA diving itch! And when it hits you, it hits you like a sack of dive weights. But what do you do if that SCUBA itch hits you in the dead of winter? You might feel like you're out of luck, but have no fear! When diving in the Sea of Cortez, you will have an unforgettable experience no matter when you come!
Here at Cabo Private Guide, we think the best time to visit Cabo is whenever you get that itch. Baja California offers great diving year-round and a huge variety of sea life depending on the season. Maybe your vacation days are about to expire, maybe you found yourself with some extra time off between jobs, maybe you want to take advantage of winter holidays or even celebrate a special occasion. No matter what your reason is, the best month to visit Cabo San Lucas is whenever you have the time!
Keep reading for some tips to help you decide when the best time to visit Cabo is and let Cabo Private Guide help you scratch that scuba itch at any time of the year.
Summary :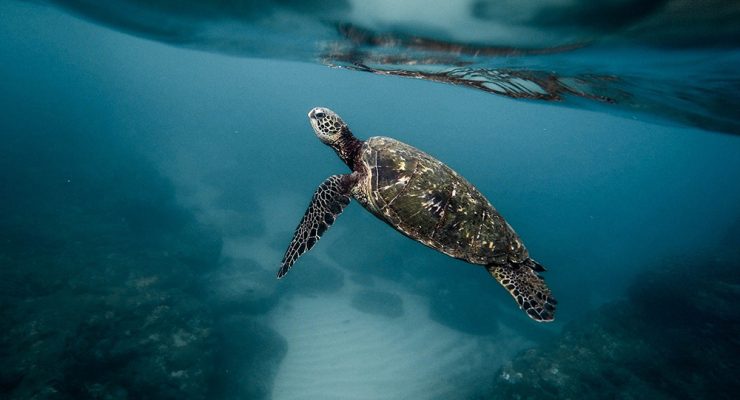 When's the best months for Scuba Diving around Los Cabos?
This article is part of a series for those who wonder when the best time is to visit and dive in Cabo San Lucas. Read on to find out when is the best time to go in Cabo:
Spring in Los Cabos
Winter in Cabo San Lucas
Cabo San Lucas offer great diving year-round and a huge variety of sea life depending on the season.  There are many areas of interest when diving in Cabo: the Cabo San Lucas area, La Paz, Cabo Pulmo and Gordo Banks. Let's take a look at what you can expect to see in each area and when!
Cabo San Lucas
No matter what time of the year, you will always see our healthy rocky reef and tons of colorful tropical fish while scuba diving in Cabo. Head on over in the summer months to check out the majestic Mobula ray. A cousin to the manta, it uses its winglike fins to launch out of the water and shows up in the tens of thousands to the Baja peninsula every year. As if that's not exciting enough, check us out from winter to spring for humpback whale watching as thousands migrate through the Sea of Cortez.
Cabo Diving tours, Snorkeling & Whale Watching
La Paz
A little bit further north into the Gulf of California, you'll find La Paz. It's here you'll find every diver's dream, the coveted whale shark. From October to April you'll find these "Gentle Giants" feeding on plankton and living their best lives. Not only can you snorkel with the majestic whale shark, but on the same day, we can take you swimming with sea lions! And those one looking for new experiences could seek out dive the wrecks located in the bay of La Paz.
Gordo Banks
Just off the coast, we find the seamount named "Gordo Banks", which attracts another apex predator that divers love to see, the hammerhead. Come join our dive center all year long to swim with huge schools of these gorgeous sharks along with other pelagic species you'll be thrilled to write about in your dive log.
Cabo Pulmo
Both a protected National Park and UNESCO World Heritage Site, diving in Cabo Pulmo delivers stunning coral reefs and thriving fish populations. If you're hoping to see something with a bit more teeth, Bull Sharks are in the park year around and between September to November observe massive school of jack fish.
Cabo Pulmo diving & Snorkeling tours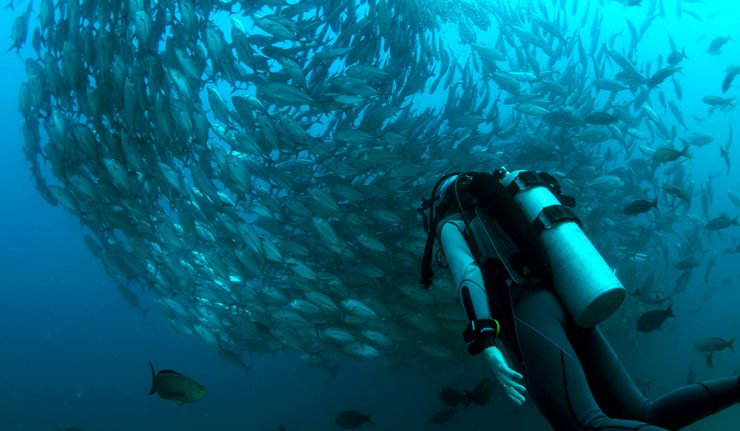 How is the visibility and sea temperature in Cabo San Lucas?
Diving conditions and Visibility:
If you're an avid diver or just getting started, you're probably wondering what the diving conditions are like in Cabo. Many divers are more concerned about the visibility than the temperature because you can always wear a wet suit but visibility is decided by mother nature. For the best visibility in the Bay of Cabo San Lucas, you should plan your trip between September and January.
August to November : 40 / 80 feet visibility
December to April : 25 / 50 feet visibility
May to July : 20 / 40 feet visibility
Water temperature :
If you prefer warm water diving, the best time to join us in Cabo is the autumn months. Sea temperature ranges from 72°F to 82°F in the late summer, and gets slightly warmer, ranging from 75°F to 84°F, in autumn. If you don't mind wearing a wetsuit, you'll be equally as happy in the winter, with a mild range from 70°F to 75°F with similar temperatures in the spring with water temperature falling between 68°F and 75°F.
Late December to April : 66°F to 73°F
May to July : 60°F to 71°F
August : 74°F to 82°F
September to mid December : 78°F to 86°F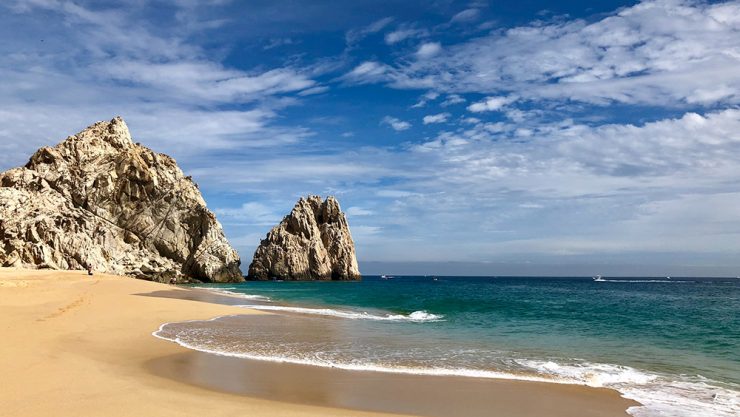 How is the weather in Cabo San Lucas?
Worried about planning a tropic vacation in December or January? Don't be! The weather in Cabo San Lucas is always hot and sunny, which we know is what you're looking for. Whether you're looking for whale sharks in the winter or bull sharks in the spring, you'll be met with gorgeous vacation weather that rarely dips below 75°F during the day. The hottest months are from June to September but the temperature rarely goes over 91°F. Rainy season starts in August and goes until October, however, except during the passage of tropical storms, chances of rain are only about 20 percent each day, so your holiday is not very likely to be ruined.
Cabo San Lucas weather, Temperature and Rainfall month by month :
Check out our graph below for information on Cabo San Lucas weather by the month so you can get started planning your trip with Cabo Private Guide!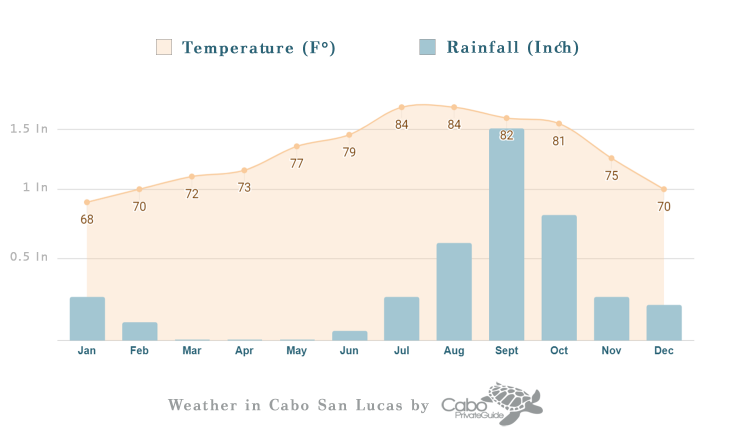 Do I need a wetsuit for diving in Cabo San Lucas? Cabo Private Guide has you covered!
Every diver is different when it comes to wetsuits. It may depend on where you're from, what water temperature you're used to or just your personal preference.
Recommended Wetsuit for diving in Cabo :
Here at Cabo Private Guide, we recommend different thicknesses of wetsuits depending on the season. Towards the end of summer and through fall, a shorty or 3 mm wetsuit should keep you plenty warm. In the coldest months, starting in the winter and through spring and early summer, you might prefer something a bit thicker such as a 5 or 7 mm full wetsuit.
 Late December to April : 5 or 7mm wetsuit
May to July : 5mm or 7mm wetsuit
August : 3mm or 5mm wetsuit
September to mid December : 3mm wetsuit
Cabo Private Guide is happy to supply you with any equipment you might need!
We have a range of wetsuits and other equipment such as hoodies or gloves that we can supply to our clients to keep them warm and happy.  If you have never dived with a full, thick wetsuit before, we recommend a quick refresher course so you can get used to the new equipment and figure out proper weighting. Or do you want to learn to dive? Our instructors have compiled and answered the most frequently asked questions from our students on how to become a scuba diver.
As you can see, it is always the best time to visit Cabo!
Contact us today and we can help you plan your perfect Los Cabos getaway, no matter what time of the year it is!