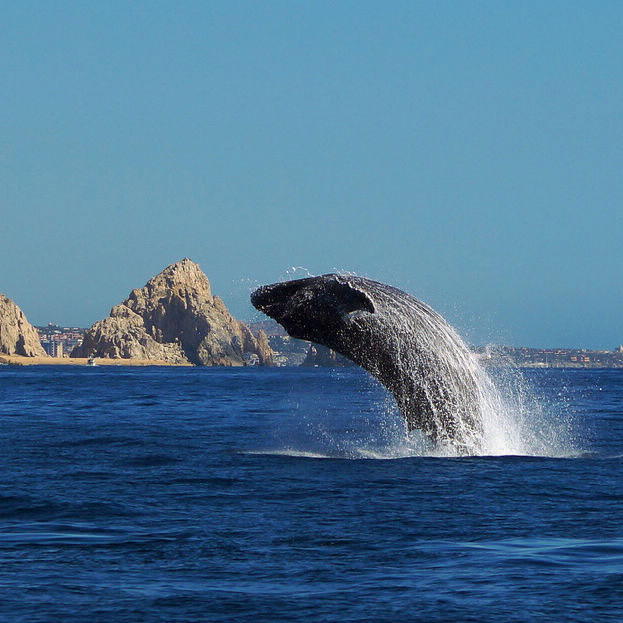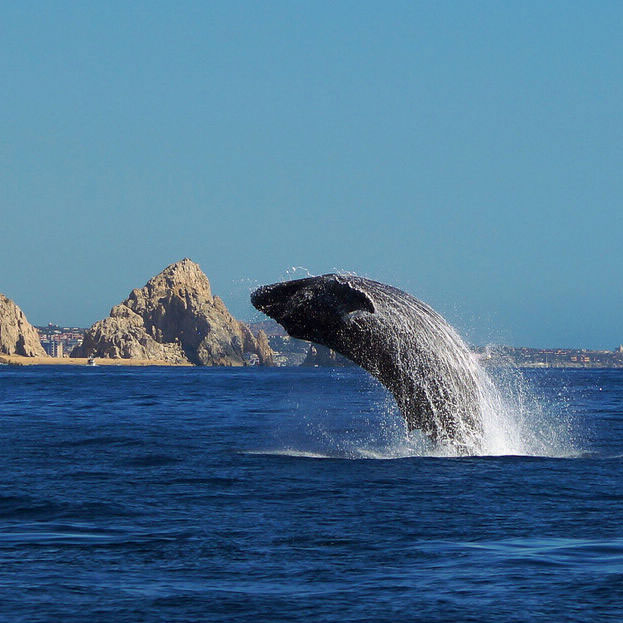 Our Whale watching tours in Baja California
Baja California is a migratory hotspot for many species of whale from the breaching humpback or the gentle sperm whale to the largest animal on the planet: the blue whale. The unique characteristics of the Sea of Cortez, that provide safe nursing grounds for newborns, mean that a number of these species have learned to retrace instinctive routes back to their birth grounds in Baja California. This is an incredible experience: a true spectacular of nature.
More than one day in Baja California ? Take a look at our ocean safari packages.
Cabo San Lucas
La Paz
Whale Watching tours in Cabo San Lucas
Whale Shark tours in La Paz
Whale Watching Season in Baja California
The best place to see humpback whales breaching, slapping and fluking in from Cabo San Lucas. During this time it's normal to see huge pods of dolphins, frequent grey whales and occasional orcas swimming right up close to shore. Whales of all species will travel all the way into the north of the Sea of Cortez.
Arguably the most breath-taking close encounter with gentle giants occurs in Magdelana Bay where grey whales bring their calves to the surface for human interaction!
Humpback whale

The humpback whale season officially opens on December 15 and finishes on April 15.

Grey whales

Over on the Pacific side at Magdelena Bay we see the grey whales from January until April with February- March being the optimal time to visit.

Whale shark

From October to April, swim with the Whale sharks in the bay of La Paz.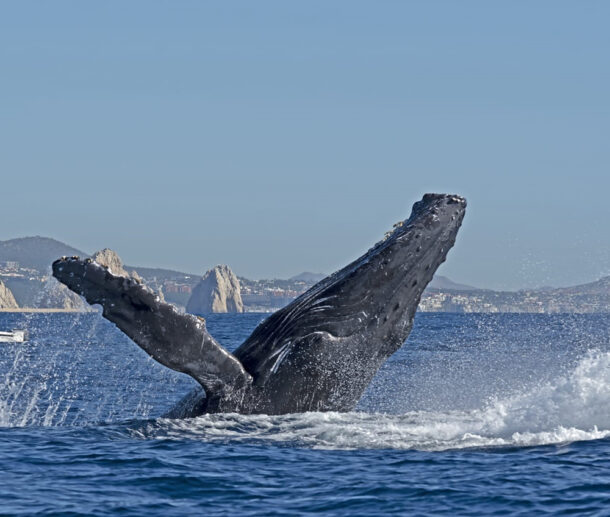 Select your boat on your Baja California whale watching tour
In Los Cabos whale watching boats come in many different shapes and sizes and a standard tour is 3 hours. The most popular vessel would be a panga option: smaller boats are permitted to get closer to the whales.
With Cabo Private Guide you can upgrade for a different kind of experience based on the size of your group. Or, if you want to combine activities such as whale watching and snorkeling, for example. Other available vessels include a Catamaran or luxury yachts starting at 36 feet. Both options include open bar and lunch.
All our boat charters for whale watching have met the requirements needed to operate in this regulated activity and display the required flag.