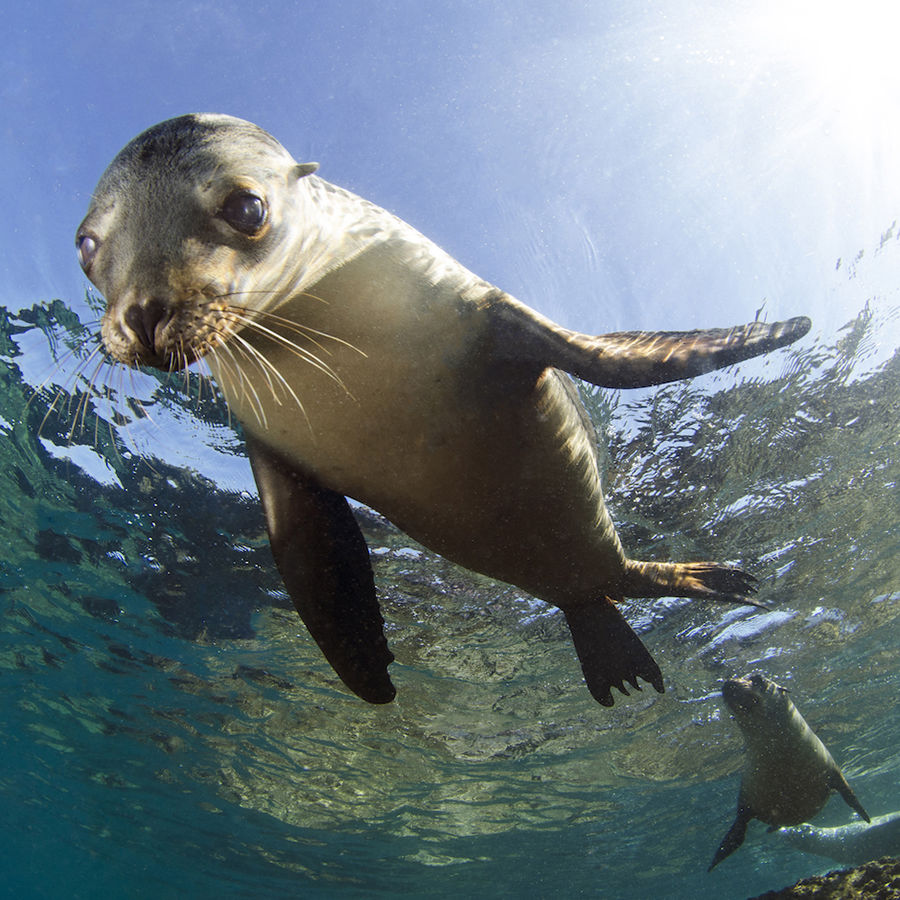 Snorkeling tour in La Paz
Sea lion snorkeling & Whale shark combo
October to April
Combine a whale shark snorkel tour with a visit to the nearby sea lion colony of San Rafaelito and optimize your visit to La Paz!
This large fishing town on the Sea of Cortez has a reputation for being home to a huge variety of incredible aquatic life and it doesn't get much more impressive than with the largest fish in the ocean: The whale shark.
But why stop there! Why not snorkel-swim with sea lions on the same day? In addition, if you're a fan of tropical fish you will enjoy the reef life at this rocky reef just outside of the whale shark area. In between the 2 activities you will have a picnic lunch at the beach.
Tour details
Price & booking
What's inclued
Private Guide

Shared or Private boat

Snorkeling equipment

Private Transportation

Lunch, Snack & Refreshments

Go Pro footage
Schedule
Leave Los Cabos 6am

Optional stop for burritos and coffee (additional cost)

Arrive La Paz 9am

6 hour boat trip

Return to the sea front 3pm

Return to Los Cabos 6pm.
Deparature
From Cabo San Lucas
Price & Booking
Sea lion snorkeling & Whale shark combo
Price in USD
|
5% Cash Discount
Private Tour
$ 750 1-2 people
Private boat, private transportation and private guide.
Private Tour
$ 925 3-5 people
Private boat, private transportation and private guide
Private Tour
$ 1350 6-10 people
Private boat, private transportation and private guide
Tour infos & Requirement
---
Hotel pick ups :
Hotel pick ups include all hotels in the Cabo San Lucas area up to Hacienda Encantada and all those on the Pacific side.
If you are coming from the Corridor or San Jose del Cabo please meet at the tour center by 6am or we can pick you up $30USD each way.
Included Lunch :
If you have allergies we can request an alternative – just let us know!
---
Snorkeling Reviews

Perfect 3 tours!
Booked 3 separate tours with Cabo Private Guide & from start to finish the year we're fantastic! We took a private whale shark tour, a scuba trip & a snorkel/whale shark tour...all three were perfect. Communication was great from booking up to…
By JanetMacht on TripAdvisor
Sea lions, whale sharks, and manta rays!
My husband, our teenaged daughter, and I travel pretty regularly and spend a ton of time in the water. Let me start by saying that the sea lion and whale shark tour that we went on with Jenny, Alejandro, and Fernando was…
By krjminor on TripAdvisor
Use this company!!! We had a great day!
Our group of 8 had a blast! We snorkeled with the Sea Lions—super fun. One of the sea lion pups was so playful, it even tried nibbling on Antonio's go pro. The colony of sea lions is amazing! I wanted to do…
By Travis S on TripAdvisor
Awesome tour with great company.
An amazing day with an amazing tour business. Exceptional service. Jenny (snorkeling guide, driver, photog, tour guide and a fabulous British accent) is great. Friendly, knowledgable & fun. Swimming with whale sharks and swimming and playing with seal lions was a bucket…
By Joe S on TripAdvisor
Cabo Private Guide is our #1 recommendation!
We went on an all day guide to La Paz from Cabo San Lucas. Transportation, guide, captian... everything was fantastic. Our preferred dates were not initially available and we so appreciate Laura working to get the dates to work. Snorkeling with the…
By Not quite Aggies on TripAdvisor
Amazing whale shark & sea lion tour with Cabo Private Guide
What a wonderful day we had with Jenny from @cabo_privateguide Our whale shark and sea lion excursion in La Paz was the highlight of our trip in Los Cabos. The trip was easy to arrange through the website. Additionally, Laura and Antonio…
By Anita_Potter on TripAdvisor
Blue water tour and whale shark swim
We booked a private tour for whale shark and blue water tour. It was by far the most educational and wonderful tours we have ever experienced! Antonio was our tour guide for whale sharks. On time for pick up. Fernando's (captain) wife…
By Angelia S on TripAdvisor
Great snorkel trip in Cabo
Great snorkeling trip with Antonio and Julian. Went to the Corridor and Pelican Rock. Conditions in some areas of the Corridor were a bit rough and we appreciated Antonio's recommendations as to where the best place would be to snorkel. He took…
By Bethie2014 on TripAdvisor
La Paz Snorkeling : Swim with Whale Sharks
Although this is the largest shark that exists in the ocean (hence the name 'whale shark'!) It is a slow and docile, plankton-eating animal and is in absolutely no way dangerous to humans to snorkel with them. In fact, the reverse is true. A whale shark has very few natural predators and humans are considered to be the main reason they have declined in numbers. Over-fishing and boating injuries account for their decline in recent years.
These sharks do not hunt large prey as many of their sharky cousins do. They eat tiny animals through the filter-feeding technique – another reason for its likeness to a whale.
When your guide introduces you to these breath-taking fish in La Paz we limit Snorkelers to 5 per whale shark. Only 14 boats are permitted in the designated shark area to reduce human impact and maintain this very unique experience.
Check also our other activities in La paz to mix diving and whale Shark tours.
Swimming with sea lions colony of La Paz, Mexico
You can find California sea lions all around Baja California Sur. One of the biggest colonies exists in La Paz on Espiritu Santo Island. Near to the whale shark area there is another large colony at San Rafaelito which provides the perfect opportunity to snorkeling with a second animal species in one tour – enjoy interactions with both animals!
The whale shark is majestic and impressive but sea lions are fast, fun and incredibly agile. They are so enjoyable to snorkel with! The younger pups will come and have a nibble on your fin; their power and grace underwater will surprise you!
They have been likened to dogs by many in regards to their loveable and extroverted behaviour. They will always to pose for a photo!
Price & booking