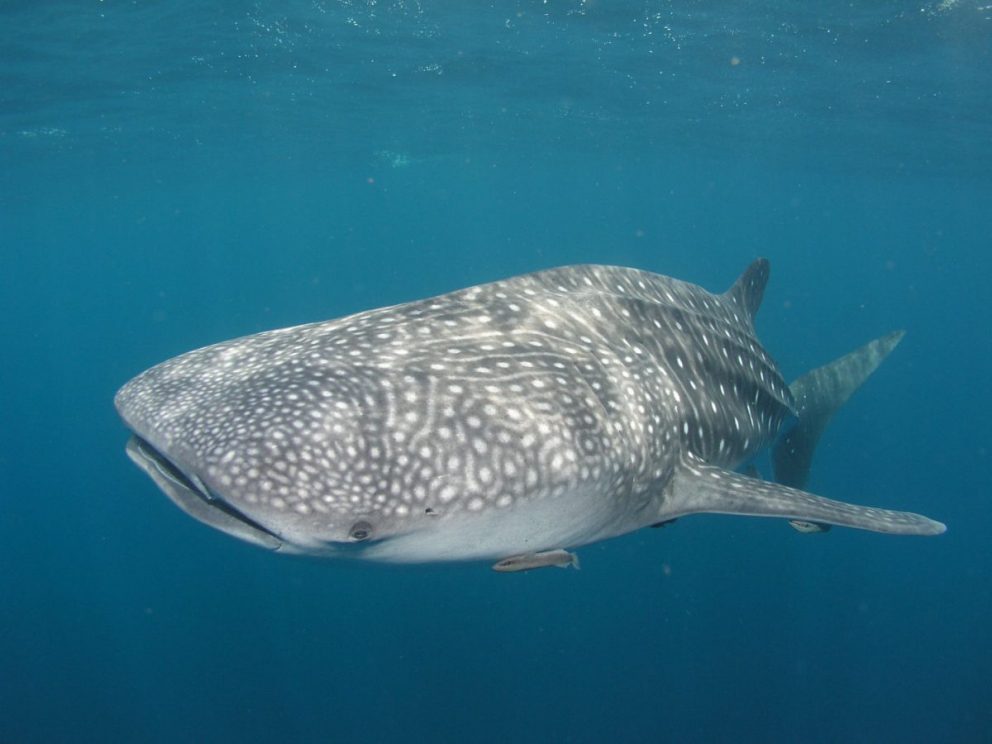 La Paz Whale shark tour
Swim with whale sharks
October to May
Two and a half hours north of Los Cabos is the city of La Paz.
From October to April the beautiful tranquil bay of La Paz is home to a population of Whale sharks. They are the largest fish in the ocean and an awesome animal to swim with. They are a docile and placid shark species: only feeding on microscopic sea life that lives in the water.
Like a big baseball glove the bay of La Paz collects this sea life as it moves with the currents of wind and ocean: here these gigantic fish come to feed for most of the year. It's still much of a secret to visitors who land in Cabo, only just a couple of hours by car !
Tour details
Price & booking
Tour Outlines
For those who have enjoyed this tour can hardly believe it's possible to interact so easily with these majestic whale sharks, It's unforgettable!
What's inclued
Official Whale Shark Guide

Shared or Private boat

Snorkeling equipment

Private Transportation

Lunch, Snack & Refreshments

Go Pro footage
Schedule
Leave Cabo San Lucas at 6am.

Two hour boat excursion to see the whale sharks.

Ceviche lunch provided at the beach and other snacks offered throughout the day.

Return back to Los Cabos between 4pm and 6pm.
Deparature
From Cabo San Lucas
Price & Booking
Swim with whale sharks
Price in USD
|
5% Cash Discount
Private boat
$ 695 Private tour
From 1 to 2 persons
Includes an official Whale Shark Guide
Book now
Group Price - Private boat
$ 240 pp
From 3 to 10 persons
Includes an official Whale Shark Guide
Additional passenger :
3-4 pax : $240 USD pp
5-6 pax : $200 USD pp
7-10 pax : $190 USD pp
Book now
Shared Boat
$ 240 pp
1 - 2 persons
Includes an official Whale Shark Guide
*not currently available*
Tour Info and Requirements
---
Hotel pick ups :
Hotel pick ups include all hotels in the Cabo San Lucas area up to Hacienda Encantada and all those on the Pacific side.
If you are coming from the Corridor or San Jose del Cabo please meet at the tour center by 6am or we can pick you up $30USD each way.
Included Lunch :
If you have allergies we can request an alternative – just let us know!
---
Snorkeling Reviews

Amazing - Snorkel & Scuba Experience
Laura and Antonio were great! Laura is always quick to respond to my questions, and helped me set up the best culminating experience for our trip to Cabo. Antonio was an amazing guide and host as he spent the entire day with…
By texasmom79121 on TripAdvisor
6 days of diving
Perfect...what else can I say, attention to detail and saw everything we could have wished for while diving!!! Bull sharks, whale sharks, hammerheads, turtles, the elusive octopus, nudies, large schools of fish, sea lions that compete with cirque du soleil, cow nose…
By G Bernier on TripAdvisor
Blue water tour and whale shark swim
We booked a private tour for whale shark and blue water tour. It was by far the most educational and wonderful tours we have ever experienced! Antonio was our tour guide for whale sharks. On time for pick up. Fernando's (captain) wife…
By Angelia S on TripAdvisor
Exclusive diving
Laura (owner) was very kind and obliging with the planning and execution of a 6-day-14-dive week for my buddy and I. Her team of private guides (thank you Antonio, Jenny & Felipe) is professional, experienced, knowledgeable and respectful of the environment and…
By Stéphane F on TripAdvisor
Cabo Private Guide is our #1 recommendation!
We went on an all day guide to La Paz from Cabo San Lucas. Transportation, guide, captian... everything was fantastic. Our preferred dates were not initially available and we so appreciate Laura working to get the dates to work. Snorkeling with the…
By Not quite Aggies on TripAdvisor
When is the Whale shark Season in La Paz ?
The official season runs from October 1st to April 30th.
You might want to avoid planning your trip a few weeks into the season and also a few weeks before the season ends, as opening depends entirely on when the whale sharks leave and then return again to the area.
In October to early December you can expect to enjoy slightly warmer water conditions.
The height of the season in terms of population numbers is November – March.
The area is regulated and only 14 boats are allowed to enter the whale shark area at a time . This is a really great way to reduce human impact while swimming with the sharks in their natural environment. Because of this limit, during busier times such as Thanksgiving week, Christmas and Easter you can expect a slight wait before being allowed into the area.
But not to worry! If we are held up half an hour or so you can take advantage of a short walk along the seafront, or we can take the boat out at the same time for a tour around the bay and try and spot dolphins, rays and interesting birds. You can also decide to mix this activity with a snorkeling with the sea lion or a diving excursion in La Paz to avoid waiting before the shark encounter.
Details of our bespoke La Paz whale shark tour
If you are staying in Cabo San Lucas we can pick you up from your hotel very early. If you're further away we can pick you up for an additional cost.
La Paz is a 2 hour drive away from Cabo. Along the way we will stop for an optional burrito and coffee!
Our boat and crew will meet us at La Paz marina, from where all our La Paz tour and excursion leave. Once we depart, it takes 20 minutes to reach the whale shark area and then we spend 2 hours inside the allocated zone. We often find the whale sharks by looking at where the other boats are, or the experienced captain searches for a fin breaking the surface, or we can see the slight shadowing at the surface. It takes practice!
If we see other boats with a shark we wait our turn to swim. Sometimes we find many sharks, sometimes we only find one at the end of the tour. It's very rare not to see any, but it has happened.
Price & booking
Frequently Asked Questions
When is the Whale shark Season in La Paz ?
The official season runs from October 1st to April 30th.
When is the best time to See Whale shark in la Paz ?
The optimal time to spot Whale shark, is probably between November to March  when the shark population is the most important in La Paz.
How far La Paz is from Los Cabos ?
La Paz is a 2 hour drive away from Cabo san Lucas.