Here at Cabo Private Guide we pride ourselves on offering the most exceptional, luxurious and inclusive dive trips in the area. We focus on private diving, with experienced, unbiased and attentive private guides, a variety of dive vessels to choose from, and personalized Scuba diving services.
Cabo San Lucas is a great location for your LGTBQ+ friendly dive vacation for several reasons, let's take a look at some of those!
Why is Los Cabos a popular destination for LGTBQIA+ travelers?
Cabo San Lucas is a great destination for many travelers. It offers a wide range of natural attractions, exceptional snorkeling and scuba diving activities, scenic seascapes and landscapes, fine dining and shopping opportunities. Its wild, vibrant nightlife and variety of high-level bars, hotels and restaurants make it the ideal location for a lavish treat in Mexico, although there is no actual LGBT bar or club scene, the plentiful nightlife is very LGBT friendly.
Among the most beloved activities in Los Cabos, you don't want to miss the beautiful Lover's Beach with its spectacular Arch, the Cabo San Jose art walk and of course scuba diving with Cabo Private Guide. You will find many different options in evening entertainment from wine tasting groups to the party scene at the famous Cabo Wabo.
An overview of LGBT rights history in Mexico
Mexico is one of the most inclusive and tolerant countries in the world, especially in the more touristic areas: a true safe haven for the LGTB community.
In the tourism sector, Mexico was the first country in Latin America to sign an IGLTA agreement – International LGBTQ+ Travel Association – and is currently considered one of the main countries in Central and Latin American for LGTB tourism.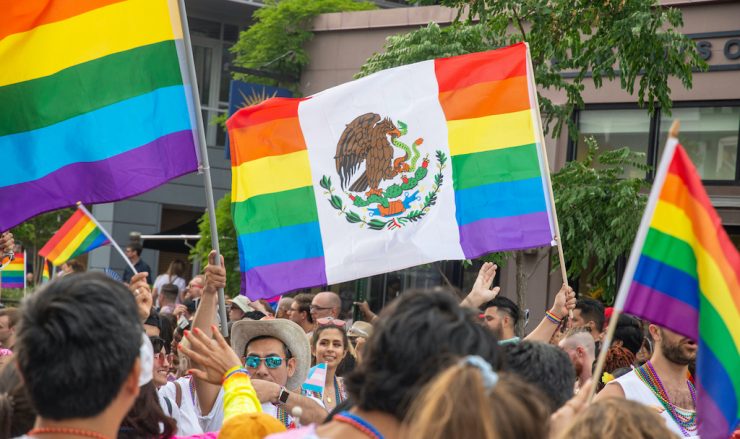 The roots of this tolerance and acceptance date way back in time: after centuries of darkness and seclusion, with the adoption of the Napoleonic Code in 1871, consensual and adult same-sex relationships finally ceased to be criminal acts and were generally accepted. This was a good 132 years before homosexuality was finally decriminalized in the United States of America. Since then, several major steps were taken towards the expansion of LGTB rights in Mexico, and today, while same-sex marriages are not yet recognized at a federal level, several states perform and recognize them locally. In 2003, sexual orientation was included in the protected categories by the Federal Law to Prevent and Eliminate Discrimination.
The most recommended areas for LGTB friendly travel in Mexico are certainly Mexico City or the resort cities on the Atlantic coast, such as Puerto Vallarta or Playa del Carmen. But Los Cabos is definitely the top location in the Baja California area for a series of reasons, let's discover why.
LGBT Scuba Diving in Cabo San Lucas
After all the partying and the fine dining, the relaxation at the lovely beaches and the luxury 5 star resort life, you can't leave watersports behind! Cabo Private Guide is the place to be for scuba diving and snorkeling in Cabo San Lucas, but also for whale watching or swimming with the whale shark. Here you can feel safe and comfortable, with a personalized touch and the attention for details.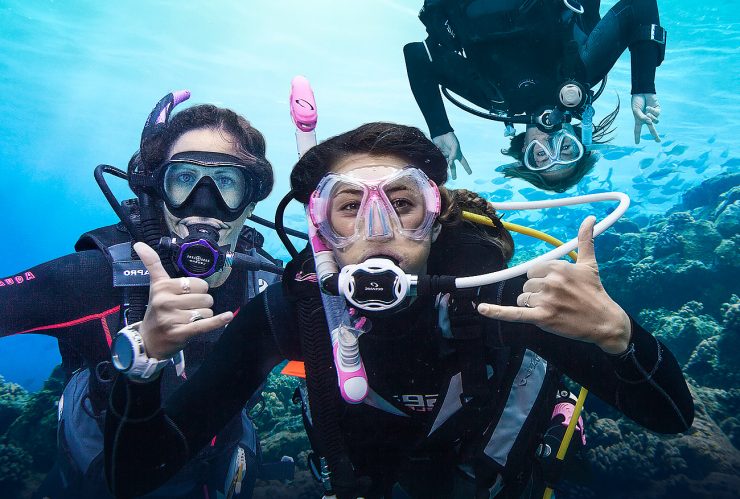 During your Scuba Diving trip with Cabo Private Guide, you will get the chance to dive with bull sharks, turtles, mobula rays and the amazing variety of marine life that the bay of Cabo San Lucas is famous for.
Cabo Private Guide is an LGBT inclusive dive center, we organize tailored trips and our female only dive trips are one of the highlights of the season: female divers can feel comfortable and at ease, with our quality wetsuit designed for women and our female instructors and guides. We believe that our customers' comfort and peace of mind are extremely important while they are in our hands.