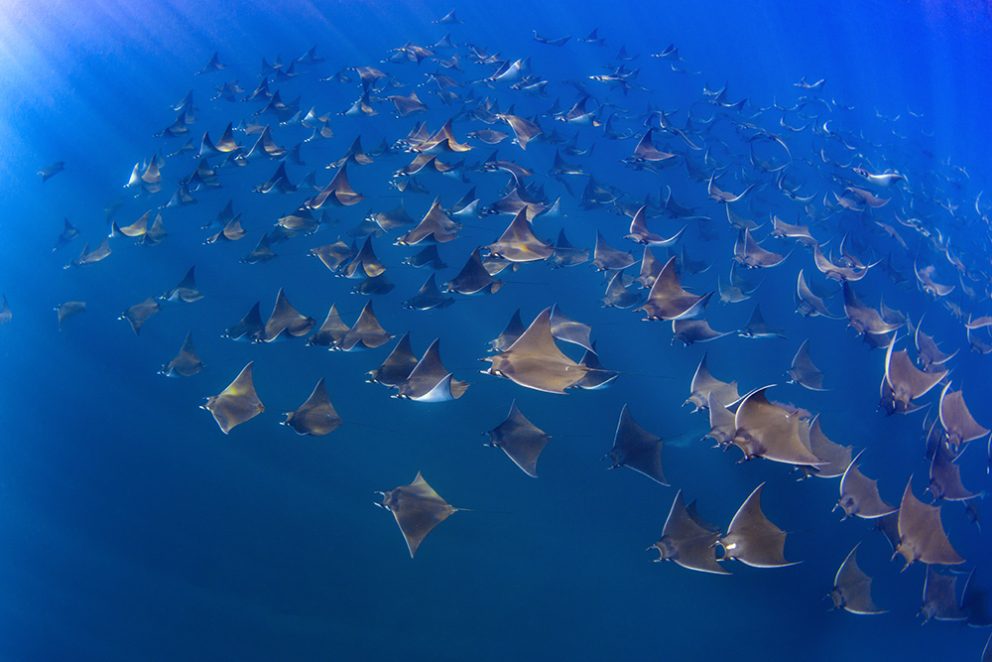 Sea of Cortez : Snorkeling with Pelagic Wildlife
Blue Water Tours
Seasonal Wildlife encounters
We believe that seeing wild marine animals (like the amazing Mobula rays!) in their natural habitat is the best kind of encounter.
Los Cabos exists at the tip of a peninsula that separates the largest ocean on the planet with one the most diverse seas on the planet: the Pacific and the Sea of Cortez. This unique location sees whale migrations every winter to spring, mobula rays that school in their thousands and other marine animals such as dolphins, turtles, sea lions and Orcas.
(Photo Alex Lindbloom)
Tour details
Price & booking
Tour Outlines
We take our panga boat along the sandy shores of the Pacific to the Sea of Cortez.
We have our masks and snorkels ready to jump in with the wildlife when it is safe and responsible for both animal and guest to do so.
What's inclued
Guide

Private boat

Snorkeling equipement

Go Pro footage ** ON REQUEST

Refreshments provided
Schedule
Blue Water Tours can be booked any day.
Mobula rays are normally encountered during June and July only.
Contact the dive center for seasonal wildlife
Departure
From Cabo San Lucas Marina
Price & Booking
Blue Water Tours
Price in USD
|
Cash discount available
From Cabo San Lucas
$ 125 pp
3 Person Minimum
7.30am check-in at the dive center
Shared Tour
Book now
Private Boat
$ 650 Price per boat
Up to 5 people. $100pp after that.
Departure from Cabo San Lucas
Flexible departure times
Private Boat
Book now
Blue Water Shark Encounter
$ 250 pp
Cancelattion policy
Cash paiement and bookings by phone are eligible for 5% discount, call the office for info.
Secure online payement powered by Peek.com
Snorkeling Reviews


Guaranteed amazing experience
I went on a snorkeling trip and all the experience was superb. From the easy booking online, to the actual snorkeling with an awesome guide and captain who found the best spots.
By Jose E DA on TripAdvisor
Mobula Magic
Laura is a very knowledgeable guide, prioritizes safety in and out of the water, passionate about the ocean, and was overall an awesome person to spend the day with. We went out looking for the giant mobula schools and boy did we…
By Corey on TripAdvisor
Great Hassle Free Snorkeling Experience
Laura and the crew were great snorkeling guides. I was traveling with my girlfriend and her son who aren't the strongest swimmers. Laura was fantastic with them both and we had a great time. We visited both Chileno Bay and Pelican Rock…
By Arnaud Lemaire on TripAdvisor
Snorkeling tour!
Great experience with guide Felipe! My girlfriend and I enjoyed our very first snorkeling adventure and I'd recommend a private guide for beginners and veterans. You can't beat the knowledge, attention and patience. It's nice to snorkel at your own pace. Would…
By Matthew G on TripAdvisor
Awesome Snorkelling experience
My partner and I used cabo private guide to do a mobula ray snorkelling tour. We emailed last minute to book and they were so so accomodating. Both our guide & captain were wonderful. We did the 7am tour which i definitely…
By Emily G on TripAdvisor
Incredible service!
Swimming with hundreds of mobulas was an unforgettable experience. Laura and team were fantastic. Our dive master Felipe took us on a 3 tank dive and mobula snorkel. The boat was private, Felipe was really fun and knowledgeable, and the conditions were…
By Josh J on TripAdvisor
Top notch
Everyone at this company was top notch in everything they did. We booked for the Mobula tour from San Lucas but they werent being seen there. So they offered lunch and transportation at a reasonable increased rate to get us to see…
By T L on Google
Mobula rays !!
Trip was amazing!! Exceeded expectations. Edgar was a great guide!! Very helpful with young kids and my dad. Saw so many mobula rays.
By Kristal S on TripAdvisor
Blue water tour and whale shark swim
We booked a private tour for whale shark and blue water tour. It was by far the most educational and wonderful tours we have ever experienced! Antonio was our tour guide for whale sharks. On time for pick up. Fernando's (captain) wife…
By Angelia S on TripAdvisor
Amazing snorkel experience
Had one of the best snorkeling experiences ever with Jenny, Raj and Julian. My husband has never really enjoyed snorkeling and finally did with them. They took time to make sure his mask fit correctly, even adjusting several times, and stayed close…
By SFpol on TripAdvisor
Great Memory!
Anna and Angel were the best! So kind and patient. Passionate about locating and swimming with the Mobula rays. Hope to be back to book a whale watching tour sometime soon!
By L U on TripAdvisor
Amazing time!
We had a great time on this tour. We could tell that the guide and captain were doing everything in their power to make sure we had an amazing time since we were the only people on the tour. We were able…
By Chloe M on TripAdvisor
Swimming with thousands of mobula rays in the Sea of Cortez
It's an awe-inspiring spectacle of nature, a breath-taking event, a not-to-be-missed show. It happens here every summer in the Sea of Cortez right in the Cabo San Lucas bay and we sometimes jump in with this species of devil ray only 5 minutes by boat.
If you have ever stayed at a hotel on the sea front between Cabo San Lucas and San Jose del Cabo during the summer and late autumn you may have already seen a hint of the mobula ray migration from your balcony. Characterised by a huge mass of 'flying' rays flipping and jumping in a display or acrobatics not performed by many other species, these rare super squadrons of rays are a delightful sight to see here in Cabo.
However, did you know you could venture out into the water and actually swim with them? Well, let us elaborate…
Best practices for swimming with the Mobula Munkiana
Codes of conduct based on the Manta Interaction Guidelines by the Manta Trust organisation have been developed in order to reduce human impact when we are in the water with these animal. These include:
A detailed briefing to precede any in-water activity
Restrictions on the number of vessels and people in their vicinity
No accessories (such as underwater drones or flash cameras)
Reef Safe Sunscreen
Maximum group size of 10
No feeding, touching or riding (yeah, good luck with that one anyway!)
Not to swim with them for extended periods of time
Eco-tour : Mobula rays citizen scientist program
While joining our trip to swim with the Mobula you will be invited to fill out an online survey to help place economic value on the species. This, in turn, will encourage its protection.
Working alongside The Mobula Conservation Project during the modula rays migration, you will help us report back their numbers, locations and behaviour.
What's a great way to enjoy the Mobulas aggregation in the Sea of Cortez and at the same time help conservation efforts!
See our marine conservation course
Who is the Blue Water Snorkeling tour for?
If you're an avid snorkeler or accomplished freediver then this is for you!
The animal life obviously moves around and a certain level of fitness is required. We ask that people are comfortable jumping into deep water and you will get the best from the experience if you have recent snorkeling experience.
We recommend a standard snorkel tour before this one if you aren't too sure of your comfort level in the water.
Life jackets and wetsuits are provided if desired.
Do you need to be a good swimmer to go on a Mobula ray tour?
This is blue water snorkelling and so a good comfort level in the water is recommended – although you do not need to be an Olympic swimmer! You may need to swim a few hundred feet in total over the whole 3 hour tour and the boat captain will do his best to place you in line with the group from a respectful, but close, distance. However, the mobula rays can obviously change direction without any notice!
Keep in mind that you usually cannot see the seafloor. We do not go out in very choppy surface conditions and life jackets are available for anyone that wants one.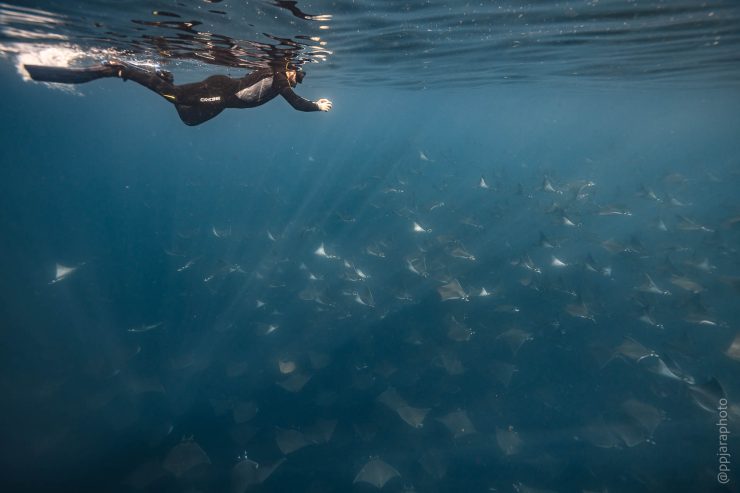 Wildlife sightings in the Sea of Cortez snorkeling
Whale watching and marine mamals
The schooling Mobula rays are not the only animals to observe in the sea of cortez Dolphins and whales are seen more during the winter months. We have also seen marlin, turtles and Orcas. See the whale species that could be encounter in Cabo.
Sometimes it's entirely possible that we do not see large wildlife. If this is the case after 2 hours then we will take you to a secluded reef and show you the abundance of fish families and soft corals that live here in Cabo.
Sea of Cortez : Weather and water conditions
These tours are best between October – January for visibility, where it tends to be clearer, warmer and calmer.
The water temperature varies a lot on the Sea of Cortez between 80's (28c). 65's (18c) depending of the season.
Price & booking
Frequently Asked Questions
Do you need to be a good swimmer?
You don't need to be a strong swimmer on the standard reef tours here in Los Cabos, but this Blue water snorkeling tour is slightly different.
It is preferable to know how to swim well and to be comfortable in the water.
Life jackets provided
What wildlife do you normally see while snorkeling?
In the Sea of Cortez, depending on the season, from Mobula rays, Dolphins , Whales to Marlins… As wildlife is unpredictable, we do not guarantee the encounter but do our best to succeed.
What kind of snorkeling equipment is provided ?
Mask & tuba, fins, wetsuit.
When the Mobula Munkiana ray migrate in th Sea of Cortez ?
The best months to reserve a Mobula Snorkeling tour is June and July although we do start to see groups in mid-May or as late as mid-August.
Where swimming with the schooling Mobula rays ?
In Baja California from either Cabo San Lucas or San Jose del Cabo marina, not far from the shore, where the Sea of Cortez meet the pacific Ocean. Early morning is better when the bay is quiet.
Is it dangerous to snorkel with the Mobula rays ?
Absolutely not! Their tails do not bear a spine and they would not let anyone close enough to touch them in any case. Mobula Munkiana rays are actually very skittish around humans and tend to dive deep if we make too much noise.
We DO NOT want to impact their behaviour in anyway, which is why you should consider a private tour with a maximum of 10 swimmers.