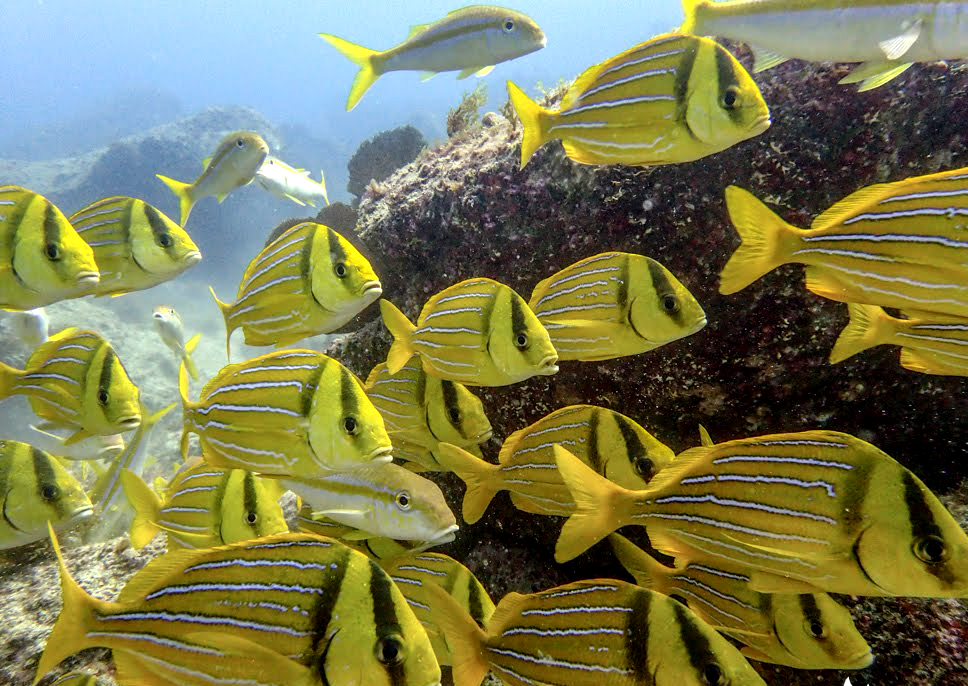 Los cabos Snorkeling tours
The Corridor of Cabo san Lucas
All year
Come and enjoy snorkeling the areas between the Bay and Chileno Bay (otherwise known as 'The Corridor') with us!
We choose a spot based on where there are fewer boats, fewer people and where we can experience the best conditions. We do not stick to the same areas every time so if you come back and see us again we would be happy to take you to a different snorkel spot.
Tour details
Price & booking
Tour Outlines
All along the coast line there are numerous reefs that are rarely visited by regular snorkel tours. As a dive operation we have explored these reefs in greater detail! We know the secret spots where we can find interesting cavern openings and underwater topography.
What's inclued
Private guide

Private boat

28ft Panga or 50ft Catamaran

Snorkel gear & Life jackets

Snorkel lesson if needed

Go Pro photos and video

Cooler with refreshments
Schedule
Every day
8.30am or 1.30pm
Price & Booking
The Corridor of Cabo san Lucas
Price in USD
|
5% Cash Discount
28ft Panga
$ 100 pp
Private boat | 2 Person minimum
Kids :
Under six years old : $ 80 pp
Group price :
6 to 8 people : $ 490 full boat
8+ people : + $50 pp
Departure :
8.30am or 1.30pm
Book now
50ft Catamaran
$ 800 Private boat
Private Sailing boat | 1 - 10 people
Group price :
1 – 20 people : $ 1100 usd
Included :
Lunch, Open bar, Snorkel guide and equipment
Departure :
10am or 1.30pm
Book now
Tour infos & Requirement
---
Transportation & Hotel pick up
In option, add a private transportation. Inquire about Hotel pickup availability.
Professional photographer
In option, add a private professional photography service for any local tour.
---
Snorkeling Reviews

Guaranteed amazing experience
I went on a snorkeling trip and all the experience was superb. From the easy booking online, to the actual snorkeling with an awesome guide and captain who found the best spots.
By Jose E DA on TripAdvisor
Blue water tour and whale shark swim
We booked a private tour for whale shark and blue water tour. It was by far the most educational and wonderful tours we have ever experienced! Antonio was our tour guide for whale sharks. On time for pick up. Fernando's (captain) wife…
By Angelia S on TripAdvisor
The best snorkel trip of our lives!
Two years in a row we have hired Laura for private snorkel tour. He knowledge of the marine life was amazing! We swam with dolphins, watched humpbacks breach in front of our boat and then snorkeled in a beautiful spot loaded with…
By dive4fishies on TripAdvisor
Dive / snorkel in Cabo and whale shark excursion to La Paz
Laura was super easy to coordinate with. She was very accommodating and I felt we would be in good hands especially with teens that were inexperienced in open water and relatively new to diving. Once in Cabo, our guides were great. Adrian…
By CassL on TripAdvisor
Great snorkel trip in Cabo
Great snorkeling trip with Antonio and Julian. Went to the Corridor and Pelican Rock. Conditions in some areas of the Corridor were a bit rough and we appreciated Antonio's recommendations as to where the best place would be to snorkel. He took…
By Bethie2014 on TripAdvisor
Great Excursions
Great service. Awesome communication. Top notch service! I highly recommend booking a trip through Laura. I communicated what I was looking for and the experience I wanted and Laura found us the perfect catamaran trip. She provided us with wetsuits and free…
By PlacesIGo on TripAdvisor
Great Hassle Free Snorkeling Experience
Laura and the crew were great snorkeling guides. I was traveling with my girlfriend and her son who aren't the strongest swimmers. Laura was fantastic with them both and we had a great time. We visited both Chileno Bay and Pelican Rock…
By Arnaud Lemaire on TripAdvisor
Included in your Los Cabos snorkel tour
Document this special trip to Cabo San Lucas with some underwater memories! Our guides will make some photos and videos of your tour Snorkel tour in Los Cabos for you, to show your friends and family.
We only take photos! We do not encourage collecting shells or feeding the wildlife because we want to impact the aquatic environment as little as possible. In addition to photos and videos we will provide snacks and refreshments, fish identification information and all snorkel equipment that you may need!
Aquatic life encounters in Los Cabos and the surrounding area
On our snorkel tours you can expect to see a wide range of tropical fish families. These include herbivores such as the yellowtail tang that roam the reefs in huge herds, grazing the algae of the reef and keeping it clean!
Here in Cabo San Lucas we see an abundance of pufferfish who puff up in a spikey ball when threatened. There are families of colorful angelfish, butterflyfish, cornetfish and needlefish. Bigger animals may include rays, eels, octopus and, on rare occasions, a turtle!
There is nothing dangerous in the water and the fish are curious and plentiful.
Price & booking