Online diving Course & PADI e-learning certification
During the 2020 Covid 19 Pandemic we took the opportunity to teach some of our dry-certification courses online.
These certification courses span mainly from the Project Aware Organisation so we thought this was a brilliant and achievable way to spread the word about important ocean conservation issues.
This is also the place to come if you want to pre order your theory materials for your diving course.
Course details
Price & booking
Project Aware Online Conservation Courses
We believe that continuing education about current conservation initiatives and improving dive knowledge should be possible in times when you are unable to travel or if you want to gain more dive certifications while waiting for your next trip. These courses are available to non-divers in any age group!
Project Aware Specialist
Dry course | 2.5 hours
An introduction to the Project Aware organisation, its mission and the Ten Tips for Divers. Receive guidance about how to bring positive change. Discuss good practices as both divers, snorkelers and water lovers.
This includes a donation to the Project Aware Organisation.
Coral conservation Specialist
Dry course | 2.5 hours
Learn about current challenges facing coral reefs today and how to make positive changes to protect them. You will learn how reefs function and how they play such a pivotal role in the health of the ecosystem.
Shark Conservation Specialist
Dry course | 2.5 hours
The course will discuss sharks in their environment, shocking facts about how and why their numbers are in decline and what we can do to help. You need to book a 2 tank dive within a 12 month period to observe the aquatic environment and report back any potential dangers/potential improvements you have witnessed
At the of the presentation you will receive a certificate of recognition. To upgrade to the full certification you must add 2 dives.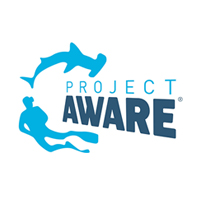 The presentation in itself is informative and covers some crucially important concepts.
These study sessions are perfect for school study groups and families that want to learn about shark or coral conservation and about how they can help, even from the comfort of their own home.
Ask about discounts for multiple attendees on any of these courses!
Get 50% discount on your next conservation Course
Why not take advantage of our Project Aware discount when you sign up for your eLearning? Anyone that books any course with us is eligible for 50% off a Project Aware dry certification.
We want all our divers to become ambassadors for the ocean and learn all about the Project Aware movement.
PADI eLearning
Welcome to our new online learning section. PADI have digitised all of their main courses so that it is now possible to study from a laptop or tablet at home or at your hotel.
This is a comfortable and efficient way to study – you can begin up to a whole year before you wish to take the practical lessons! It's also more environmentally friendly as fewer books are printed.
Courses are available in many popular languages. If you want to sign up for a course with us, check out the relevant course page to see what's involved.
You can either purchase the course through us directly for $515 which includes the eLearning price or through the PADI website and then receive the referral course price from us.
Pre order your theory materials for the following Scuba diving course :
PADI Open Water

PADI Advanced Open Water

PADI Rescue Diver

PADI Divemaster
Remember to contact the dive shop to schedule your course!
Price & Booking
PADI e-learning
All our courses include a Private Instructor | Price in USD | Cash discount available
PADI eLearning
$ 165 pp
Digital Study Material
Open Water Diver
Advanced Open Water
Rescue Diver & EFR
Diving Specialties
Book now
Conservation course
$ 125 pp
Dry course | 2.5 Hours
Project Aware Specialist
Coral Conservation Specialist
Shark Conservation Specialist
Book now
Other online courses
$ 85 pp
Digital Study Material
Cancelattion policy
Cash paiement and bookings by phone are eligible for 5% discount, call the office for info.
Secure online payement powered by Peek.com
Diving course reviews


Shark Conservation Certificate
Completed the Project Aware Shark Conservation Certificate online with Laura.Your seminar really opened my eyes to my scuba diving ​values. I would hate to be instructing just for the sake of it and you really did open my mind (and my heart)…
By Chelsea Hughes on TripAdvisor
Superb Cabo Dive Experience
Open Water Diver Certification with Jenny S. - Amazing experience! I was a last minute booking, Laura & Jenny were flexible, friendly and professional. Jenny was a superb instructor; this was my first experience with scuba. Jenny was patient, knowledgeable, thorough and…
By Seth S on TripAdvisor
Best guide in cabo!
I cant say enough great things about cabo private guide and Laura. LAURA is the best. I have been diving with her and just finished 4 PADI courses with her. She is the best guide and instructor. I'd recommend her for all…
By Sara on TripAdvisor
Shark Conservation!!
I took the Shark Conservation course with Laura and very highly recommend it! She is so knowledgeable and really brought the material to life with her own experiences. It was a very convicting seminar and has certainly motivated me to become active…
By Larissa C on TripAdvisor
Informative and Professional Online Course
We are a family of water enthusiasts and decided as a family to take an online course during the stay at home order. We learned a lot of information about what problems we face when the ocean and environment are compromised. We…
By Katy K on TripAdvisor
Had the BEST TIME with Cabo Private Dive!!
Getting my scuba certification was my 2020 bucket list item. I came to Cabo Private Guide to finish the open water portion of my scuba certification. Laura was great! I needed special accommodations due to a bum ankle and Laura went out…
By Colette C on TripAdvisor
Fantastic Online Certification
When I learned that we could gain certifications online for diving without getting wet I signed up immediately! Very happy to have this option during the quaratine! We registered easily, we directed to the virtual claassroom and had a 2 hour presentation…
By Jon C on TripAdvisor
Best company and dive guides in cabo
Laura is a great dive guide and also a great PADI course instructor. Highly recommend Laura and cabo private guide! I plan on taking more padi courses with Laura and diving with her anytime I visit cabo.
By Sara K on TripAdvisor