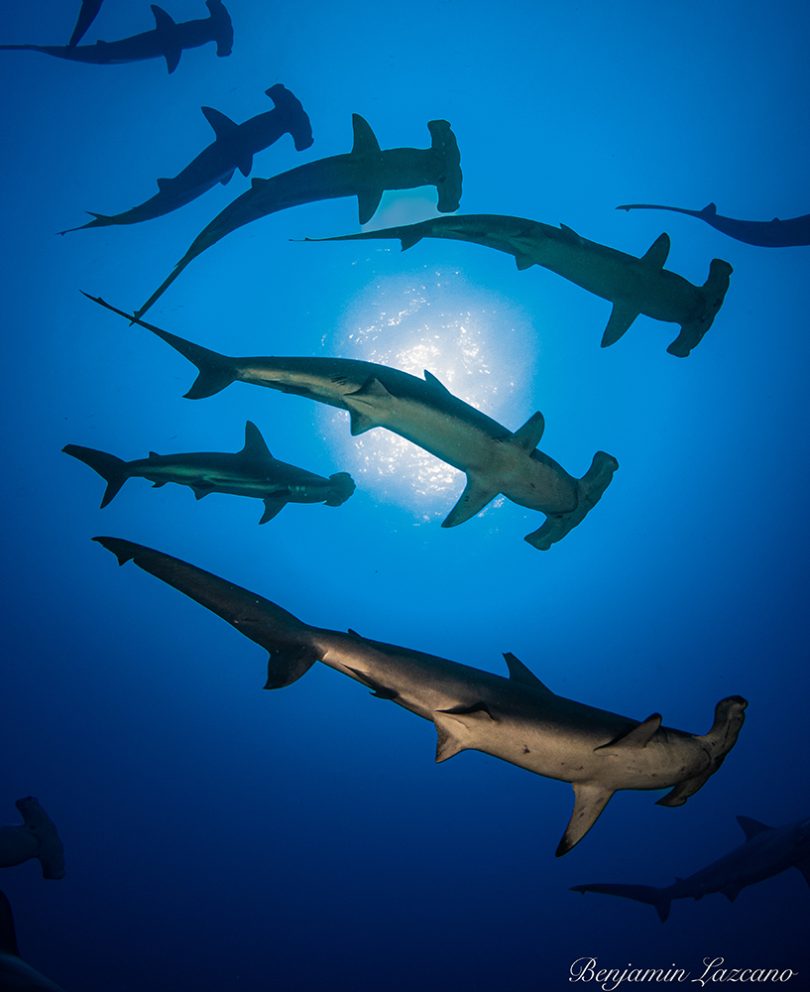 Eco dive shop and Marine conservation in Los Cabos
We strive to stand out in busy Cabo San Lucas as an adventure tour operator that not only has a positive impact on the environment, but highlights the fundamental importance of conservation efforts in the declining health of our oceans.
As one of the first tour operators in Los Cabos to promote both reusable water bottles instead of single use plastic and availability of reef safe sunscreen on ALL of our tours, we are now in talks with regional conservation project leaders as to how our company can support their work through data sharing and sponsorship.
Marine Conservation in Cabo San Lucas
Our private dive guides are Project Aware conservation instructors and have taken the additional Green Fins dive-guide course. We are a member of Empty The Tanks to help fight against animals in captivity.
Shark Conservation course
Maybe you want to learn about local animals? Our Shark Conservation course will teach you all about the devastating decline in shark populations through overfishing and bad fisheries management practices.
Coral conservation & Project Aware
If you would like to learn more about coral conservation we have a specialty course discussing the effects of coral bleaching and the warming of the oceans. All divers should consider taking the Project Aware Specialist course to learn about how, as a diver, you can specifically be involved in becoming an ambassador for the ocean.
Mobula citizen scientist program
Join our eco-tour and help Mobula ray conservation efforts by becoming a citizen scientist
Working alongside The Mobula Conservation Project you will help us to report back their numbers, locations and behaviour. The data collected during the marine survey will help place economic value on the species, and will allow the environmental organizations to set up conservation and management measures for the protection of the species.
We tailored two special trips to experience the Mobula ray migration in Cabo San Lucas that occurs between the end of may and early August in Baja California. Support the global conservation efforts and make all your dive count by becoming a citizen scientist.
Diving & Snorkeling combo with Mobula
Blue water : Snorkeling with Mobula
Beach cleanup & Dive against Debris
If you would like to know how you can get involved in marine conservation in Cabo San Lucas then we may have some courses for you. We can organise a Dive Against Debris Specialty course where you can actively collect debris from a nominated dive site and record it on a huge database and help record the Journey of our Trash.
Dive against the Debris Course
Eco Friendly tours & Mexican Sustainable travel
We appreciate that, now more than ever, our divers are seeking more eco-friendly and sustainable tour operators. In Cabo San Lucas we know that large numbers of tourists visit our beautiful peninsula of Baja California to enjoy the stunning beaches, the abundance of wildlife and rich culture.
We want to provide a service that escapes the crowds and, in turn, is a more eco friendly way to experience Los Cabos.
We offer Free Scuba refreshers for all !
As divers and snorkelers we are directly in contact with the ocean. Being in smaller private groups not only ensures we don't have such a great impact in scaring the animals off with our presence but it means your guide can help you to stay off the reef if your buoyancy is a little rusty.
For this reason we also offer free refreshers. In addition, if your buoyancy is extremely good, then your guide might have time to remove any fishing lines or easy-to-reach debris because there are fewer people to look after.
Our involvement at Cabo Private Guide :
We do not have single use plastic on our tours.
We offer reef safe sunscreen to all.
We donate $15 to Project Aware for all diving certifications we process.
We offer discount on our Conservation course to all our student
Get 50% discount on your next conservation Course
Why not take advantage of our Project Aware discount when you sign up for your eLearning? Anyone that books any course with us is eligible for 50% off a Project Aware dry certification.
We want all our divers to become ambassadors for the ocean and learn all about the Project Aware movement.