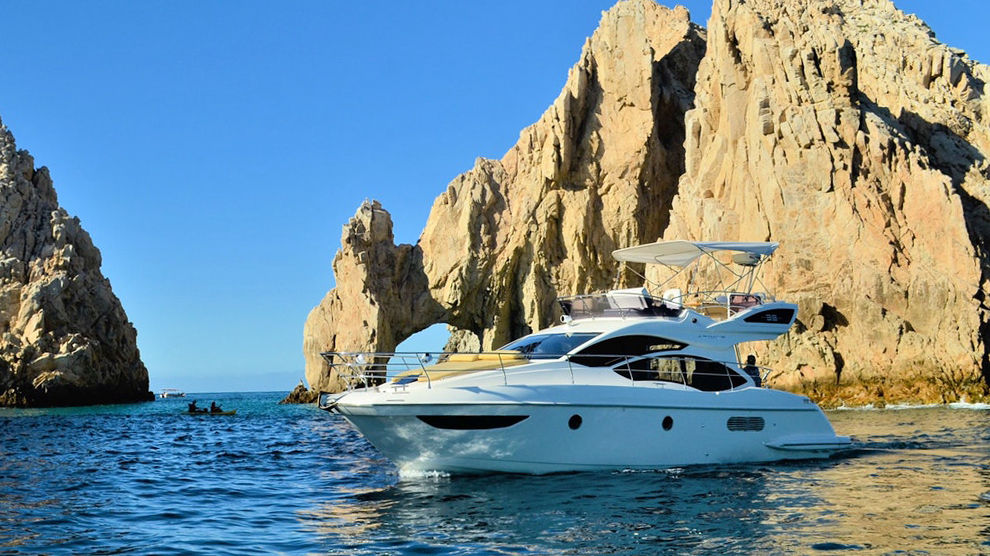 Dive charters and private boats in Los Cabos
When you come to dive in Cabo San Lucas you are in one of the few places in the world with access to many luxury dive boats in the form of diving yachts, diving catamarans and sailboats.
Upgrade your boat on any of our tour !
We have spent years establishing contracts and working with many beautiful boats to bring you the perfect luxury dive package.
A larger, comfortable boat is a perfect way of combining a family tour with some diving or snorkeling and extended sightseeing.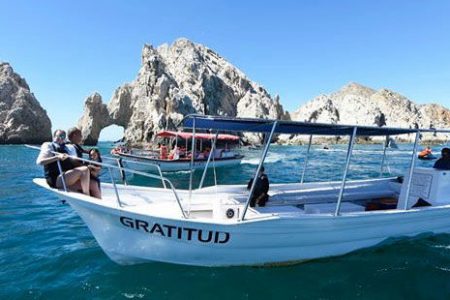 28ft Super Panga
Our standard shared and private boat tours are conducted from a panga style boat. We can accommodate a maximum of 8 divers or up to 10 snorkelers, or a mix thereof. These boats are the most efficient for diving as they are smaller and can approach all of the dive site areas easily and can manoeuvre into smaller areas to pick up divers where they surface.
Prices for these tours are reflected in the Scuba Tours and Snorkeling pages.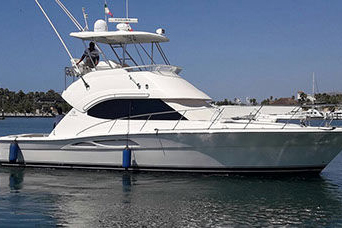 The Vida Loca
A luxury 44ft fishing boat based out of Puerto Los Cabos (San Jose Marina). This is our luxury option for Gordo Banks tours. There is a comfortable upper deck with mini fridge, a fully equipped kitchen from where your guide will supply a selection of food and drinks throughout the tour and spacious lower deck. There is an option for fishing on the return journey.
Half Day Tour 8:30am – 12:30pm
$1350 boat hire.
$150 pp for 2 tank dive.
$35 Dive equipment rental.
From Puerto Los Cabos (San Jose) to the Corridor with snorkeling and diving in 2 different areas.
Full day tour: 8:30am – 4:30pm

$1950 boat hire.
$150pp for 2 tank dive
$175pp 3rd tank extra dive.
$35 Dive equipment rental.
From Puerto Los Cabos to the Arch in Cabo San Lucas with snorkeling and diving in 2 different areas.
* 50% cash payment by owner's request.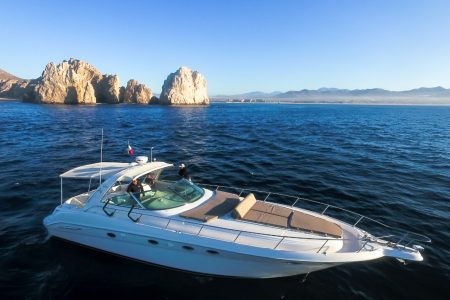 Yacht Charters
Yachts from 39′ to 55′. The experience includes full bar, chef cooked meals and 5 star crew. The yachts leave from Cabo San Lucas Marina and travel as far as Chileno Bay in the Corridor area.
From $400 an hour, length of time (and therefore cost) is determined by you.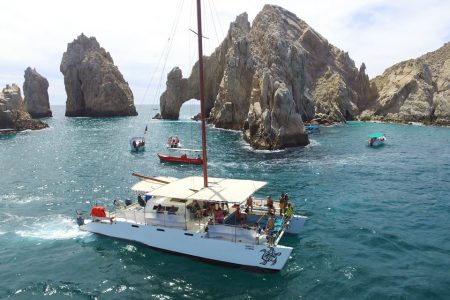 50 ft Catamaran
Enjoy our private Snorkeling tour aboard a 50 ft Catamaran , while sailing along "The Corridor" of Cabo San Lucas.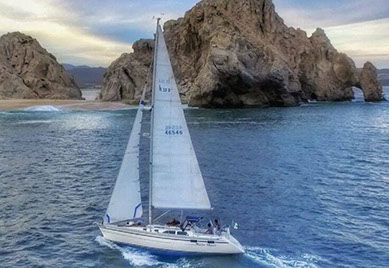 Cabo By the Sea - Sail Boat
This Hunter 36′ sailboat is located in Cabo San Lucas Marina. This vessel is suitable for up to 5 divers or 10 snorkelers. As well as providing all necessary in-water equipment and even a paddle board, there is a full bar with meal and fruit snacks. Towels are provided.
3 hour Snorkel Tour: up to 6 people $600.
Additional passengers $75pp.
3 hour Dive Tour: Boat:$600
$95pp per diver.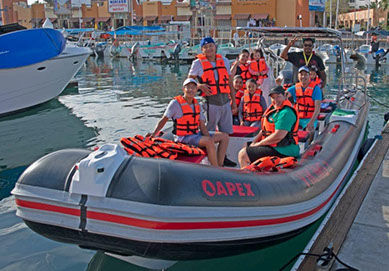 28ft Apex RIB
This is a high speed rigid inflatable boat built for the purpose of venturing far off into the blue for some great whale watching and pelagic interactions. We use this as our standard boat for our snorkel and whale watching combo for groups of 4 or more.
You can use this boat for any tour for an upgraded price. Contact us for exact details!
Boat upgrades and Vessel rentals
If you would like to charter a more luxurious or confortable vessel for one of our diving or snorkeling tours, then please get in touch. Send us a message with your boat upgrade request.
Choose your boat
Luxury Dive Yachts in Cabo San Lucas
Take advantage of a diving yacht charter
A luxury vessel upgrade would be a particularly great option during winter/spring whale watching season or the spring/summer mobula ray migration. Need a dive guide and dive gear for your own boat? Just give us a call!
The vessels can move between the Pacific Ocean or the Sea of Cortez depending on what suits the clientele.
Personal dive guide and boat Crew
Our guides will load all the dive equipment, tanks and weights before you arrive so you simply just need to arrive at the designated dock and board! It is advised to come to our dive shop and try equipment first. If this is not possible just send us your list of sizes and we'll make sure we bring a selection to try on.
Gourmet food and Open bar on board
Instead of looking for a restaurant on the marina after the tour, why not just eat a gourmet lunch right after the dive out on the water in your own 'private' restaurant?
Gourmet food and an open bar (for after the dives!) is standard on these luxury vessels.
Tailor your diving trip as you wish
Each yacht, catamaran and sailboat are rented for a minimum 3 hours but you can extend the time and pay per extra hour. For a normal 2 tank dive tour you would need to allow for 4 hours.
It is usual to pay a deposit to hold the reservation. Note that different private boats have different cancellation policies, so just contact us for information.
Private Dive Guides for Independent boat owners
Boat owner looking for Local dive guide ?
If you are a boat owner and you're coming to dock in Cabo San Lucas, you might be looking for a local dive or snorkel guide. We will send one of our expert, highly experienced guides to your boat with all necessary equipment, tanks and weights.
Hire our guide on your personal vessel
Our guides know how to communicate their dive plan to the boat captains and will also bring emergency o2 and any relevant safety equipment needed for the level of diving. All of our guides have a minimum of one year's experience in Baja California Sur and so know local reefs very well: so you can really escape the crowd and go where you want to go!
We will bring a small underwater video camera and make some souvenir videos too.